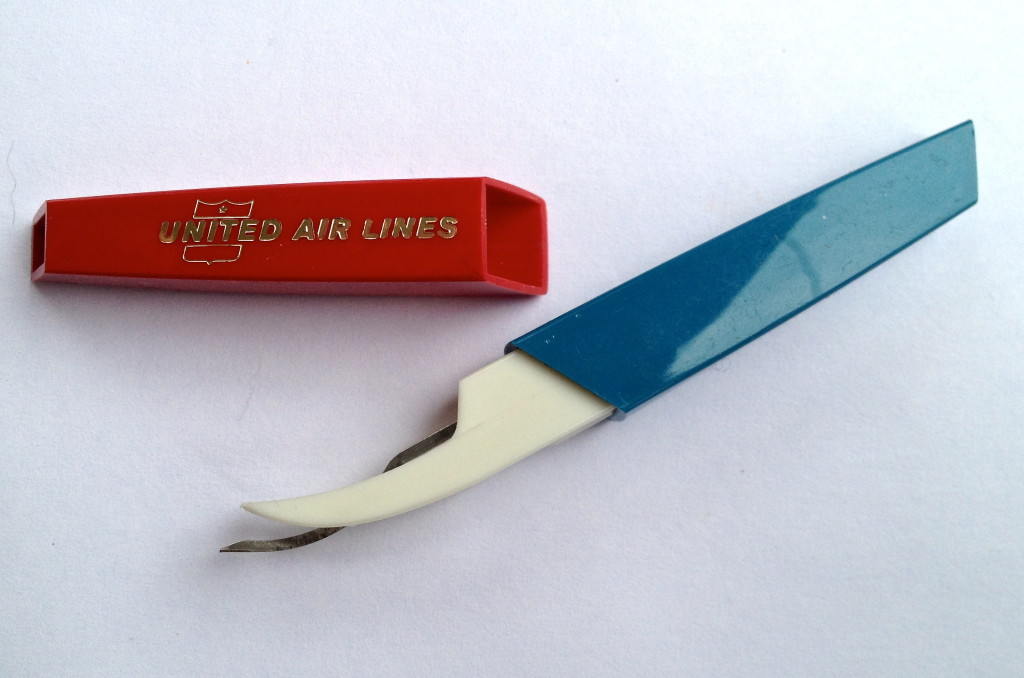 I used a Redbox free movie code to rent the Tom Cruise movie Oblivion. (MCPC213S – Good until September 25th. You're welcome!) The movie itself was a bit of a yawn-o-rama disappointment, but since A) I paid no money and B) I love shared time with my older son, it was still a thoroughly enjoyable evening. (My younger son was spending the night at a friend's house.)
I kept my hands busy by using my trusty seam ripper to remove the broken zipper from my younger son's backpack. Although I am a laughably amateur seamstress, the work of removing stitches is well within my skill set. (Luckily, my friend Lise will hold my hand through the installation of the new zipper.) As an aside, don't you just love my vintage United Air Lines seam ripper?! I have absolutely no idea how this item added itself my sewing basket, but I do feel deep nostalgia for a time when airlines would have kept potentially lethal items on board for passenger use. Sadly, that age of innocence has passed.
Last night's dinner featured delicious and on sale chicken basil sausages from New Seasons Market. However, money is currently tight at my house, so I walked to Fred Meyer for the rest of my shopping list. They were out of the sale Tillamook cheese, ($3.99 for a 2-pound loaf) so I got a rain check for when it's in stock again. The rest of the meal featured a big green salad and sauerkraut whose origins hark back to a soccer league picnic from at least a year ago.
I picked up library copies of Cheap: The High Cost of Discount Culture, Farewell my Subaru: An Epic Adventure in Local living  and the new Kinsey Milhone Mystery. Because even I need a break from Non-Consumer obsessiveness!
I hung a hook by the front door for my sons to hang their school ID cards. Since these cards also function as their public transportation passes, it's imperative that they bring them to school every day. Hopefully this little life hack will cut down on all the "Mom, I forgot my bus pass, will you come pick me up?" phone calls. It's been a week, and so far so good!
Now your turn. What frugal activities have been filling your days?
Katy Wolk-Stanley