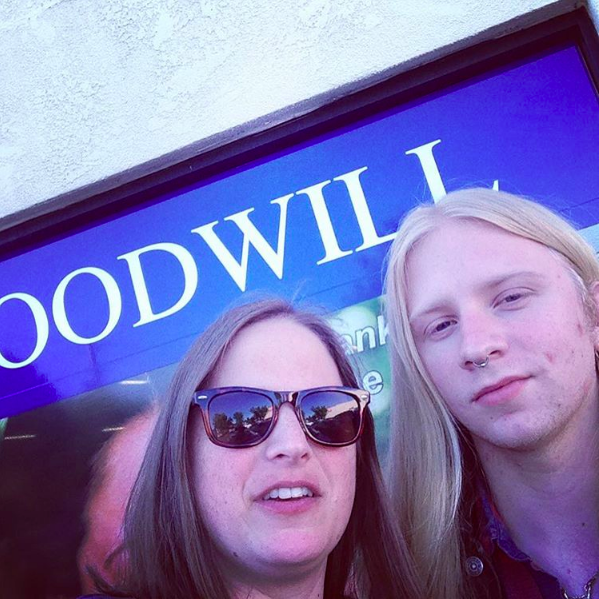 My family just now got back from picking my old son up from college, and since his college is located in the picturesque town of Ashland, Oregon, we turned it into a mini-vacation. Of course, no vacation, mini or otherwise is complete without some frugal maneuvers.
The only shopping I did was at Goodwill and their local Friends of The Library sale. I bought a vintage Sasha doll for $3.99, which I'll fix up to sell and will likely pay for the entire motel bill.
We ate two meals at the University's cafeteria, as my son son still had multiple guest passes left on his meal plan. We paid a pretty penny for that plan, so there was no freaking way I would let them go to waste! Luckily, our motel was across the street from the campus, so this was super convenient.
Instead of shelling out big bucks to see one of the amazing Oregon Shakespeare Festival plays, we arranged one day to be able to watch one of the free performances on their outdoor green stage, which are daily at 6:45 P.M.
I took a few minutes to peruse the dumpster adjacent to the dorms and was rewarded with a new looking Ikea bath mat. (It was actually hanging off the dumpster, not actually in it.) My sister has this mat, and I'm always tempted to pick one up for myself, but have never been willing to pull the trigger for this $9.99 item. Also . . . I follow The Compact and try not to buy anything new. So yeah, free bathmat! Or, if you prefer . . . $23,000 bath mat!
Although we splurged on a delicious brunch at the Morning Glory Cafe, we made one last stop at the school's cafeteria to get food for our 5-1/2 hour drive home. Because yes, my son still had additional guest passes left on his meal plan account. I brought in my tiffins and filled them up with cut fruit, cookies and ravioli. This action saved us between $20 and $40 depending on where we might have stopped for a meal.
Now your turn. What frugal things have you been up to?
Katy Wolk-Stanley