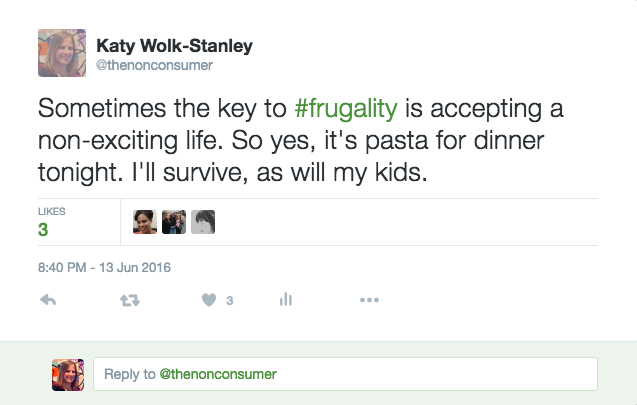 I write my Five Frugal Things posts at least three times per week, and in the name of boredom-avoidance, I try to vary the information that I present. After all, I highly doubt that blog readers would return to The Non-Consumer Advocate if I repeatedly wrote that "I didn't go anywhere today and then I heated up some leftovers."
Those blog posts would hardly go viral.
I recently published a piece about the frugal things that my family did while picking my son up from college. Of course, me being me, there were many more than five frugal things that encompassed that trip. However, they were tiny things, so I didn't include them. True frugality really is based on the tiny things. Just like you can nickel and dime yourself into the poorhouse, you can also nickel and dime yourself into financial freedom.
So I present to you, Five Six Tiny Frugal Things:
When making one last stop to the campus to load up on cafeteria food for our ride home, I noticed a pair of socks lying in the parking lot. The school was deserted at this point, so I tossed them into the back of the car. They've since been washed and given to my younger son, as he goes through socks faster than Jesse Owens at the 1936 Olympics.
I noticed a small pile of discarded items in one of the dorm common areas. It was mostly electronics, which I know nothing about, but there was a mostly full ream of paper which now sits next to my printer here at home.
I was feeling tired and uninspired last night, which didn't exactly prompt an exciting dinner plan. However, I was able to scrounge up the ingredients for some penne pasta with sauce. I had a small amount of hamburger leftover from last week, which elevated the sauce into something substantial. It fed the kids and myself and kept me from having to brave the grocery store.
I remember my father at my dorm moveout day back in 1988, as he excitedly helped himself to the stuff that students were simply abandoning. He found a large amount of change in one room, as well as a cool vintage stapler that I think he still uses. (I guess the apple doesn't fall far from the tree.)
My husband and kids treated themselves to ice cream cones while wandering around Ashland, but I chose to abstain as I simply can't pay $3.65 for a single serving of ice cream. Mind you, it didn't bother me for them to spend the money, but I'd rather keep my money available for big picture stuff. I found three pennies on the ground and joked that they were my treat.
My sons and I needed to use the bathroom while in town, so we went into Starbucks. However, we didn't buy anything.
Nothing on this list is mind blowing nor a new idea for you to try at home. It's really just abstaining from wasteful spending and choosing not to be picky about taking advantage of other people's discarded stuff. Like I tweeted last night, It's accepting "a non-exciting life."
Content, happy, simple.
Katy Wolk-Stanley