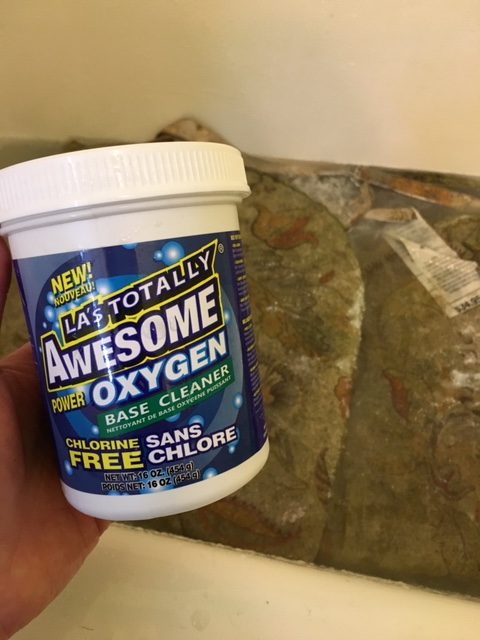 I spent a couple hours pruning my backyard hydrangeas, as well as hacking away at some oppressively low maple tree branches. I then swept and raked the brick patio for an overall tidy/well kept aesthetic. (Note the lack of words such as "impressive" or spectacular.") I don't want to make you jealous, but I filled two rolling yard debris containers!

The patio furniture cushions were impressively grimy, so I treated them to a spa day soak in my beloved Dollar Tree Oxyclean. The end result? Perfectly fine. Not perfect, not magazine ready and certainly not like new. They're now completely acceptable and I kept them out of the landfill for one more year.

The mindset to replace things when they're dirty or broken is important to resist. Especially when consumer goods seem cheaper than ever. The environmental ramifications of buying-and-tossing is killing our planet, so I challenge you to give your stuff a second chance whenever possible.

Click HERE to see the before and after.

I didn't end up buying Fred Meyer fuchsia starts for my three hanging baskets this year. Even though they're priced at just 5-for-$3, I didn't feel like spending the $9. I'd been rooting some free spider plant babies on the kitchen counter and realized that there were enough to fill one of the hanging baskets. (My dad has a huge spider plant in his kitchen that I occasionally snip from.) I now have a filled planter which cost me $0.00, and there's an extra $9 in my credit union account. Click HERE to see the planted basket.

Bonus win — no plastic packaging!

I ran out of milk yesterday, so I walked to the grocery store where I was delighted to find half-price 2% gallons for just $1.49! (Yes, "delighted." I stand by this word.) The expiration date isn't even until May 13th!

I finished listening to a free audiobook through the library's Libby app, I sold a vintage marmalade crock for $25 after having paid $1 for it, I crisped up three almost empty boxes of stale Chex cereals in the oven, I unscrewed and then cleaned up a gorgeous old doorknob from a dumpstered door, I chose to do some writing at Ikea to take advantage of their free coffee and battery recycling, I listed more stuff on eBay and I stopped by Trader Joe's and bought nothing more than their 19¢ bananas. No hummus, no snacks, no booze, no cookies.

I didn't buy a Lear Jet or a vulgar gold-plated apartment in the sky.
Now your turn. What frugal things have you been up to?
Katy Wolk-Stanley    
"Use it up, wear it out, make it do or do without."