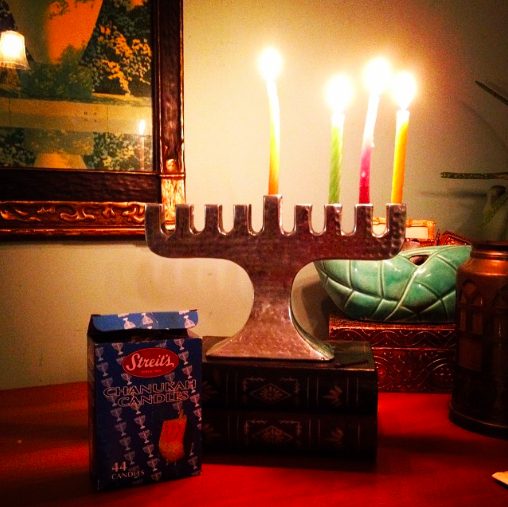 I'm doing another Five Frugal Things blog post today because frugality is an ever present part of my daily life.
I returned two sticks of full price deodorant to Fred Meyer as I had stocked up not realizing that I already had an extra stick on hand. (I normally only stock up on stuff like deodorant when it's on sale and I have a coupon.) I also got my money back on a bag of Cutie clementines as five or six of them went moldy within a few days of purchase.
I went to New Seasons to buy more menorah candles. (I'd had enough to get through the first two days of Chanukah.) My plan had been to splurge on the truly beautiful hand dipped ones, but lost my financial bravado when it came to actually spending $7.99 instead of $2 for the standard Streits ones. Once I got home I was perfectly content with the cheaper candles. It was only while in the store while looking at the expensive candles that I felt my purchase was a lesser option. A good lesson.
My husband and I are still getting along with just the one car. So far it hasn't been a problem, as he cycles to work and we simply plan our trips. However, we are aware that the only reason it's working out so well is because I'm not working much this month.
We still haven't spent any money on Christmas gifts. We just chose a nice Sampsonite rolling suitcase from my husband's congratulations-on-ten-years-of-employment catalog as the main gift for our older son who will off to college next year. We also used our $80 of free Sears gift cards (my husband has a Sears credit card he uses for work purposes) at Land's End to buy gifts for both sons, plus a December 27th birthday gift for my mother-in-law. I shopped on Black Friday as everything was 40%-off.
I made a Christmas reservation yesterday for our favorite Chinese restaurant. It's become a tradition for my some-of-us-are-Jewish family to go out for nice Chinese food for our Christmas dinner. Last year we waited at least two hours before being seated, so booking a reservation makes me feel like the most organized person on earth. My generous step-father treats for dinner, so it does in fact fall under the category of frugality.
Now your turn. What frugal things have you continued to do?
Katy Wolk-Stanley
"Use it up, wear it out, make it do or do without."