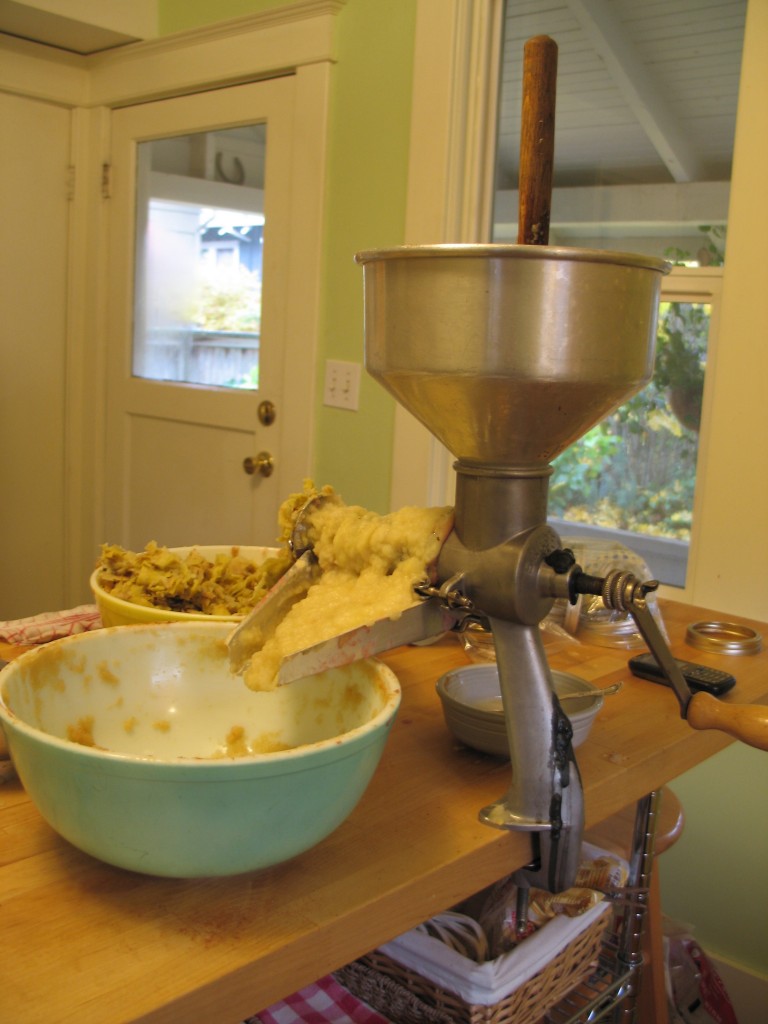 It's time again for Five Things That Make Me Happy And One Thing That's Pissing Me Off. Why add the "One Thing That's Pissing Me Off?" Because I'm a realist, that's why.
Five Things That Make Me Happy:
I stopped by my father's house to borrow his Squeezo Strainer, which allows me to make applesauce without having to peel even a single apple. My family has been using this contraption for decades, and I expect it will last longer than any of us.
My father had a small box of spotty apples to add to the 40-lb box that my husband brought home the other day.
It is a wonderful, amazing, sunny and affirming day here in Portland, Oregon. This is normally a grey, wet and depressing time of year, but our weather forecast calls for at least another week of sunny and dry weather. We native Oregonians know to soak up any and all vitamin D we can before the inevitable gloom sets in.
After realizing that my increasingly blurred close-up vision was making it difficult to read books, I finally stopped at The Dollar Tree and picked up a pair of +1.00 reading glasses. (My long distance vision is still fantastic.) $1 reading glasses, people! Plus, I can now rock that sexy librarian look. Shh . . .
I stopped at the N.E. Broadway Goodwill on my way home, and found a $6.99 pair of brand new looking Levi's for my younger son and an adorable $2.99 framed cross-stitch for my mother's birthday. I also bought a Lane Stressless-style leather chair for $49.99, I will sell it through Craigslist to plump up my sons' college fund. (Click those links to see pictures of my Goodwill finds!)
One Thing That's Pissing Me Off:
My husband is apparently unable to say "no" to free stuff. Whether it's through his multiple soccer related non-profits, workplace or a space alien offering free doodad polishing kits, (true story, bro) the man  is constantly coming home with cluttery and unnecessary stuff. You'd almost thing that he and I are different people. Sheesh . . . .
Now your turn. What's making you happy, and conversely what's pissing you off? Please share your thoughts in the comments section below. 
Katy Wolk-Stanley