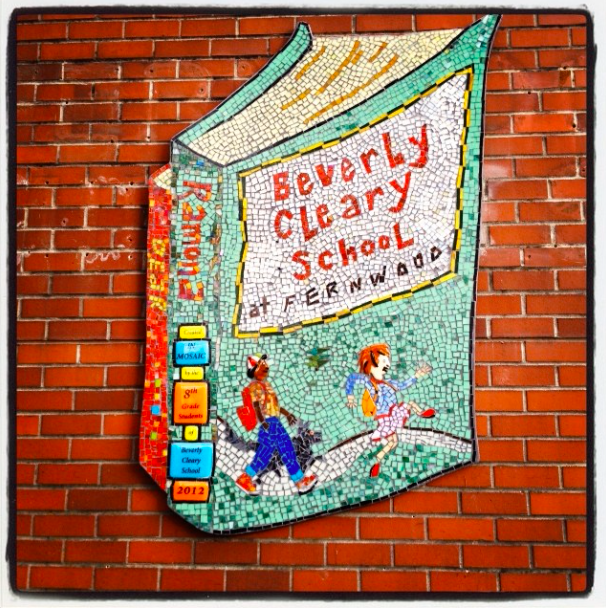 It's time again for Five Things That Make Me Happy And One Thing That's Pissing Me Off. Why add the "One Thing That's Pissing Me Off?" Because I'm a realist, that's why.
Five Things That Make Me Happy:
I discovered that Pandora not only plays music, but comedians as well. I put in Jim Gaffigan's name and have been laughing ever since. Many different comedians, all making me look completely insane, earbuds in place, doing dishes and laughing my evening away.
I cooked two of The Pioneer Woman's chicken pot pies last night and each and every one who sat at my table loved each and every bite. My onion aversive older son, my younger son's why-isn't-that-a-chicken-nugget friend and my exhausted husband, who'd just completed a fifteen-hour work shift. Pleasing so many different palates with a single dish is a rare feat. I'd serve this dish every freaking day if it didn't call for 50-bajillion pounds of butter.
I walked by my old middle school the other day and was greeted by a wonderful mosaic announcing the school's new name, which is The Beverly Cleary School. Portland may be currently famous for hipsters, ironic beards and food carts, but when I was growing up, Portland was famous for Beezus, Ramona and Henry Huggins. I grew up a few blocks from Klickitat Street, and those books will always touch my heart.
The leaves are finally done falling from my monstrous backyard maple tree. That means I am within sight of composting the millions of leaves through my curbside yard debris pickup. This may not sound like a big deal, but dealing with all these leaves is a huge pain in the tuchus each and every year.
The addition of a pair of Dollar Tree reading glasses into my life means I'm reading again. I now realize my eyesight had been deteriorating so slightly and subtly and I didn't even realize how unpleasant it had become to read. I now have a fat stack of library books just beckoning my name.
One Thing That's Pissing Me Off:
I overslept on Saturday and got my younger son work a half an hour late. He was extremely upset, and I just felt awful that his day had to start so stressfully.
Now your turn. What's making you happy, and conversely what's pissing you off? Please share your thoughts in the comments section below.