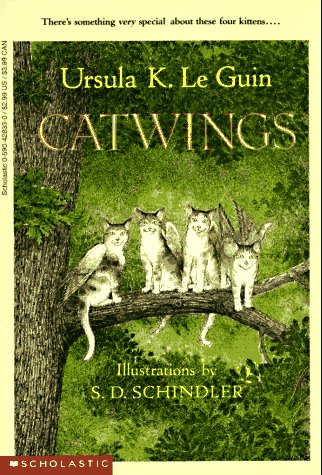 Five things that are making me happy:
I am flying to New York today to appear on Thursday's Today Show. (You know, of course, barring real news.) I get to visit with my dear friend Greta for two days, and then I get to take the train up to New Hampshire and stay a couple days with my friend Jennifer.
When I walked down to Powell's last night, they had three of the four Catwings books in stock. I bought them all for Greta's son Beckett. And yes, I bought them new. But I do have a Compact exception for books written by friends.
I had enough Powell's credit to get the books for free. This was leftover from hauling in a box of books for credit that I had found in a free pile a few months ago.
I have a review copy of Gretchen Rubin's new book Happier at Home to read on the airplane.
I have two giveaway copies of Happier at Home that I will later share with Non-Consumer Advocate community!
One thing that's pissing me off:
I think my cats killed a rat in the basement. There's dried blood at the bottom of the stairs and an awful smell next to the washing machine. However I haven't been able to find the source of the stench yet.
Now you. What's making you happy and conversely what's pissing you off?
Katy Wolk-Stanley
"Use it up, wear it out, make it do or do without."
Click HERE to follow The Non-Consumer Advocate on Twitter.
Click HERE to join The Non-Consumer Advocate Facebook group.
Click HERE to follow The Non-Consumer Advocate on Pinterest.