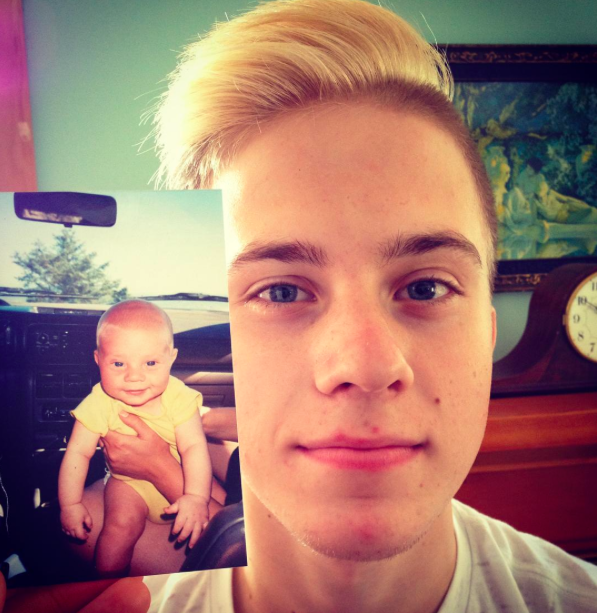 Five Things That Make Me Happy
This picture of my now 17-year-old son holding a photo of his three-month-old self. It's all the parenting emotions wrapped up into a single image.
Having a Grocery Outlet store that's an easy errand after dropping my son at school. I bought three full bags of food this morning for the low, low price of $38.99. This included normally expensive Columbus brand lunch meat, 20¢ yogurts, nice canned tomatoes, crackers and cheese and 25¢ tetra packs of chicken stock which I'll keep on hand for the next food drive. Compare this to New Seasons Market (locally owned, on par with Whole Foods) which tends to run $50 per bag of groceries. Great quality food that allows me to stay on budget is a huge happiness factor for me!
Living in an urban neighborhood that's 100% walkable for almost everything we need. Whether it's the library, consignment shop, grocery store, art supply store, food carts, movie theater, bookstore or head shops Goodwill, it's easy to get to everything we need without starting up the car. (I joke that we live in the head shop district, as there are four, count 'em four head shops within a few blocks of our house!) We bought our fixer-upper back in 1996, and there's no freaking way we could afford to buy our house in today's real estate market.
My son is taking photography this year, and we were thinking we'd need to source a 35mm camera for him. But I remembered this morning that I actually already had one that my husband gave me as a gift in 1988. We'll shoot a roll of film first to make sure it doesn't require any maintenance, but my son should now be good to go.
I get to go see my friend Greta Michelfeld's semi-autobiographical film today as part of the Portland Film Festival. Sadly she lives in Queens, NY and won't be able to attend her own movie premier, as it's her son's first week of school. However, I'm going with my mother and we're going to cheer for her, hopefully in a way that reaches 3200 miles across the United States. It's called As Good As You, and it's getting amazing buzz!
One Thing That's Pissing Me Off
I'm fighting a dreadful headache this morning. I worked both Monday and Tuesday, which is a very dehydrating thing to do. (Nurses don't have time to stay hydrated, and if they were to drink a normal amount, they certainly wouldn't have time to use the bathroom!) I forgot to make up for it yesterday which is resulting in the feeling that someone inserted a ball of hot lava behind my left eyeball.
Now your turn. What's making you happy, and conversely what's pissing you off?
Katy Wolk-Stanley
"Use it up, wear it out, make it do or do without."
Click HERE to follow The Non-Consumer Advocate on Twitter.
Click HERE to follow The Non-Consumer Advocate on Instagram.
Click HERE to join The Non-Consumer Advocate Facebook group.
Click HERE to follow The Non-Consumer Advocate on Pinterest.