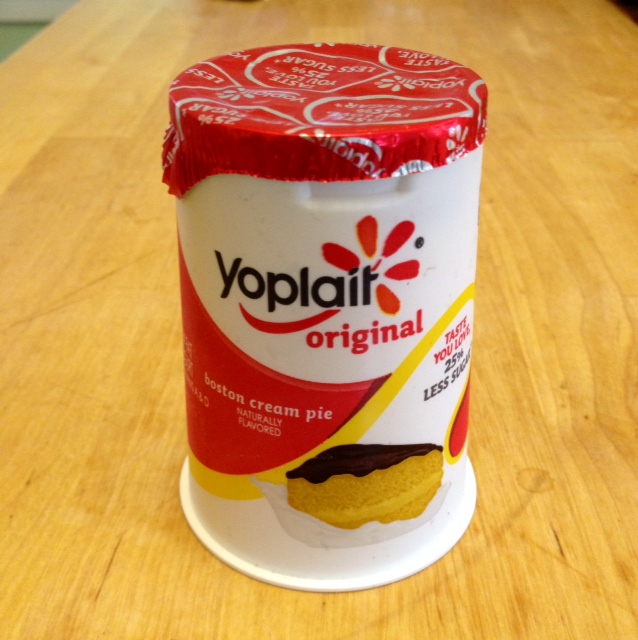 My family of four lives on a limited budget. Partly because years ago my husband and I stupidly folded debt into our mortgage, which means we pay an enormous monthly amount, but also because we have savings goals. We aspire to send our kids to college without student loan debt and my husband and I want to pay off our mortgage years before we retire.
So we scrimp and then we save.
Just yesterday I hit up our local Grocery Outlet for snacks and random food items. (Their inventory is so varied that it's impossible to write out a specific grocery list.) I made my way over to the yogurt aisle and noticed that the Boston Cream Pie flavor was priced at 20¢ apiece. Normally I would choose a variety of flavors, but instead I grabbed six containers of the same yogurts and headed to the check out.
This single act of choosing the same discounted yogurts may seem insignificant, but it isn't. Living on a limited budget supports our big picture goals and it's this commitment that allows us to enjoy a rapidly increasing savings account while also saving towards retirement.
Saving in the here and now allows for an abundant future.
At this point you might be wondering if our scrimping and saving is depleting the joy from our here and now? The answer is an emphatic no! Because we're content with our thrifted furnishings, our frugal meals, our non-flashy lifestyle, our frugal choices.
When you're content with what you have, it's easy to avoid feelings of deprivation.
Being thoughtfully frugal with my purchases allows me to hit our long term goals. Which is more important than a variety of yogurt flavors. Any day of the week.
Katy Wolk-Stanley
"Use it up, wear it out, make it do or do without."
Click HERE to follow The Non-Consumer Advocate on Instagram.
Click HERE to join The Non-Consumer Advocate Facebook group.