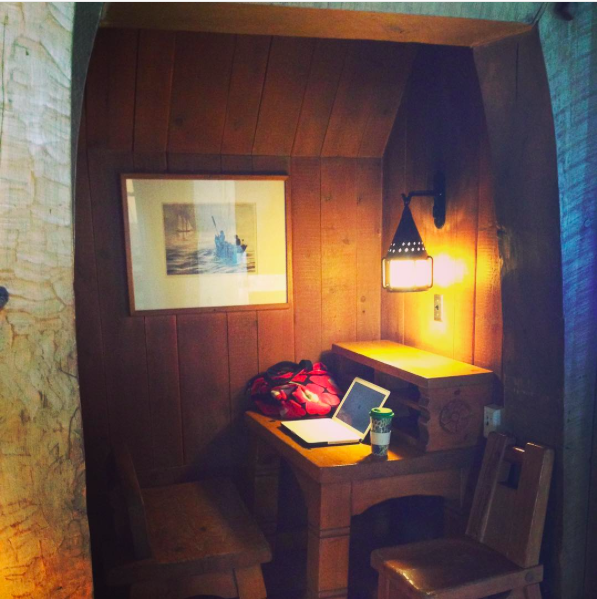 What's making me happy:
I'm happy that the road to Timberline Lodge was freshly plowed so that my husband and I were able to avoid putting chains on the tires.
I'm happy that the architects of Timberline Lodge included this little writing nook way back in the 1937, and that no one besides me wanted to claim it as their own in 2017.
I'm happy that both my kids seem to be emerging as functional adults who know how to problem solve and take care of themselves. (This is prompted by my older son who figured out how to get himself to jury duty, despite it being in a different town than where he attends college. He successfully argued that he has classes he's unable to miss, and then he figured out how to catch a bus back to campus. He didn't even contact me once about the logistics, so I only heard about it afterwards!)
I'm happy to have amazing neighbors who don't bat an eye about keeping an eye on our cats while we're out of town.
I'm happy that I took the time to deep clean the house, so that we'll come back to a fresh and inviting home. Nothing is more depressing than coming home from vacation to a stale smelling and messy house.
What's pissing me off:
An eBay buyer tried to scam my son by claiming that he'd sent the wrong size soccer jersey. Luckily the jersey that he returned had a different ID number on it, so I was able to definitely prove the deception. My son is not out any money, but I spent a fair amount of time and mental energy dealing with the return. However, I learned that you can block a buyer, which is a good skill to have.
Now your turn. What's making you happy, and conversely what's pissing you off?
Katy Wolk-Stanley
"Use it up, wear it out, make it do or do without."