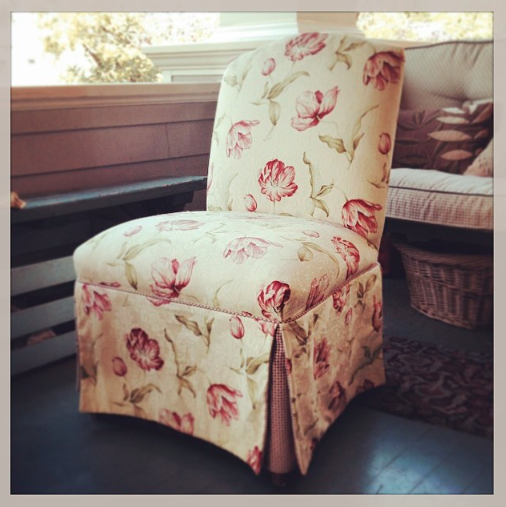 Five Things That Make Me Happy and One Thing That's Pissing Me Off
Happy:
My recently purchased $30 thrift store loveseat had developed a break in the rear support. This made the couch very uncomfortable, and was a huge bummer. So yesterday I removed the bottom upholstery fabric and identified the culprit which was a length of split wood along the back. My husband and I were able to screw a support piece across the board which completely fixed the problem. I stapled all the fabric back in place and the loveseat is now better than ever!
My husband has a high school chum who works for Nike, and has been very generous with samples for our sons. (Especially our younger son who currently wears a size nine shoe, which yo, is the sample size!) My son now has new pairs of both indoor and outdoor soccer shoes and we didn't have to spend a penny. And I learned that "LBJ" on a sweatshirt means LeBron James, not Lyndon Baines Johnson.
I scored a lovely upholstered side chair for free while taking my son to school today. It had just been put out, and I'm pretty sure that none of my son's classmates spied me scooping it up while still in my pajamas. Floral is not my style, so I'll either sell it on Craigslist or put it in an upcoming garage sale. Either way, it's free money for the ol' college fund!
The brand-new Portland sunshine-y weather means I can start using my outdoor clothesline again.
I've been able to pick up two extra shifts from staff nurses who needed the days off. The 24 hours of pay will come in handy.
Pissed Off:
My mother gave me $100 to share with my niece and nephew while we were in New York. I completely and utterly forgot that I had it and simply used it as part of my money. As stealing from kids is not one of my usual money saving tips, I put a hundred dollars into an envelope and sent it to my sister's workplace as soon as I realized my mistake. (Along with a book my mother had also sent along with me to give to my sister. It had been put in my son's suitcase, and also forgotten.) As of yesterday, the Media Mail envelope had yet to arrive, and I'm now questioning the intelligence of putting cash in the mail.       Update: The money and book arrived safe and sound. Whew . . . 
Now your turn. What's making you happy and conversely what's pissing you off? Please share your thoughts in the functional comments section below.
Katy Wolk-Stanley