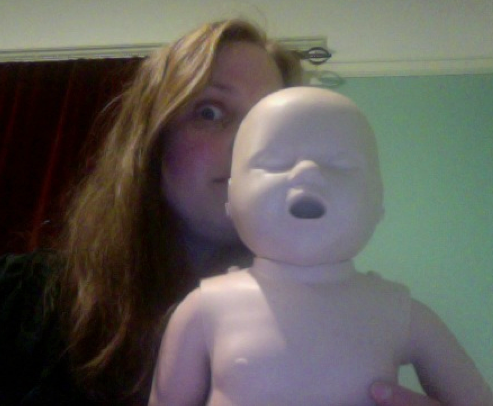 I love playing with my hundred year old house. Swapping out the furniture, fixing up thrifted finds and doing my  best to keep it organized in an attractive yet creative manner. Some rooms look great and other rooms . . . let's just say they'd look cool if anyone took the time to declutter them and finish up the projects.
One of my favorite designers is HGTV's Emily Henderson. Her aesthetic is the perfect mix of bright and funky, with enough vintage and curbside finds to please my trend-abhorent snobby self. So when she announced on her blog that she was seeking stylish houses in Portland to photograph for an upcoming book, my mind started to whirl. What would be more fun than the chance to have my house professionally styled by Emily and  then photographed?
And then I looked around the house.
The living room is crowded with soccer gear and CPR equipment, and not just a regular amount of soccer gear either as all men in my house play on teams. Plus, my husband coaches and runs a high school Futsal (indoor soccer) league. A league people, an entire freaking league! And if there's anything creepier than boxes of limp resus-a-babies in one's living room, I have yet to hear about it. (Horror film idea — CPR manikins come to life and exact revenge on any and all who once crunched them with chest compressions. . . but I suppose I should save that for another blog post.) I like the idea of being a decor trend setter, but I don't think the design world is ready for CPR manikins as the new vintage globe.
Like my life, my house is cluttered and imperfect.
But I don't really want a photo ready house that shows no signs of projects and evidence of the four people who live here. In a few short years we'll have that empty nest and a house that stays clean and tidy. I'll be able to stash the CPR gear in one of our empty bedrooms, and I'll yearn for the days of mess and whirlwind activities. Days when our living room reflected the complete family who inhabited our home.
So I didn't send any photos to Ms. Henderson. My house is what it is. Full of awesome thrifted finds, soccer gear and creepy CPR babies.
Katy Wolk-Stanley