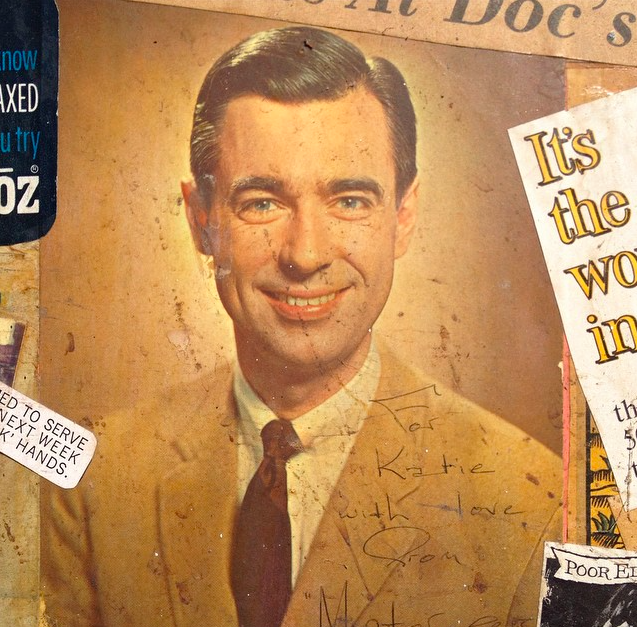 Five things that make me happy:
My own personally autographed from from Mr. Rogers, who was one of my grandparents' neighbors. It was glued onto the front of my childhood refrigerator door, which was luckily left to mildew archived in my father's basement. Yes, he spelled my name wrong, but it's a happiness sparker nonetheless.
My neighborhood has slowly but surely developed a culture of putting out unwanted stuff for free. I just now brought home a perfectly good cedar barrel planter that just begs for me to grow another tomato plant in the garden.
I'm currently reading a library copy of Beverly Cleary's A Girl From Yamhill. I brought it along with me yesterday to my son's high school, as I knew I'd be killing time for an hour or so. There I was, sitting in my uncomfortable chair in the hallway engrossed in book when I suddenly realized that I was reading Cleary's memoir while in the actual high school that she attended. The school has not changed much since being built, and I got tears in my eyes while imagining her walking the familiar hallways. It was a moment of pure kismet.
I currently have a pan of homemade cinnamon rolls baking in the oven. I contend that here is nothing more intensely groan-worthy than the intoxicating scent of cinnamon rolls.
The health and well being of my loved ones, the roof over my head and the food on my table. (Not the literal food on my table. That crud needs to be scraped off!) 😉
One thing that's pissing me off:
I cancelled my Oregonian newspaper subscription last month, and since I'd already paid a month in advance, I was due a partial refund. However . . . they credited me $7.52 and then immediately charged me the same amount. Their records don't show the charge, but my credit union does. It's been a a decidedly unfun game of phone tag, but I finally e-mailed the correct person a screen shot of my bank statement that shows the charge. Almost as much work for the $7.52 as if I'd picked it up as pennies from the ground!
Now your turn. What's making you happy and conversely what's pissing you off?
Katy Wolk-Stanley
"Use it up, wear it out, make it do or do without."