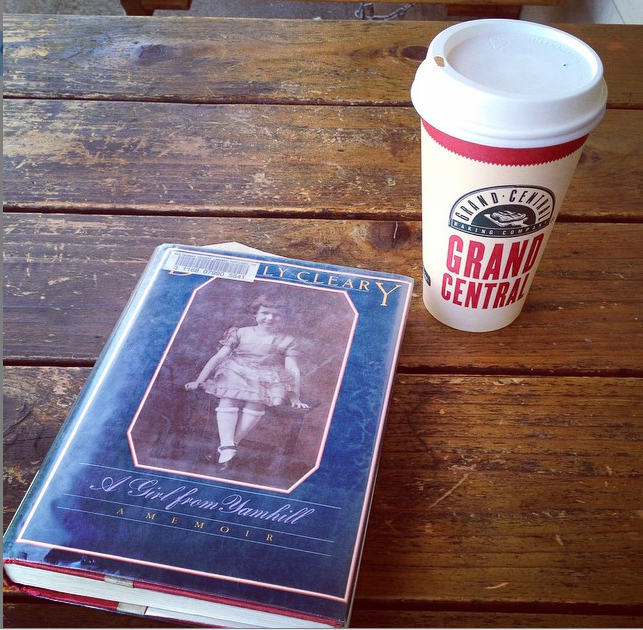 My son had a work meeting from 7 A.M. – 9 A.M. yesterday, and it was too far from the house to be worth going home. Instead I pulled out four Grand Central Baking punch cards that when combined added up to a single free coffee. (My cards, my mother's card and one left behind from a guest cottage tenant!) I brought my library copy of Beverly Cleary's A Girl From Yamhill and sat outside to enjoy a leisurely read. A perfect and frugal treat!
My husband met up with friends last night to watch the Timbers-Sounders soccer game. The pizza was provided by Hot Lips and there was enough leftover for him to bring four pieces home. Yay, free food!
I sold and donated the box of free toys that I brought home the other day. The kids' consignment shop bought some, I sold the majority for $30 through Craigslist and the miscellaneous rest got donated to Goodwill. (I've decided that I'm a modern day Rumplestiltskin and spend my days spinning straw into gold.) The woman who bought the lion's share was about to have her baby granddaughter visit, and was very happy for the bargain!
I've been half-heartedly attempting to put my weed choked and overgrown garden into order, and the sight of terra cotta plants filled with dried out soil and dead plants wasn't exactly filling me with joy. I had zero interest in dropping a bundle at the plant nursery, so instead I dumped the soil into a garbage picked cedar planter and scrubbed them up for a new owner. I already have a number of terra cotta pots with hens and chicks on the porch, and these ones were just too much! I wrote up a Craigslist listing, and already have a woman coming over to take them to her garden. I'll put $25 in savings and a enjoy a simpler and more attractive garden. Win-win!
I was able to return a case of motor oil to Costco last week that was for our sadly totaled Subaru Outback. I still had the oil filter which had been purchased at Fred Meyer. We didn't have the receipt, but the nice people at customer service gave us a store credit for $7.99. I brought home a gallon of milk and I'll spend the rest on a tomato plant for my nice big cedar planter. Straw into gold, baby. Straw into gold!
Now your turn. What frugal things have you been up to?
Katy Wolk-Stanley
"Use it up, wear it out, make it do or do without."