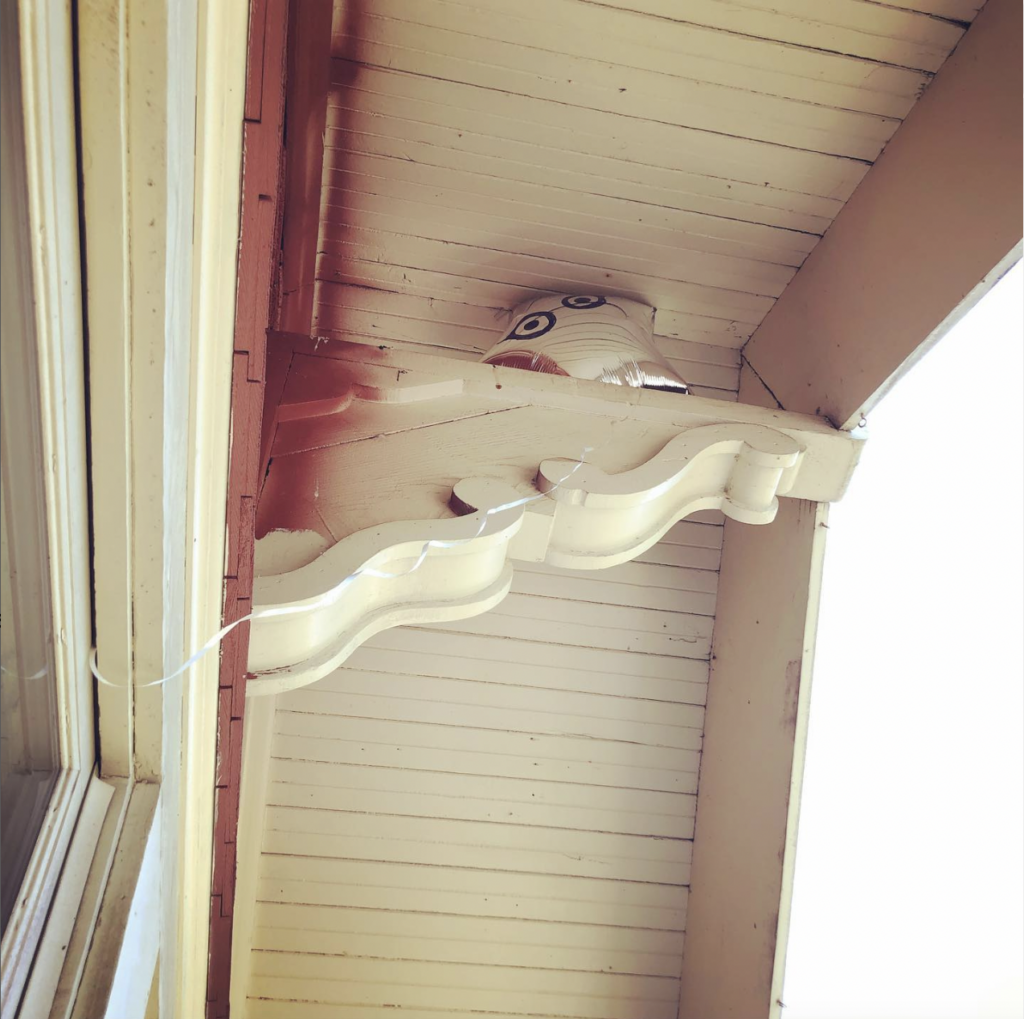 I made a point of scoping out Fred Meyer's clearance shelf and lucked out on three two-pound bins of strawberries for a buck apiece. A few were too far gone to salvage, but the rest just super ripe but otherwise fine. I didn't have the bandwidth to make jam, so I sliced and froze them on cookie sheets for now.

My slumlord neighbor actively ignores the pigeons that gleefully reproduce in his broken down eaves, so now we have a pigeon that sits and poops off the tallest corbel in front of our house. (I know his tenants and other neighbors have complained, so he's fully aware of the issue.) We've lived in this house since 1996 and never had issues until now. It's gotten to the point where I've added "clean off pigeon feces" to my daily to-do list.

The problem is that that top corbel is inaccessible without risk of death, so I did a little Googling and came up with the idea to draw scary eyes on a helium balloon from Dollar Tree and just fly it out our bedroom window. I see there are products that serve the same purpose, but I'll always start with the cheap/simple route. I know it's not a permanent solution, but it is a $1.50 solution.

I only set up the deterrent balloon a few hours ago, but so far it seems to be working. The pigeon flew away when I set it up and then acted super freaked out when it tried to return, which I consider to be worth at least a buck-fifty! Hopefully it'll stay away and my porch steps can return to normal. Sans feces.

* Update — It's been 24 hours and the pigeon has yet to return!

My daughter brought me a bouquet of flowers that her schwanky grocery store was throwing away. I snipped off any browning leaves and trimmed the bottoms of the stems and they look fantastic!

• I got another free Doritos Locos Taco from Taco Bell using the app and a "Taco Tuesday" promo code.
• I made sure to return a couple items to Goodwill before it was too late and/or I lost the receipt.

I didn't grab the $1 Lear Jet from the clearance shelf.
Katy Wolk-Stanley
"Use it up, wear it out, make it do or do without."
Click HERE to follow The Non-Consumer Advocate on Instagram.
Click HERE to join The Non-Consumer Advocate Facebook group.