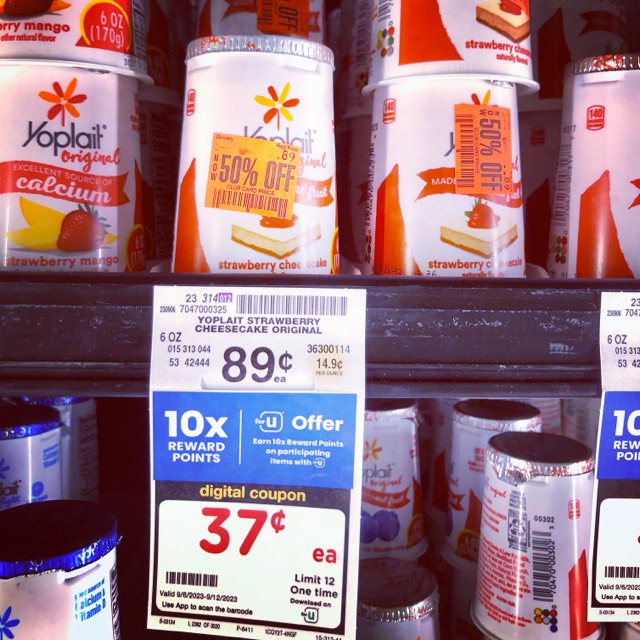 I calculated our food spending for the month of September and we're up to $135.82 so far. I don't have an official number that I'm trying to stay under, but secretly I'm trying to spend less than $400. Super secretly I'd like to have it be much less, but we'll see how the month goes.

Although on paper our household is just me and my husband, our son does stop by for dinner most nights. I know he'll get further into his adult life and we'll have to schedule these meals, so they're special for now.

My husband had fallen into the habit of drinking flavored canned seltzers. He started with La Croix, which morphed into the gateway drug that is Spindrift sparkling water. These pseudo-sodas are expensive, especially when you start taking them for granted and mindlessly down multiples of them per day.

I've put a stop to this canned water addiction. So if you run into my husband, please be kind to him as he's going through the painful process of enjoying tap water all over again. He's also probably dehydrated.

I looped a smattering of errands to minimize my driving.

• I returned an Amazon.com remote control that I'd bought for my sister's air conditioner unit. It turned out to be the wrong model, so I initiated a return on the app and dropped it off at the UPS store for free.
• I returned an armload of overdue library books and checked out two new ones.
• I bought two more helium balloons at Dollar Tree to deepen my anti-pigeon campaign.
• I walked the couple blocks from Dollar Tree to Trader Joe's to buy two bunches of 19¢ bananas and nothing else. Of course I nabbed a Mandarin Orange Chicken sample.

• I scrubbed out my daughter's Mr. Coffee coffee maker left behind by her old roommate. It was revoltingly filthy and I actually considered binning it at a couple points. Instead, I ran it with vinegar a couple times over, twice with soapy water and then probably a dozen times over with plain water.
• My neighbor across the street gave us two pieces of her homemade lemon blueberry cheesecake.
• I stopped at Safeway for milk and eggs and glanced over at the yogurt aisle and noticed that some of the 37¢ ones were an additional 50% off! I bought six and then checked my Ibotta app (referral link) and uploaded my receipt to get an additional 50¢ rebate. The math worked out to be 9.6¢ per yogurt.

I didn't buy a sparkling Lear Jet.
Katy Wolk-Stanley
"Use it up, wear it out, make it do or do without."
Click HERE to follow The Non-Consumer Advocate on Instagram.
Click HERE to join The Non-Consumer Advocate Facebook group.