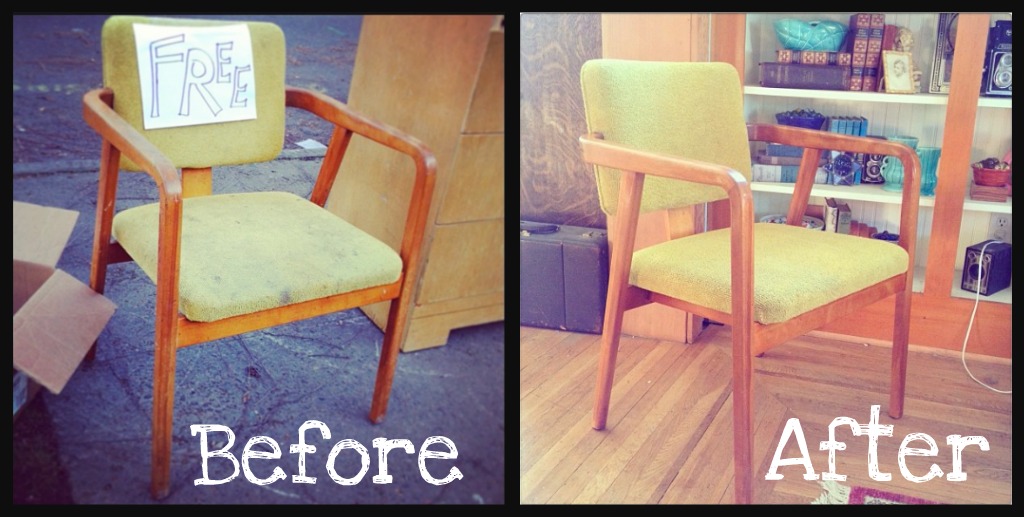 I'm lucky enough to live in a neighborhood where I can mostly walk my errands, and I'm lucky enough to live in Portland, Oregon where people put their unwanted stuff in front of their homes. And I guess I'll have to add that I'm lucky enough to live in a climate that has recently been experiencing day after day of sunny dry weather.
Why is all this relevant?
Because wintertime is normally a dormant season for free pile treasure hunting.
But I lucked out last week when I passed by the above midcentury chair while on my way to pick up dinner ingredients. Yes, the fabric was filthy, but it looked pretty superficial, and I liked the chair's sturdy lines. I snapped a photo for my Instagram account in case someone else took it, and I told myself I would pick it up if it was still there on my way home from the store.
It was.
I follow a ton of midcentury furnishing sellers on Instagram as a way of honing my eye for hidden treasures, and a number of them follow me back. One of them identified the chair as a George Nelson, and a bit of internet searching further revealed the chair as a George Nelson for Herman Miller maple dining chair, which can sell for up to $1000 apiece.
I cannot oversell how disgusting the fabric was, but I own a Bissell rug shampooer, so I figured I would give it the ol' college try. My first thought had been to reupholster the chair, but I know enough to preserve the original fabric of a valuable piece. I truly did not think I could get the fabric back to an un-disgusting state, as I thought a few of the ground in gummed-up stains were cigarette burns.
I went over the upholstery over and over (and over) again with the hand-held attachment, using Dollar Tree oxyclean in the Bissell's sprayer. And slowly but surely the fabric brightened and came to resemble something I could sit on without cringing. Not perfect, but pretty damned close.

I even got out my Sonicare toothbrush for the particularly stubborn spots, using a demoted brush head.

I was truly amazed by how fantastic the chair looked after an hour of my patented elbow grease.
The wood was still kind of dirty, but I mixed up a mild soapy solution and wiped it down with a soft rag. I then rejuvenated the wood using my trusty bottle of Restore-A-Finish, which works wonders on vintage wood.

And here's the newly freshened chair, all ready for a new owner. I have it up on Craigslist for $500, although I doubt that deep pocketed midcentury aficionados populate Portland as much as southern California and New York, so I may end up putting the chair up on eBay or Etsy. I do not relish the idea of shipping such a large piece, but apparently it's not as difficult as it sounds. (Greyhound seems to be the preferred shipping method.)

Even if it does take awhile to sell, (it's a decidedly specialized item) I'm happy to give it a home for as long as it takes.

Trash to treasure? It never gets old!
Katy Wolk-Stanley