It's been over a month since I've done a Goodwill, Badwill, Questionable-will post, and that's due to a couple of factors.
I've been trying to not go to Goodwill so often.
Somehow the Goodwill stuff I've run across has been has been, meh . . . kind of ordinary.
However . . .
I had an idea to give thrift store paintings to my sons for Christmas. Not to enjoy as-is, but as a creative prompt. Have you seen the trend to take thrifted painting and add crazy stuff to them? It's freaking genius! Unfortunately, I didn't come across any worthy ones during the gift giving season, but I spotted this $7 beauty and knew she had to come with with me. The woman is just so incredibly perfect, with her feathered bangs and her voluminous skirt!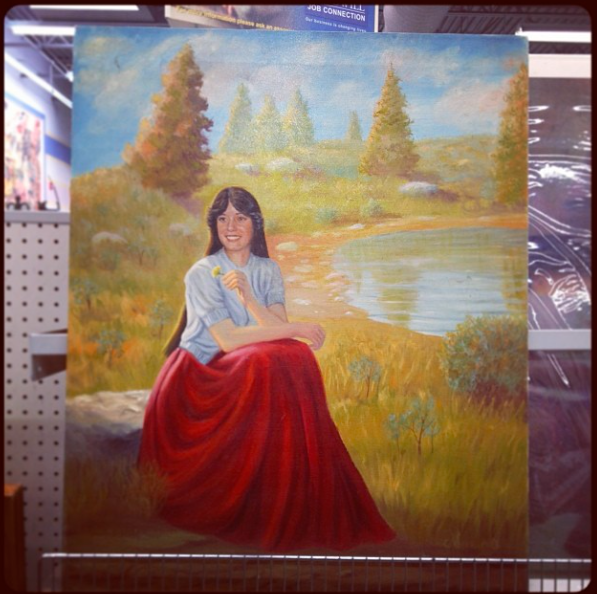 The bangs! The bangs!
I wonder how she would feel about a monster or two coming out of the water and from behind the hills?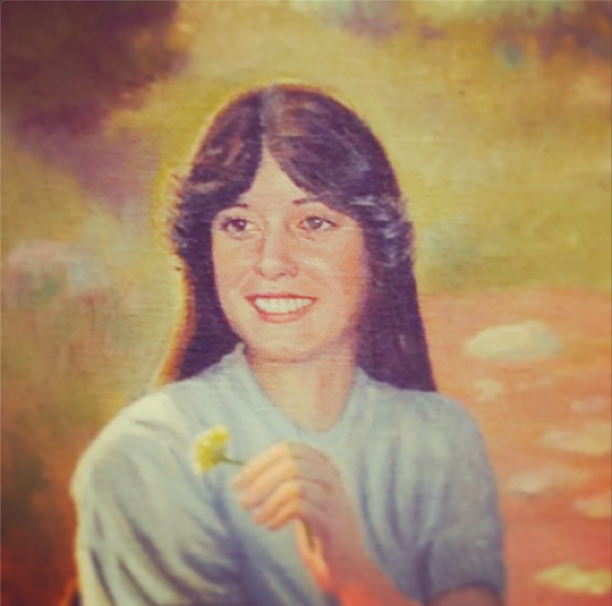 I was tempted by this painting of a dead eyed girl holding baby chicks, but the lack of any background detail kept this girlie from coming home with me.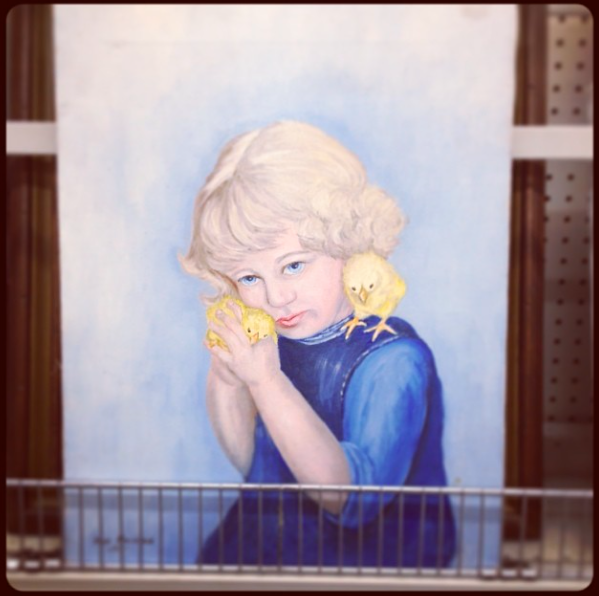 I couldn't resist these vintage bakelite knives priced at 29¢ apiece. Bakelite gets ruined when put through the dishwasher or left to soak, so it's rare to find them in such good condition. I can see putting these out when we have dinner guests and actually serve need-to-be-spread appetizers.
So very pretty . . .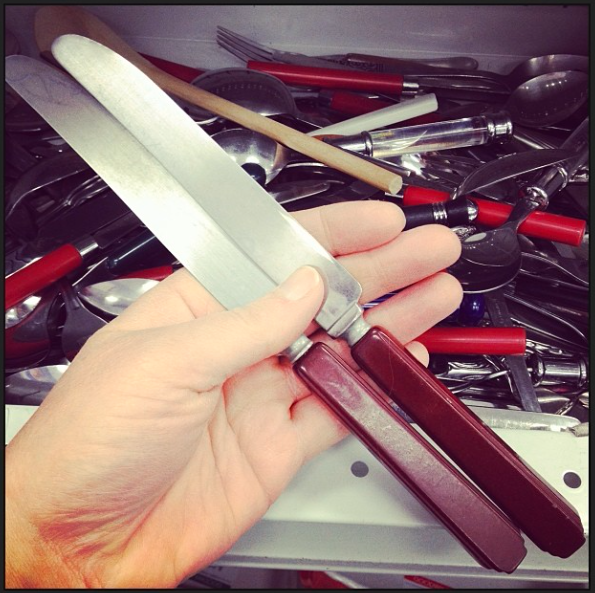 These $2.99 vintage bookends caught my eye, and I actually bought them only to return them a few days later. I love the color palette, but they're oddly light, which kind of kills the functionality of them. Also, I have no good spot for them.
Crap. I've started liking them again.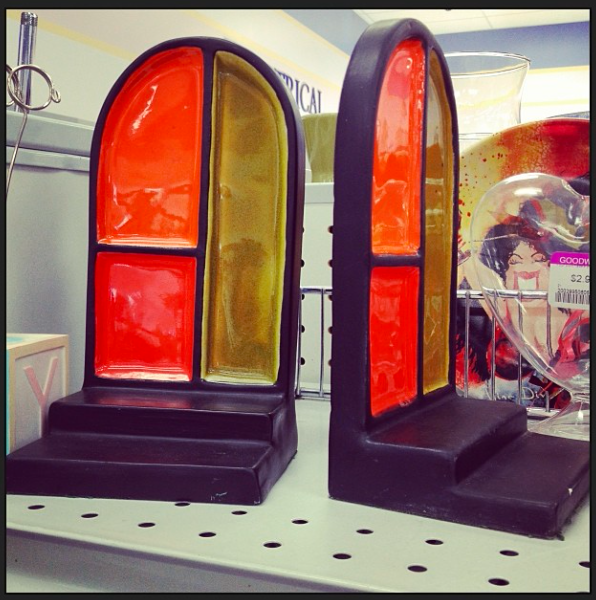 However, I brought home (and kept) this vintage granite jewelry box. Priced at only $3.99, it will work perfectly on my bedside table to hold my odds-and-ends, bits-and-pieces, accumulation-of-ephemera. Stuff.
The stone has incredible patina, nicely aged without being beat up.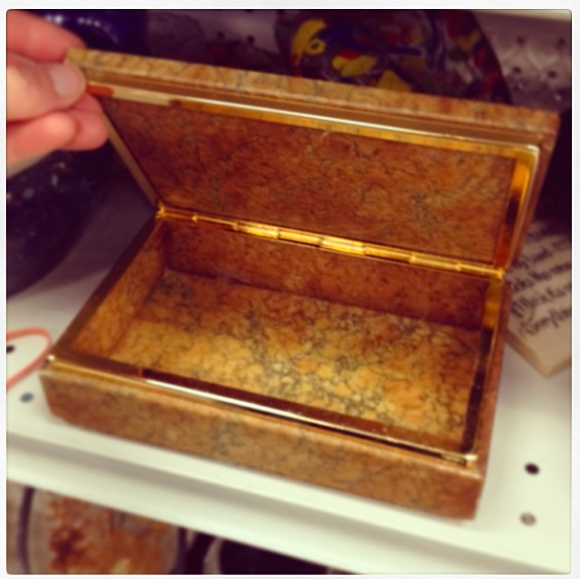 Something I was not tempted by, and am boldly declaring to be The Ugliest Pair Of Shoes Ever Created.
Part Converse.
Part Victorian granny shoes.
Part stripper heels.
Part rain boots.
Completely hideous.
A Frankenstein compilation for fashion victims everywhere!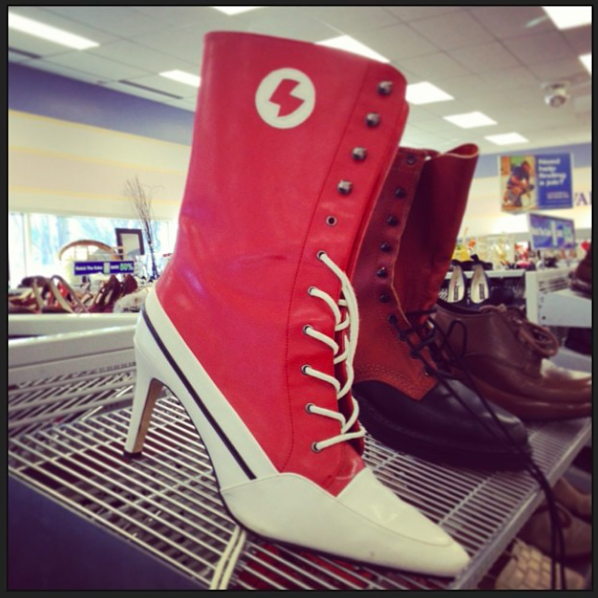 I did fall a little bit in love with this vintage lamp. Because what's better than a vintage rubbery owl lamp with googly-eyes? Because, you know . . . it's a good idea to repeatedly shake a lamp.
Maybe a good lamp for those living along the San Andreas fault.
"Hoo-ever is shaking me needs to cut it out!"
Said the owl. Lamp.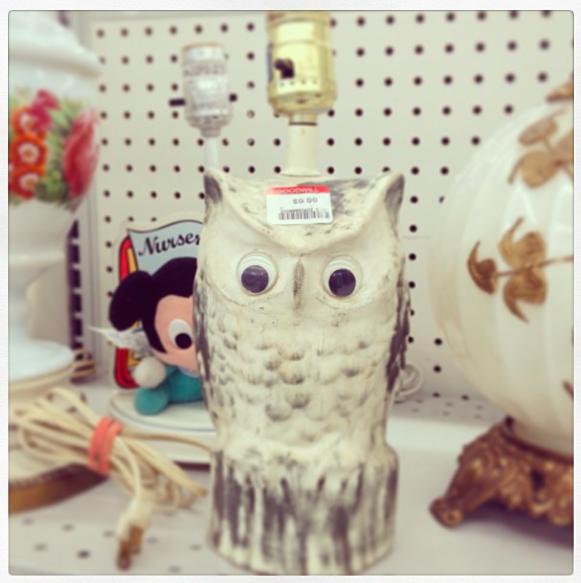 Have you come across any good, bad or questionable items during your thrifting adventures? Please share in the comments section below!
Katy Wolk-Stanley