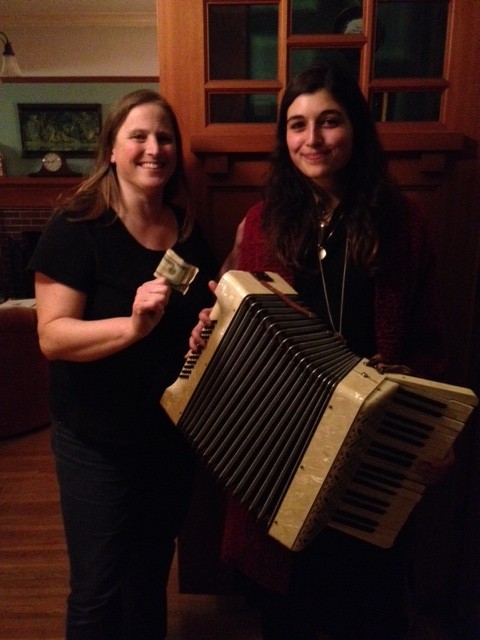 I sell frequently on Craigslist, from the kids' outgrown toys to underpriced Goodwill treasures, to stuff that hasn't earned its spot in the house. My husband's old accordion fell under that last category. I bought it for him in 1989 as a gift, and I think I paid $75 for it. Unfortunately, it had been relegated to our damp basement and was not doing well. The case had rotted and the bellows were no longer intact.
However, it was still a beautiful instrument, so I listed it on Craigslist. For $40 at first, and then down to $30 a few weeks later after it attracted zero attention.
And then I received this e-mail:
Do you still have this wonderful accordion?
If so I need this!!!!!!!! I've been looking for one forever!
Are you down to trade?

I am a Healer; Reiki master, Minister, Intuitive Counselor, Vegan/health food chef. I can cook for you, clean, do yard work/house work, I can provide guided meditations, shamanic journeys, communication with the other worlds and much more. Also have ganja up for trade. Let me know if you're down to deal! I literally have zero cash right now, but if you aren't down to deal let me know and I will bag a friend for a few bucks to get this lovely piece.
Keep in mind that I live in Portland, Oregon, subject of the parody TV show Portlandia. Except those of us who live here know that show is no parody. It's just straight-up direct observation!
I shared this e-mail over at The Non-Consumer Advocate Facebook group and it. was. a. hit! Not just the offer of "ganja," (keep in mind that recreational pot is legal in Oregon) but also the offer to "bag a friend" for money.
Bag a friend.
Was it a typo, an autocorrect or was she really going to "bag a friend" for accordion money?! East coasters shared that to them, "bag" meant murder, while others felt there was a sexual connotation. Perhaps "bag" up some marijuana? Did she mean "beg" or "bug?"
The buyer came by last night to buy the accordion, and I was so excited to meet her in person that I forgot to get clarification. Stupid, stupid, stupid! But I did request a photo together, (and yes, I told her I'd be putting it up on the internet.)
I ended up insisting on cash, as it's hard to pay my sons' college tuition with "ganja" or "communication with the other worlds."
What would you have accepted? The ganja, the shamanic journey or communication with other worlds? Would you have required cash as I did, or would you have taken the pill and jumped down the rabbit hole? I think I missed a very interesting opportunity.
Katy Wolk-Stanley
"Use it up, wear it out, make it do or do without."
Click HERE to follow The Non-Consumer Advocate on Twitter.
Click HERE to follow The Non-Consumer Advocate on Instagram.
Click HERE to join The Non-Consumer Advocate Facebook group.
Click HERE to follow The Non-Consumer Advocate on Pinterest.