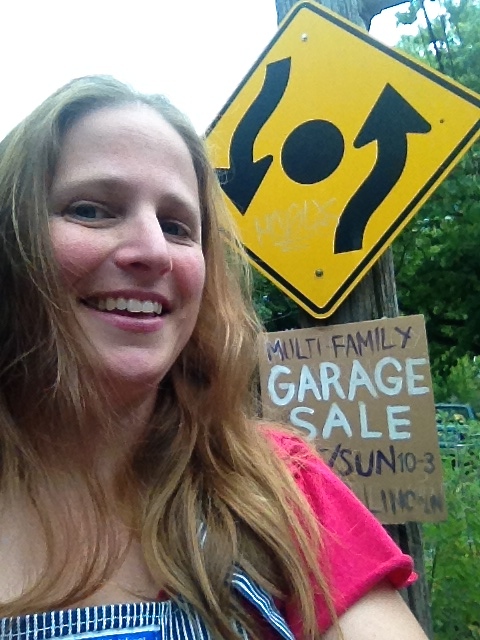 My weekend garage sale sale both a success (Saturday) and a bit of a dismal endeavor (Sunday.)
Saturday's weather was hot, hot, hot! So much so that my husband set up the large shade canopy over the driveway to provide a bit of much needed shade. It was an excellent decision and allowed people to shop without melting in the 92° urban heat. I'd say that about half of the merchandise was spread out in the sun, but it was still nice to have that bit of shade. We were consistently visited by customers, and I made $211.75.
Sunday was an entirely different beast.
The day started out lovely with soft clouds and mild temperatures. Unfortunately, those "soft clouds" transformed into dark grey booming and angry thunder clouds, complete with heavy rain showers and flashes of lightening.
Needless to say, the weather kept Portlanders from heading out for a day of pleasant garage sale-ing.
Also, it hadn't even entered my mind how the citizens of Soccer City, U.S.A. would plan their day around watching the final game of the World Cup.
Oops.
Luckily, I spent some time Saturday night rummaging through our attic space for additional STUFF to sell on Sunday. And although most of it went unsold, I did unload an acrylic oriental rug for $40, as well as a few pairs of my son's outgrown Vans sneakers and miscellaneous other things. Day two garnered a less impressive $82.50 in sales.
And that shade canopy? It transformed itself into a refuge from the rain, without which we would've had to scrap the entire day.
Even though Sunday's customers only came in fits and spurts, it was still worth doing, as the hard work of a garage sale is organizing the whole shebang.  Plus, I had my friend Lise as company, which made it pleasurable, as it's normally rare to indulge in five-hour long conversations with friends.
Notable moments from the garage sale:
The woman who told me, "I was on my way to the liquor store to buy tequila when I saw your sign."
The mother who talked her daughter out of buying a stuffed unicorn, saying to her, "I'll say to you what I always say, 'Will you be using it in two months?' " Which made the girl rethink her purchase and put the unicorn back into the bin.
The multiple potential customers who had a laugh at the Kitty Walk caged cat stroller that my neighbors put into the sale.
The eight (?) year old boy who talked me down from $3 to $2 for a pair of black slip-on Vans sneakers. I heard him loudly exclaim "score!" once he got back into his car.
The elderly asian man who spent probably 30 minutes fiddling with a VCR to confirm that it worked. He then haggled me down to $3 from $5 despite speaking pretty much no English.
Selling my neighbor's outdoor heating lamp to another neighbor who last summer slept on her garage roof. I once had to yell at her to please not have outdoor sex six feet from my kitchen window. The other neighbors and I had a laugh about how maybe she's planning on extending her outdoor season.
The obviously drug addicted customer who picked a fabric cinch sack from the free box, and then not so subtly snuck something from the clothing area into it. He then walked quickly away when I asked him if he needed help. I would have been happy to give him any clothing he wanted, so this did not bother me.
That the little-league size jock strap/cup did not get chosen from the free box, although the expensive hair products I won in a school auction and the toiletries left behind by our Japanese exchange student did.
Multiple interesting conversations with neighbors and random strangers.
Pretending to walk a large stuffed frog in the Kitty Walk. (Also, realizing that "Kitty Walk" and "Katy Wolk" were almost the same.)
Today I'll bring the unsold STUFF over to a local consignment shop before I delegate everything to the Goodwill drop off. One thing's for sure though, which is that I am not bringing the leftover merchandise back into the house. (It's currently in the garage.) Because once I've made the decision to get rid of something, it becomes painful to look at.
I'm happy to have rehomed many, many things that were just sitting unused and unappreciated in my home. The sports gear will see action, the clothing will be worn and the knickknacks can collect dust in someone else's house.
Remember people, crap out of the house, money in!
Katy Wolk-Stanley