Please note that this giveaway has ended. Congratulations to "Kristin B," whose comment was randomly chosen as winner!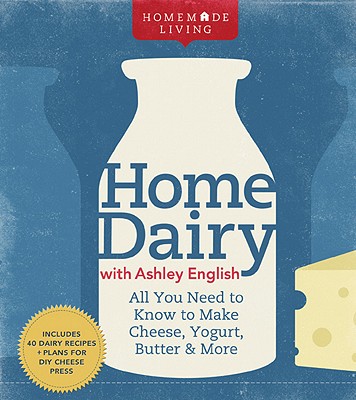 Today is day seven, the very last day of Giveaway Week and I am giving away a copy of Home Dairy With Ashley English: All You Need to Know to Make Cheese, Yogurt, Butter & More.
You probably know that I am very much a make it from scratch kind of womyn gal, but I have yet to make the leap to my own dairy products, (although I have been wanting to try The Frugal Girl's yogurt recipe.) And if Ashley English's books on Canning, Keeping Chickens and Keeping Bees are any indication, this book is going to be filled with both information and inspiration.
To enter to win this book, write something in the comments section about why you want to win this book.
I will randomly choose a winner this Tuesday, March 29 at 9:00 P.M., west coast time.
Click HERE to enter Monday's giveaway of Annie Leonard's The Story of Stuff.

Click HERE to enter Tuesday's giveaway of Dave Wann's The New Normal: An Agenda for Responsible Living.

Click HERE to enter Wednesday's giveaway of Natalie McNeal's The Frugalista Files: How One Woman Got Out of Debt Without Giving Up the Fabulous Life.

Click 

HERE

to enter Thursday's giveaway of Gretchen Rubin's 

The Happiness Project: Or, Why I Spent a Year Trying to Sing in the Morning, Clean my Closets, Fight Right, Read Aristotle, and Generally Have More Fun.




Click 

HERE

to enter Friday's giveaway of 

Homemade Living: Keeping Bees with Ashley English: All You Need to Know to Tend Hives, Harvest Honey and More.




Click

HERE

to enter Saturday's giveaway of Maya Frost's 

The New Global Student: Skip the SAT, Save Thousands on Tuition and Get a Truly International Education.



Katy Wolk-Stanley
"Use it up, wear it out, make it do or do without"