Please note that is giveaway has ended. Congratulations to "Maria," whose comment was randomly chosen as a winner!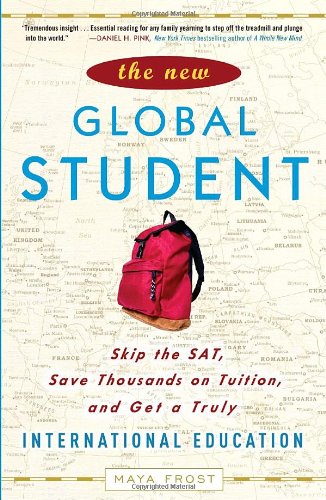 Today is day six of Giveaway Week, and I'm giving away a copy of Maya Frost's The New Global Student: Skip the SAT, Save Thousands on Tuition and Get a Truly International Education. I was first sent this book when it came out in 2009, but somehow haven't worked it into any of my blog posts. (Although I did read it!) That is, until now.
This book is the story of  how author Maya Frost found wonderful international learning opportunities for her daughters, while also moving her family to Mexico and Chile. Many other students are profiled in this inspiring book, and even though I read it two years ago, I remember it well.
For those who may not know, I chose a non-traditional eduction for my 12 and 15-year-old sons, when I placed them in a public school Japanese immersion program. Although neither my husband nor I have a Japanese background, we thought it would greatly broaden the boys' world view to be exposed to such a different language and culture. My older son has now been studying Japanese for ten years, is close to fluent and has been able to travel to Japan twice. We've welcomed Japanese exchange students and teachers into our home six different times, and my lucky husband even got to chaperone one of the class trips. It was one of the highlights of his life.
My older son will hopefully spend summer of 2012 in Sapporo, which is Portland's sister city, and I am planning for a family visit afterwards.
To enter to win this book, write something in the comments section about your exposure to other cultures.
I will randomly choose a winner this Tuesday, March 29 at 9:00 P.M., west coast time.
Click HERE to enter Monday's giveaway of Annie Leonard's The Story of Stuff.

Click HERE to enter Tuesday's giveaway of Dave Wann's The New Normal: An Agenda for Responsible Living.

Click HERE to enter Wednesday's giveaway of Natalie McNeal's The Frugalista Files: How One Woman Got Out of Debt Without Giving Up the Fabulous Life.

Click 

HERE

to enter Thursday's giveaway of Gretchen Rubin's 

The Happiness Project: Or, Why I Spent a Year Trying to Sing in the Morning, Clean my Closets, Fight Right, Read Aristotle, and Generally Have More Fun.




Click

HERE

to enter Friday's giveaway of

Homemade Living: Keeping Bees with Ashley English: All You Need to Know to Tend Hives, Harvest Honey and More.
Katy Wolk-Stanley
"Use it up, wear it out, make it do or do without"