Note — This giveaway has ended. Congratulations to "ChristyB" who will be receiving a copy of Gretchen Rubin's "The Happiness Project."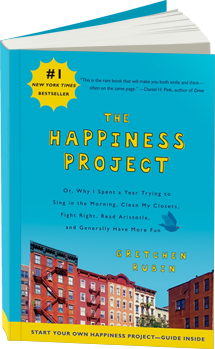 Today is day four of Giveaway Week, and I am giving away a copy of Gretchen Rubin's The Happiness Project: Or, Why I Spent a Year Trying to Sing in the Morning, Clean my Closets, Fight Right, Read Aristotle, and Generally Have More Fun.
This newly released trade paperback of Rubin's wildly popular book, (it's currently number one in a number of markets, including airport bookstores!) is a perfect addition to the library of anyone who is interested in how deliberately made choices can lead to a happier life. I read this book when it was first published and have since lent it out to a couple different people, and happily it was always returned. In fact, I think it's time for a re-read.
To enter to win this book, write something in the comments section about one deliberate thing you do that helps you feel happier.
Click HERE to enter Monday's giveaway of Annie Leonard's The Story of Stuff.

Click HERE to enter Tuesday's giveaway of Dave Wann's The New Normal: An Agenda for Responsible Living.

Click

HERE

to enter Wednesday's giveaway of Natalie McNeal's

The Frugalista Files: How One Woman Got Out of Debt Without Giving Up the Fabulous Life.
Katy Wolk-Stanley
"Use it up, wear it out, make it do or do without"