Note — This giveaway has ended. Congratulations to "Maggie" who was randomly chosen to win a copy of "The Frugalista Files."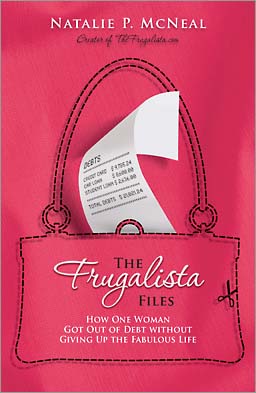 Today is day three of Giveaway Week, and today's book up for offer is Natalie McNeal's The Frugalista Files: How One Woman Got Out of Debt Without Giving Up the Fabulous Life. Now, I actually bought this fantastic book as a birthday present to myself, as I have a big time Compact (buy nothing new) exception for books written by friends, and although we've not met in person, I consider Natalie to be a friend.
However, it's not just my connection with Natalie that made me like this book. I really enjoyed the diary format and reading about the author's year long transformation from spender to saver. I carried this book with me everywhere and devoured it in under 24 hours. So great, loved it! Highly recommend.
The enter to win this book, write something in the comments section about your favorite money saving tip.
I will randomly choose a winner next Sunday, March 27 at 9:00 P.M., west coast time.
Click HERE to enter Monday's giveaway of Annie Leonard's The Story of Stuff.

Click HERE to enter Tuesday's giveaway of Dave Wann's The New Normal: An Agenda for Responsible Living.
Katy Wolk-Stanley
"Use it up, wear it out, make it do or do without"