Note — This giveaway has ended. Congratulations to "Laura" who was randomly chosen to win a copy of "The New Normal."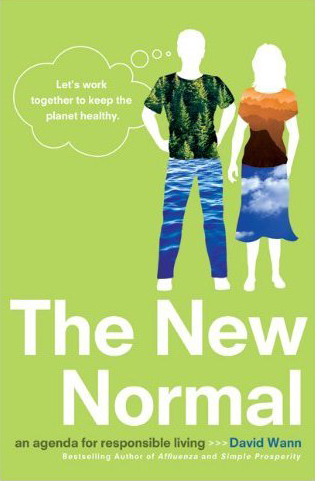 Today is day two of Giveaway Week, and today I will be giving away a copy of Dave Wann's The New Normal: An Agenda for Responsible Living. Long term blog readers will remember Dave Wann as the author of Simple Prosperity: Finding Real Wealth in a Sustainable Lifestyle, which was the one and only Non-Consumer Advocate book selection. He's also the co-author of Affluenza.
Wann's new book promotes "An agenda that puts responsibility to our fellow citizens and the health of our planet front and center." I haven't actually read this book yet, but the publisher sent me a copy, which I'm happy to share. (I can always get a library copy.) Dave is a great guy, and was really helpful when we did the book club, providing guest posts, giveaway books and even sending me a word document of the entire book so I wouldn't have to copy out passages!
To enter to win your own copy of The New Normal, write something in the comments section about something, however small that you're doing in your life for your fellow citizens.
I will randomly choose a winner next Sunday, March 27 at 9:00 P.M., west coast time.
Click HERE to enter yesterday's giveaway of Annie Leonard's The Story of Stuff.
Katy Wolk-Stanley
"Use it up, wear it out, make it do or do without"