Note — This giveaway has ended. Congratulations to "Sarah" who was randomly chosen to win this book!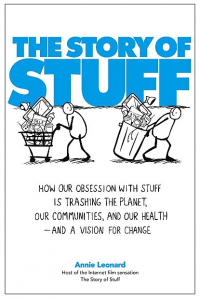 I have decided to do an entire week of book giveaways here at The Non-Consumer Advocate, and I'm starting out with a hardback copy of The Story of Stuff by Annie Leonard. Leonard gained her audience through her online videos, which started with The Story of Stuff and has continued on with The Story of Cap and Trade, The Story of Bottled Water as well as a number of others.
For those who may not be familiar with The Story of Stuff, the video (and book) explore the materials economy that produce all the stuff that we, as consumers buy and subsequently toss.
To enter to win this book, write something in the comments section about your stuff.
I will randomly pick a winner next Sunday, March 27 at 9:00 P.M., west coast time.
This week's Giveaways will also feature:
The Happiness Project, by Gretchen Rubin.
Homemade Living: Home Dairy with Ashley English: All You Need to Know to Make Cheese, Yogurt, Butter & More.
Homemade Living: Keeping Bees with Ashley English: All You Need to Know to Tend Hives, Harvest Honey & More.
The Frugalista Files: How One Woman Got Out of Debt Without Giving Up the Fabulous Life, by Natalie McNeal.
The New Normal: An Agenda for Responsible Living, by David Wann.
I will probably add a few more books as well, so keep checking back for your chance to win. Good luck!
Katy Wolk-Stanley
"Use it up, wear it out, make it do or do without"