It's Monday, which means it's time for Goal of The Week! A new weekly segment where Non-Consumer Advocate readers set and then reach small attainable goals.
"Not a soccer goal, but a personal goal. A single do-able, not overwhelming goal. A concrete goal. A reachable goal. A realistic goal."
So no huge vague goals like "organize the house" or "lose weight." A single attainable goal.
Last week's goal was to address the distressing dining room clutter issue on both the piano and the dresser. And since this was the second time I'd set this goal, I knew I needed to get my tuchus in gear.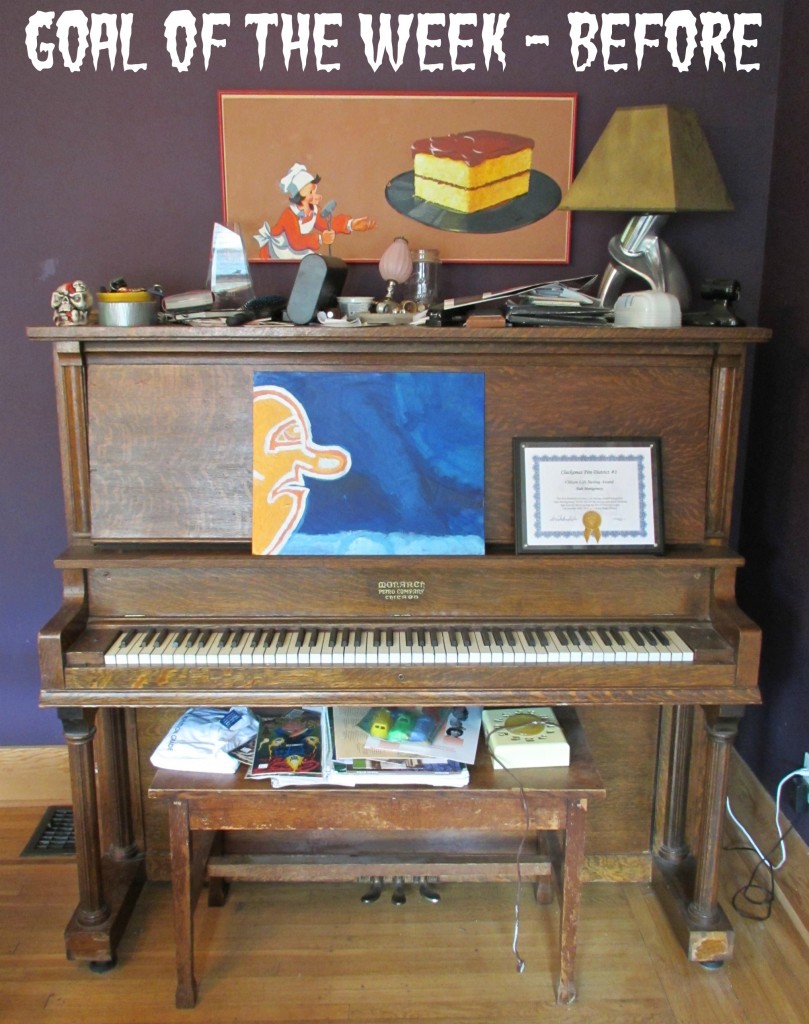 I put everything where it should logically go, and I even sold the groovy kitchen clock through Craigslist.
See? So much better!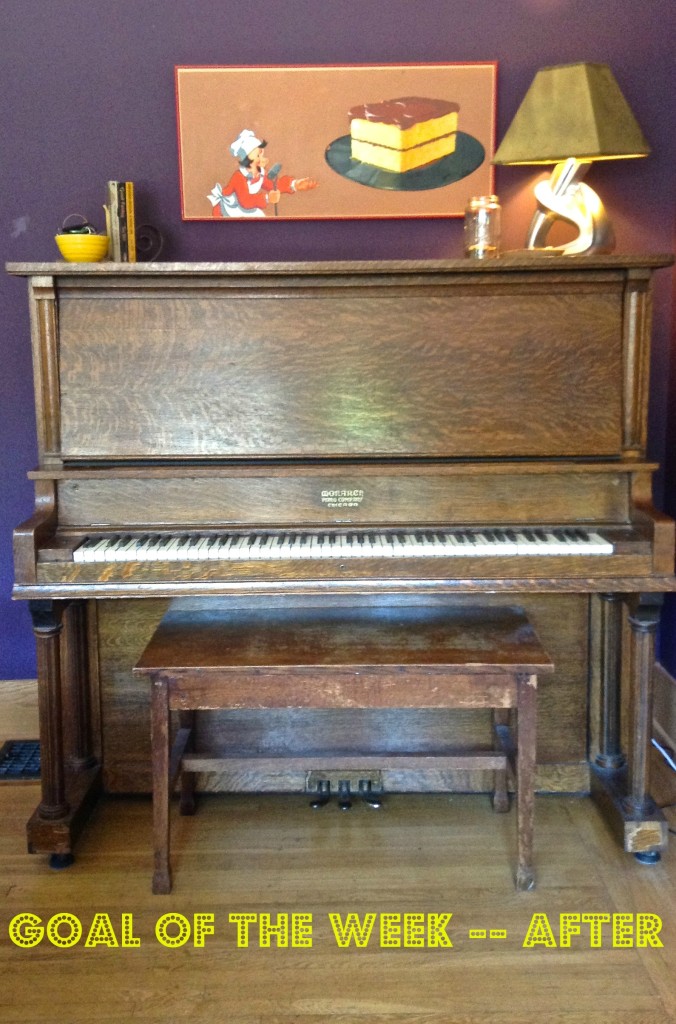 Remember my dining room dresser? It was a magnet for all things paperwork.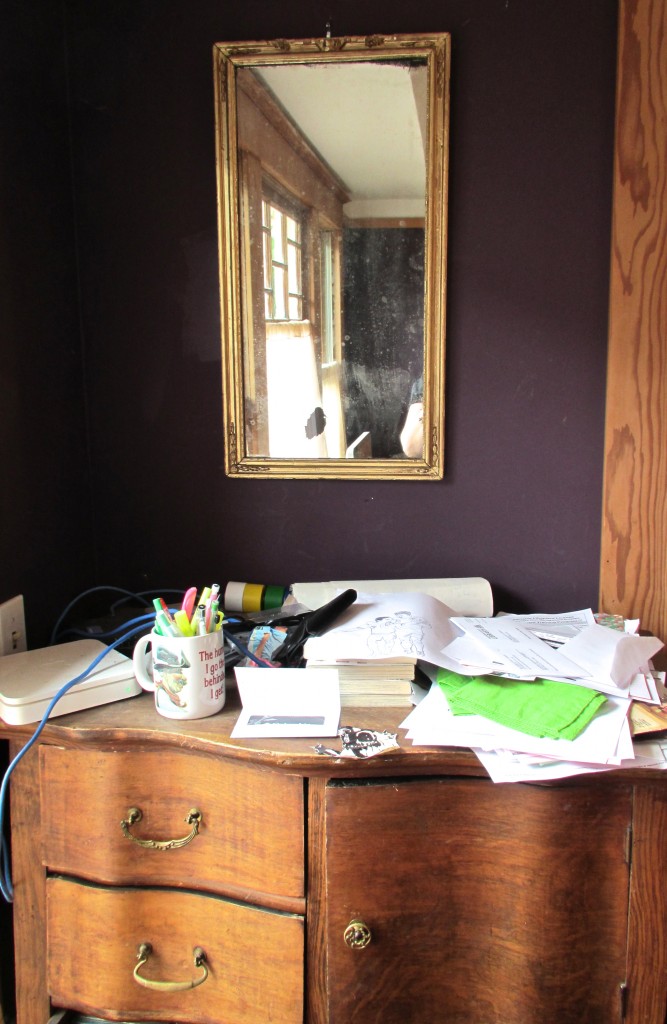 I bought a pretty gilded wooden tray at Goodwill for $3.99, which I thought would play nicely with the antique gilded mirror. Not to mention functioning as a landing pad for our snowstorm of paper. I also replaced the "The hurrier I go, the behinder I get" Leanin' Tree mug with an sturdy antique Blue Willow mug. And like an adult, I threw away all the pens that no longer worked. (Crazy, right?!)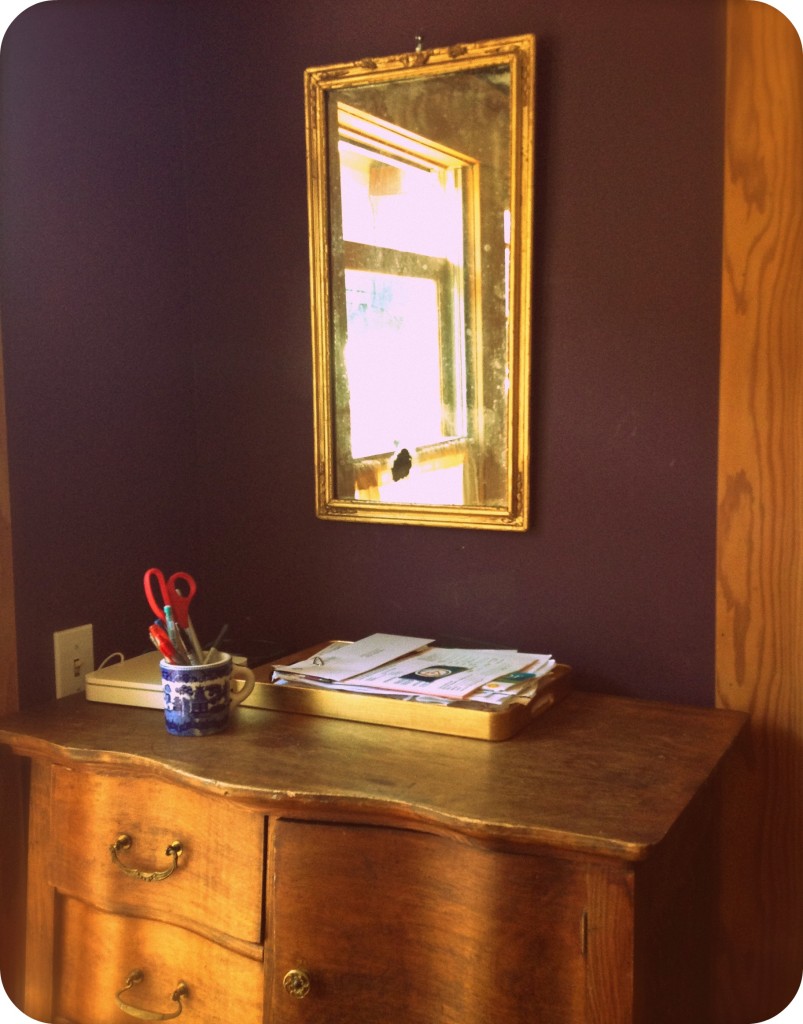 Yummy . . .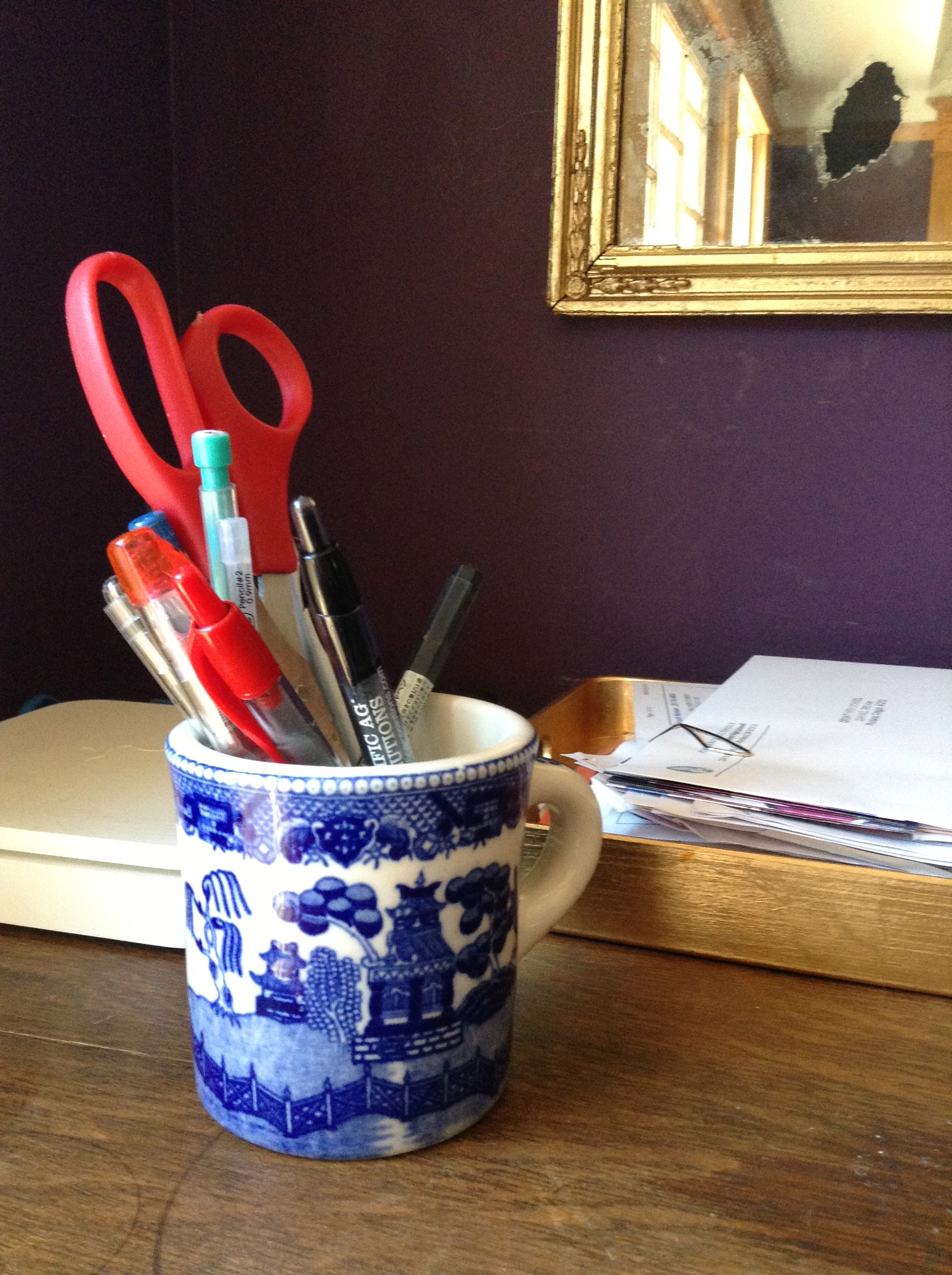 My long term plan for this free curbside dresser is to reglue the drawers and paint the whole thing a new color. But since that's kind of a big project, I'll save that goal for another week.
What's my Goal of The Week for this week?
I scored this weatherbeaten but intact porch light from a free box yesterday. And since we don't actually have a light over our back porch, it was a perfect find! (Taking out the compost is always a bit of a frightening challenge, as I always seem to attempt this death defying feat in the mysterious inky darkness.)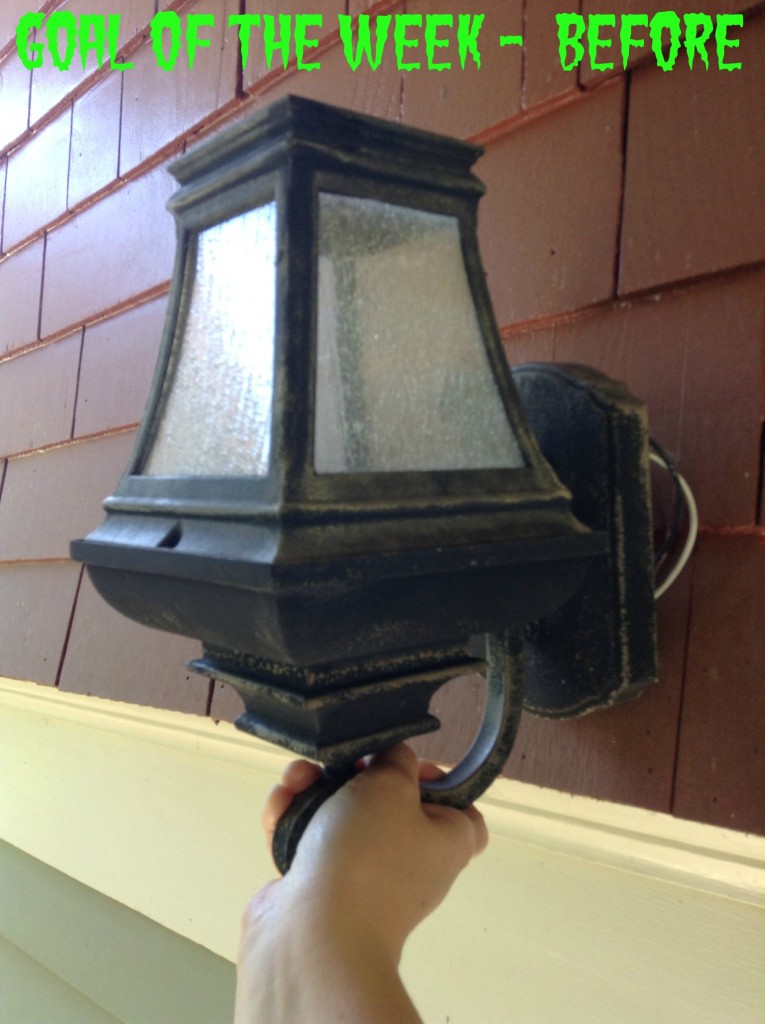 My plan is to clean it up and re-paint it using a can of oil rubbed bronze spray paint. It's not a gorgeous look-at-me! kind of decor makeover, but it's still a perfectly–good-enough project. Plus, the price was right! (A perfect post for my secret blog that I like to call "The Inoffensive Decorator.")
Luckily, there is an electrified spot to install the light, and I'll badger my husband into the actual installation work.
See?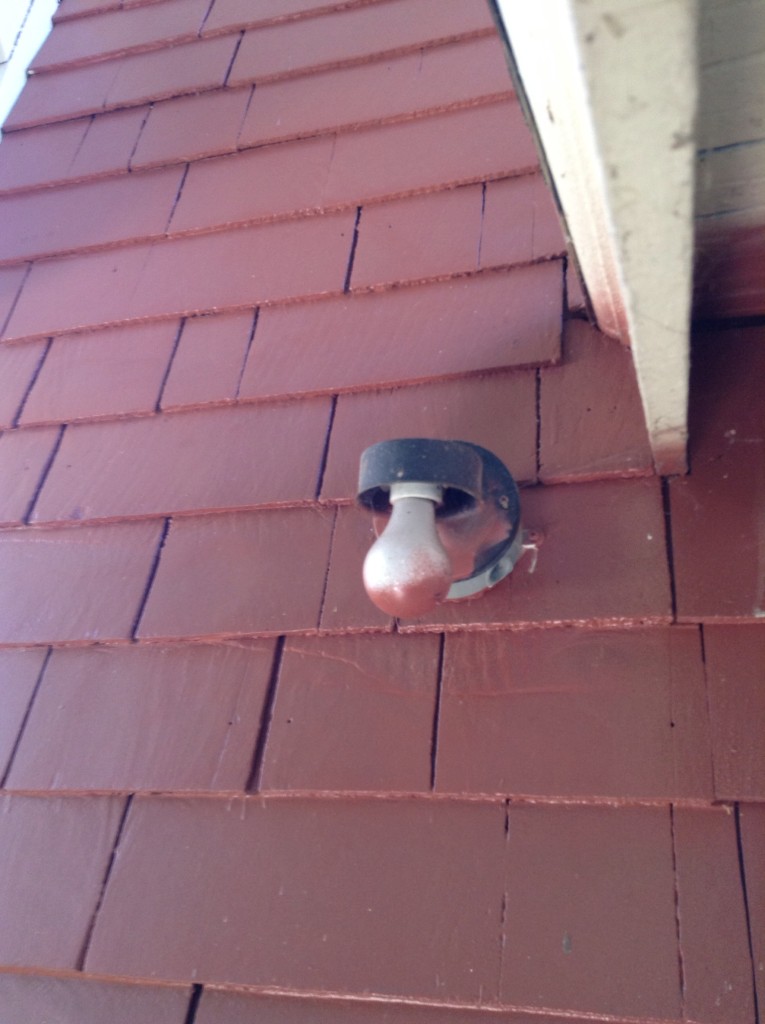 I love that this project will make my back porch both look and function better.
Are you participating in The Non-Consumer Advocate's Goal of The Week project? Please share your goals in the comments section below.
Katy Wolk-Stanley