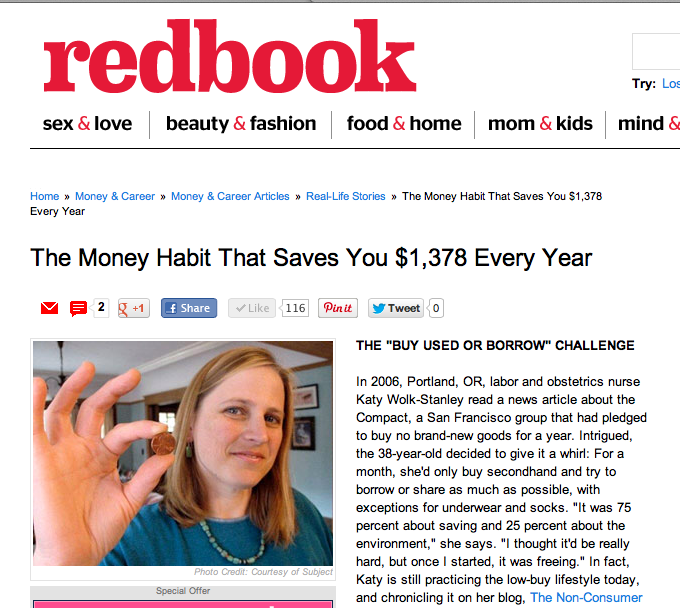 It's time again for Non-Consumer Mish-Mash, where I write a little bit about this and a little but about that.
Non-Consumer Media Saturation
Although I've given tons of interviews over the years, they always seem to come in fits and spurts. This moment in time is no exception.
I currently have an interview in the July 2013 edition of Redbook Magazine, as well as one in DailyWorth.com.
I'd be hard pressed to pick a favorite, but if my arm were twisted, I'd have to say the Redbook one. Because c'mon, it's a magazine and I'm a sucker for print media!
Click HERE to read the Redbook article.
Click HERE to read the Daily Worth article.
Non-Consumer Facebook Group Links
The Non-Consumer Advocate Facebook Group is currently rich with fantastic links to fantastic articles. I was just scrolling through them deciding on one to share in this blog post and and decided to share them all!
Enjoy!
The Happiness of Looking Forward
I have enough self awareness to know that a big part of my happiness is to have something or things to look forward to. Luckily, it doesn't have to be as elaborate as a trip to Hawaii or some such pricey endeavor to fill my happiness coffer.
This week I am looking forward to:
Coffee and a browse through Powells Books with The Happiness Project's Gretchen Rubin who is in town for a speaking engagement.
Being able to sleep in tomorrow.
Hosting two Japanese exchange students over the weekend, even though we pick them up Friday evening and drop them off Sunday morning.
Payday on Friday and working both Wednesday and Thursday. It's good to be employed in a challenging, satisfying and well paying job. (Even if it is physically exhausting.)
Sewing and installing my kitchen curtains from my Goodwill purchased tablecloth fabric.
Now you. What are you looking forward to?
Katy Wolk-Stanley