It's Monday, which means it's time for Goal of The Week! A new weekly segment where Non-Consumer Advocate readers set and then reach small attainable goals.
"Not a soccer goal, but a personal goal. A single do-able, not overwhelming goal. A concrete goal. A reachable goal. A realistic goal."
So no huge vague goals like "organize the house" or "lose weight." A single attainable goal.
My goal last week was to paint stripes on my son's walls. I had found inspiration from Brooks, a contestant on HGTV Star, and knew the project was A) within my skill set and B) could be accomplished using crap supplies I already owned.
Here's my son's room last week. I'd already picked up an Ikea-at-Goodwill duvet cover for $4.99, which helped to modernize the room. But the dark green walls were a problem. The color sucks all light from the north-facing room, and is not helped by the haphazard placement of soccer posters.
See?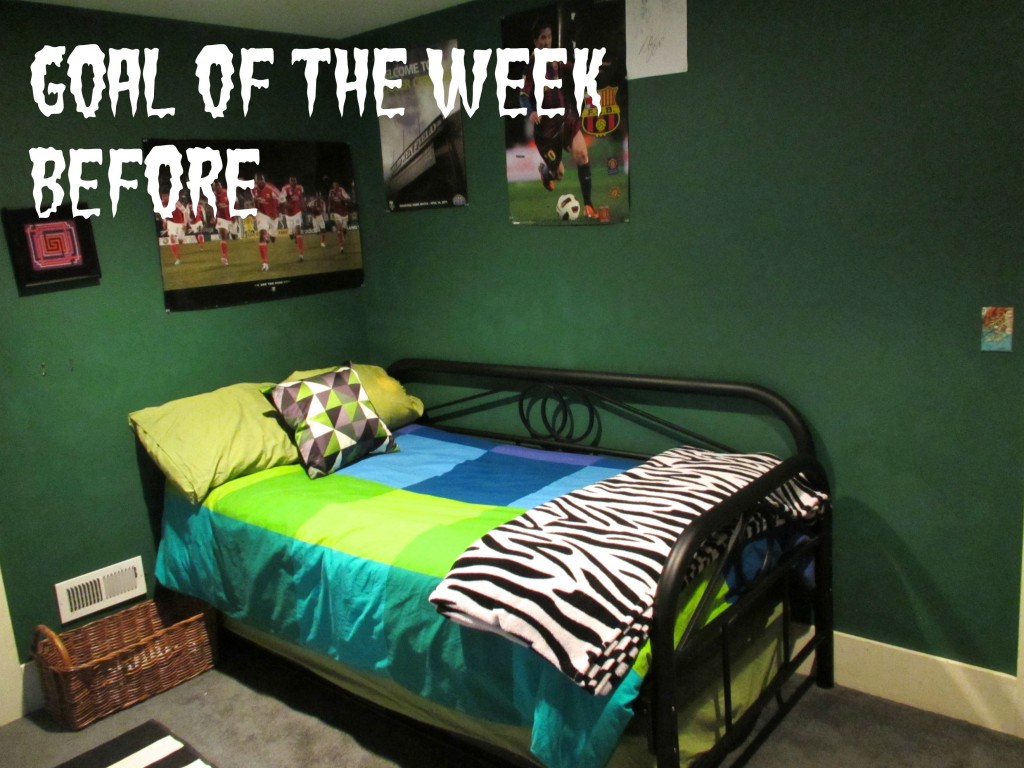 But an ancient can of bright green paint from Katy's Basement Depot plus a roll of blue painter's tape both brightened and groovified the room. (Do you notice the difference in photo quality between the two pictures? This because I dropped my camera on the sidewalk, and it's now non-functional. Luckily my husband has an iPhone, which works in a pinch.)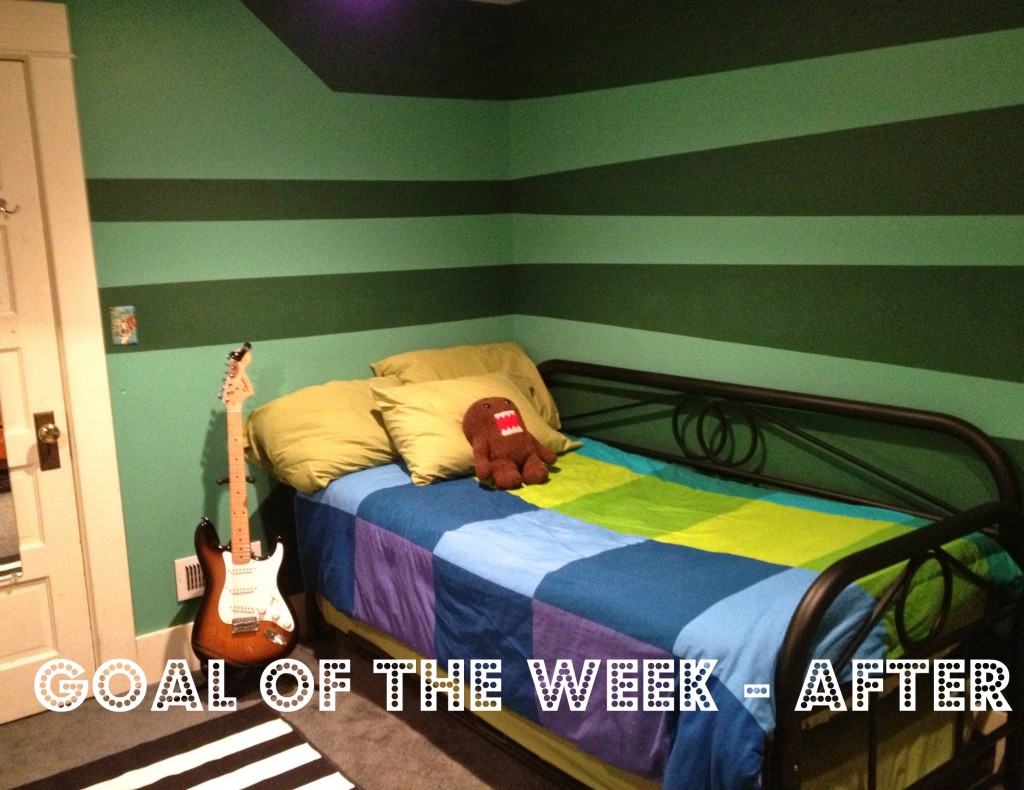 I left the rest of the walls as-is, as I felt that to stripe-i-fy the four walls would a smidge more criminally insane clown retreat than I prefer.
I do plan on installing a plain black curtain rod to the right of the skateboard shelves to display my son's collection of soccer scarves.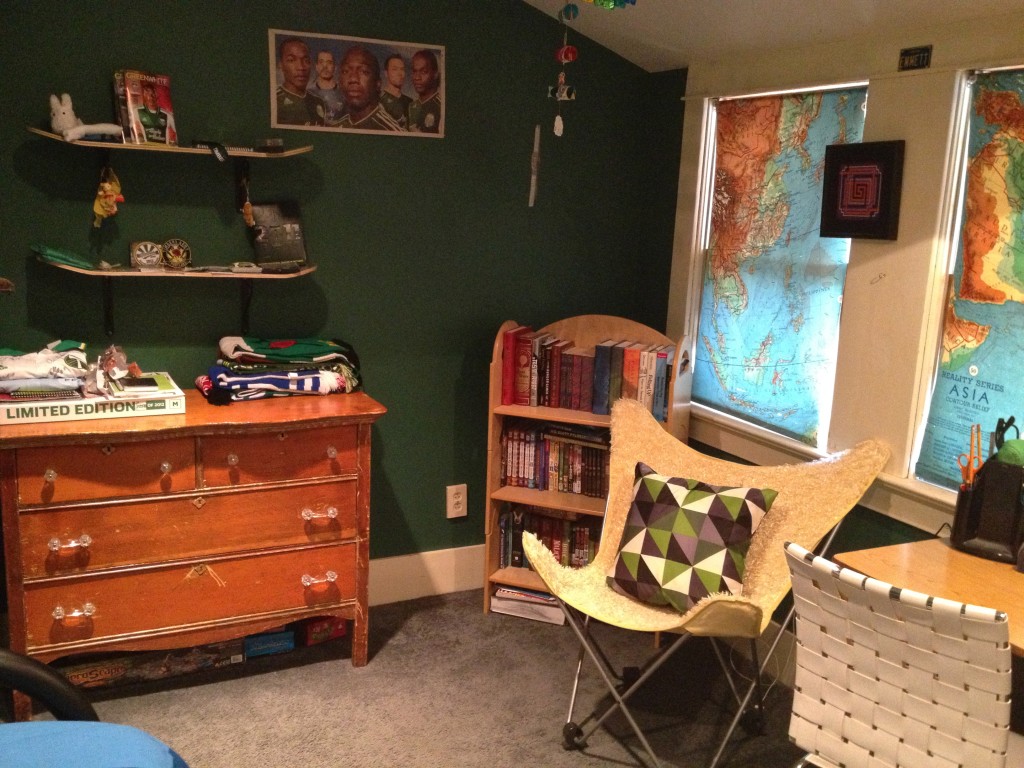 Like the furry yellow butterfly chair? That was a curbside find from a few years ago. And of course, you remember the cool $10 Goodwill woven leather chair that normally retails for $198!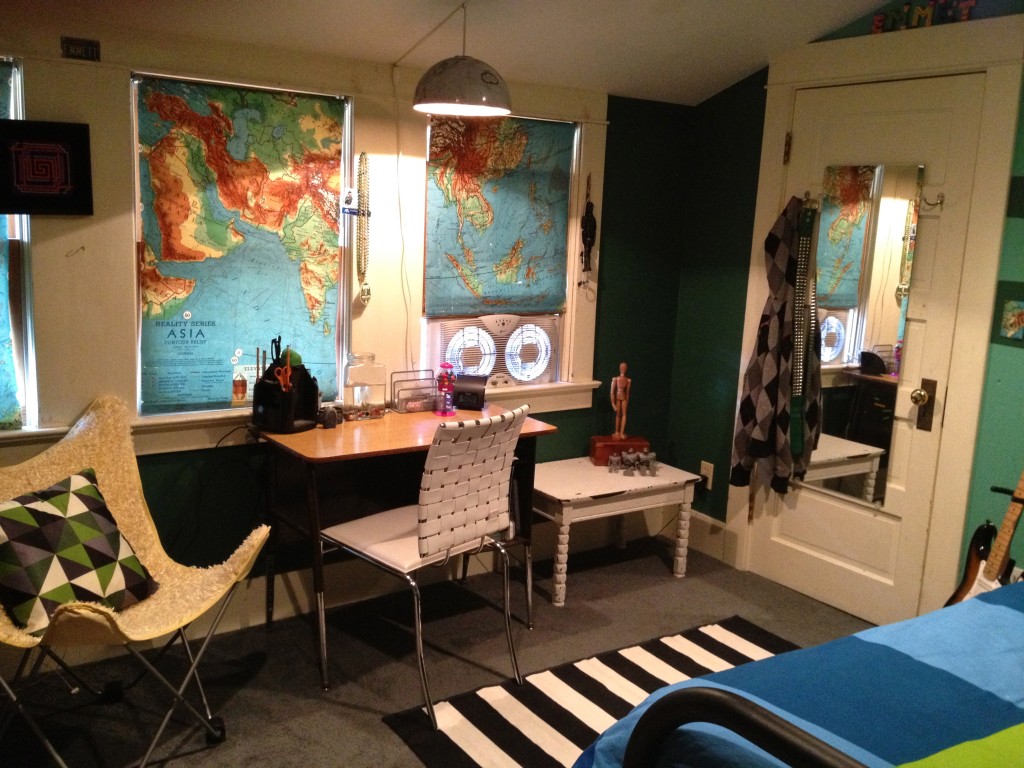 But the real question here is whether or not my son likes his stripes. Worry not, as he loves them! Even though the VOC-tastic paint meant sleeping in the spare bedroom for three nights in a row.
What's my goal for this week? It's actually to complete the goal of clearing, beautifying and organizing the horizontal surfaces in my dining room.
Remember?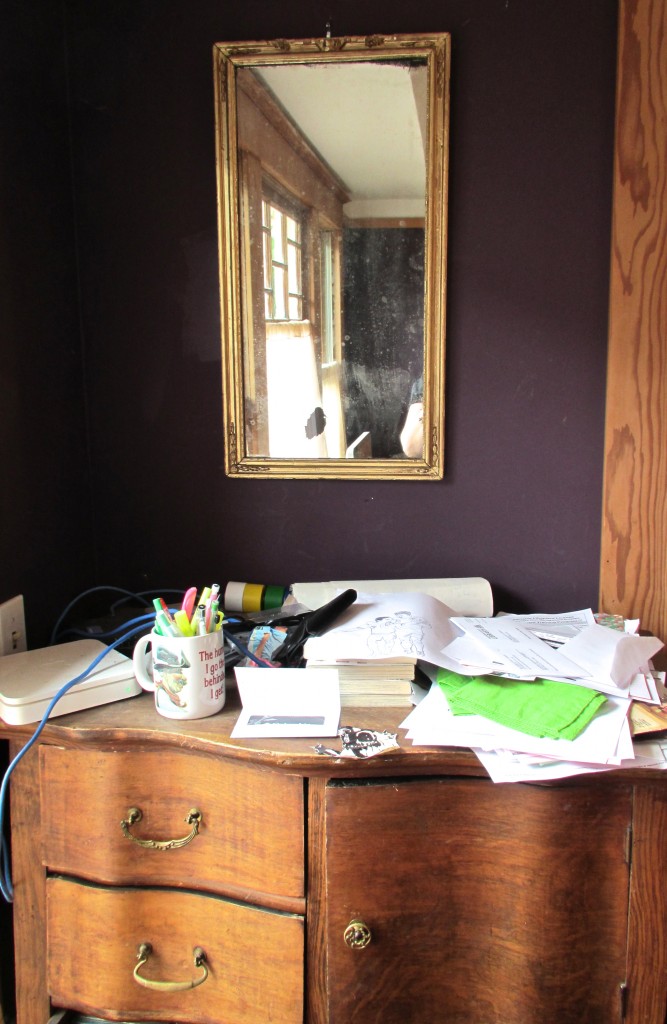 I've made some progress with this goal, but I'll save the details for next week's post.
I'll be out of town for a few days this week touring and interviewing at Whitman College with my kids, so I can't set the bar too high.
Are you participating in The Non-Consumer Advocate's Goal of The Week project? Please share your goals in the comments section below.
Katy Wolk-Stanley