Although I had a number of tasks on my to-do list yesterday, I was able to nip into a couple of thrift shops on my way to Winco. (Hello, $10-off $50 coupon!)
I've been keeping an eye out for a low dresser for awhile, as I want to reconfigure our bedroom for better feng shui to work a bit better. (My husband keeps a TV on a rolling cart, which I constantly bump into at night.) My thinking is that this style of dresser could accommodate a TV and eliminate a hazardous piece of furniture from our lives.
I liked this groovy mid-century dresser, but it was actually a pretty low quality specimen. Yes, it had dovetail drawers, but the top was actually laminate covered particle board, and the back piece was some kind of chipboard. I would have considered the purchase at $40 or less, but the $70 price tag was beyond my comfort zone.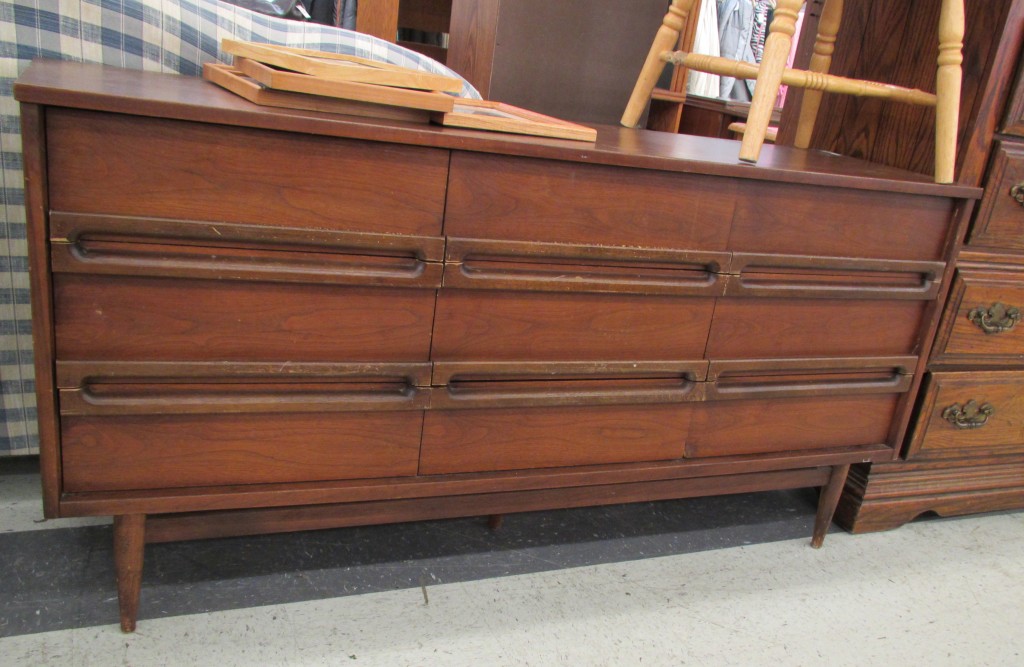 And no visit to a thrift shop is complete without the requisite vase-covered-wth-florist's-marbles.
These projects are ugly, they have always been ugly and they will always be ugly. So enough already!
C'mon people . . .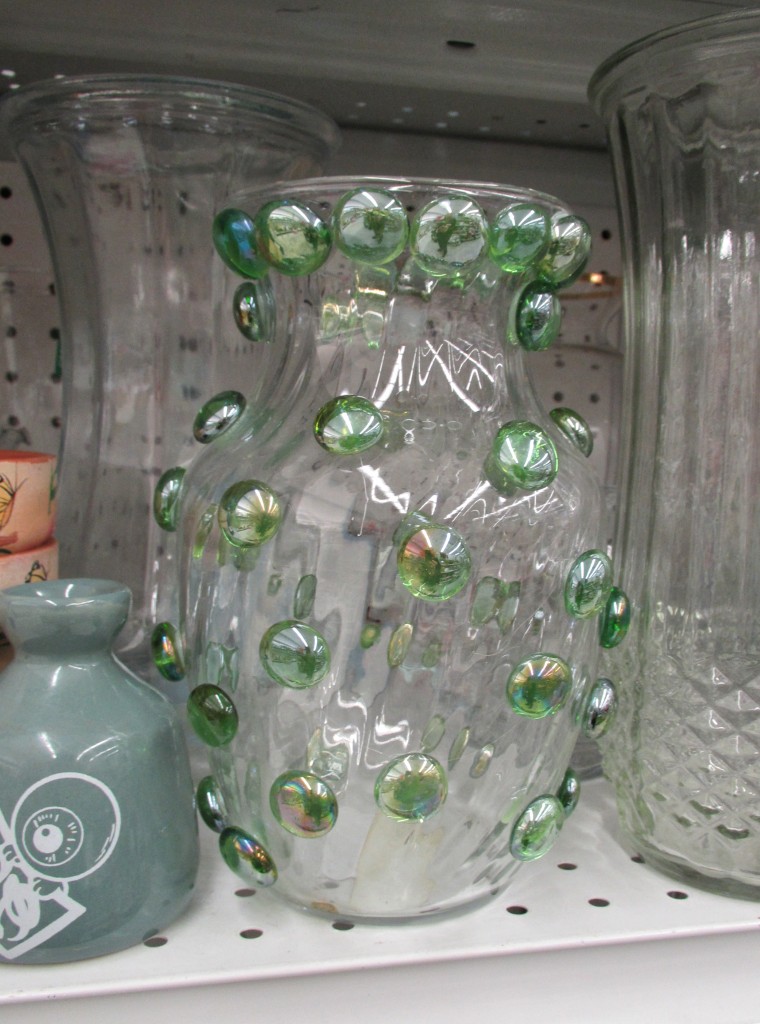 This statuette caught my eye, as her hands over ears positioning make her look like she's about to start recording a power ballad.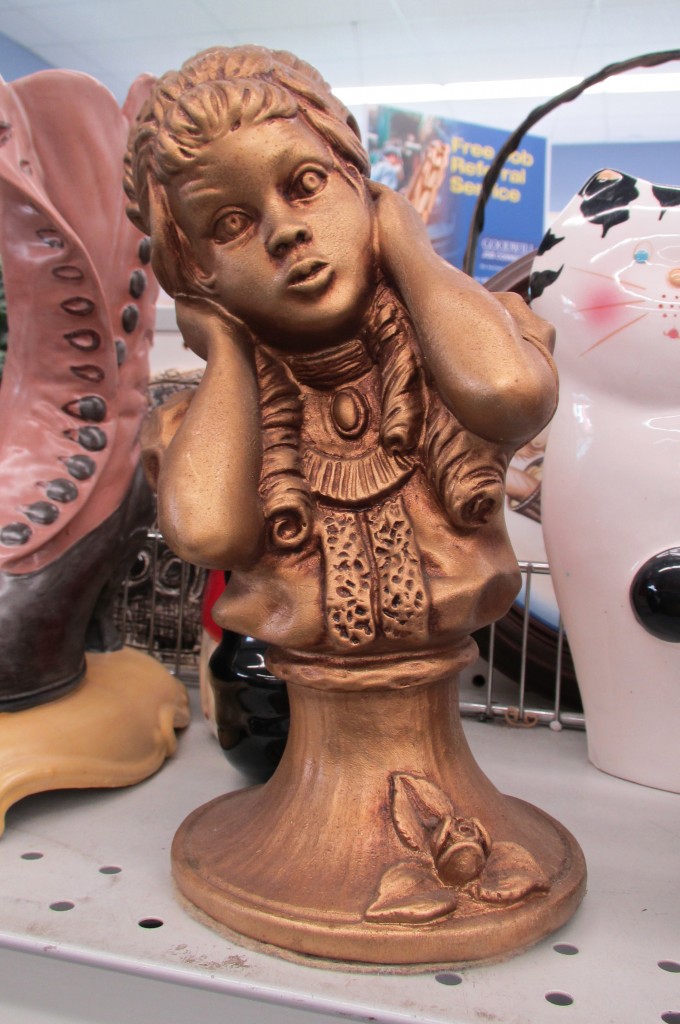 You know, like this: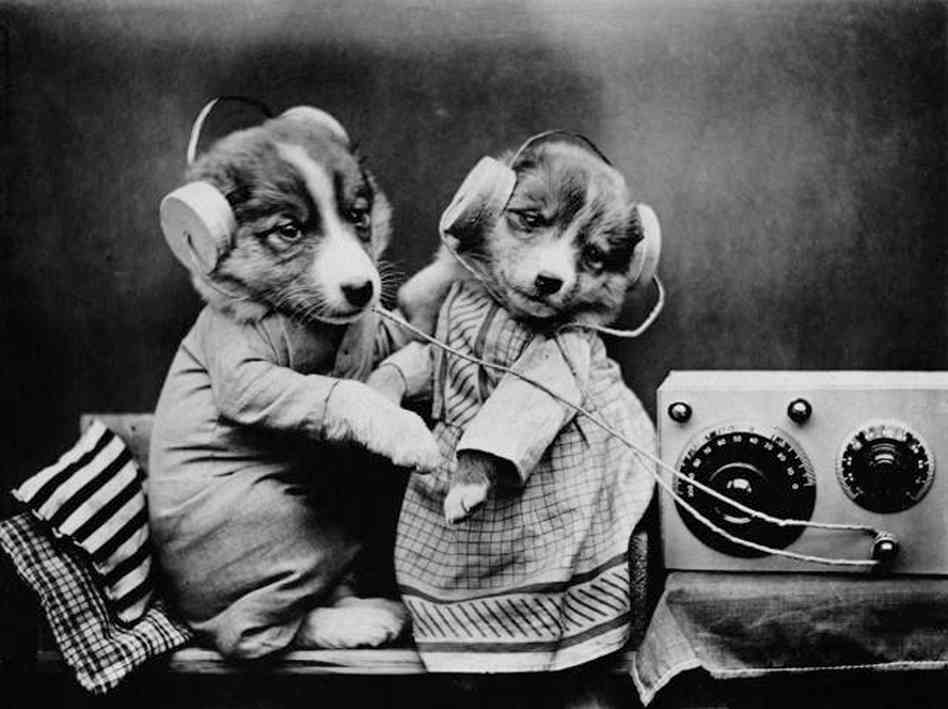 Oh, sorry. Got that wrong. I meant like this: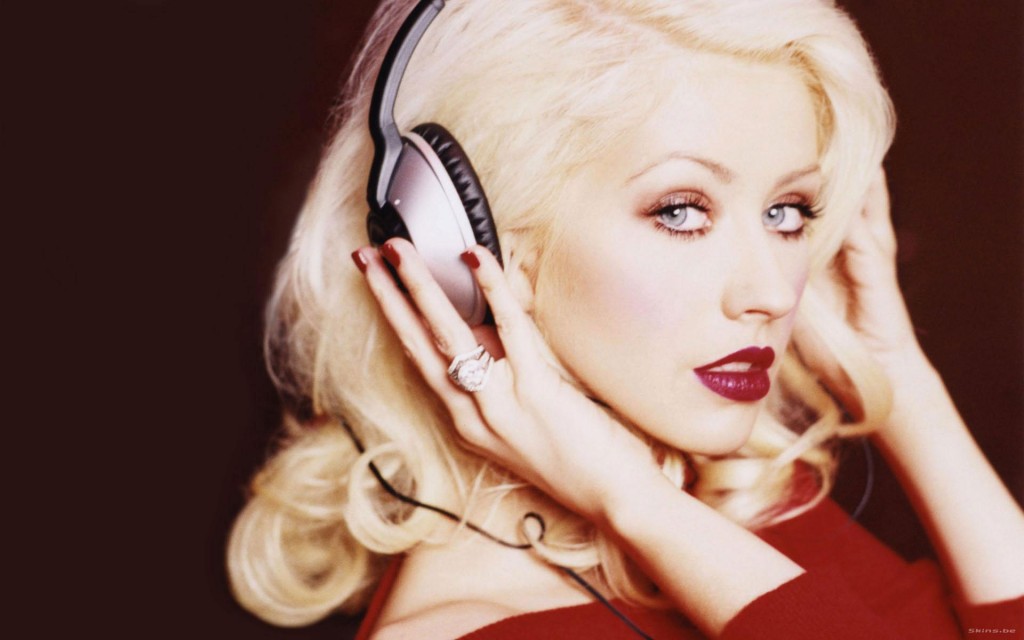 I try to not give gag gifts, but I know that others lean heavily in this direction. And if there ever was a product manufactured for no other reason than to be a joke it's the "Freeloader Fork." With telescoping handle, "The 2-ft. fork that lets you enjoy your meal, and everyone else's too!"
Uh . . . pass.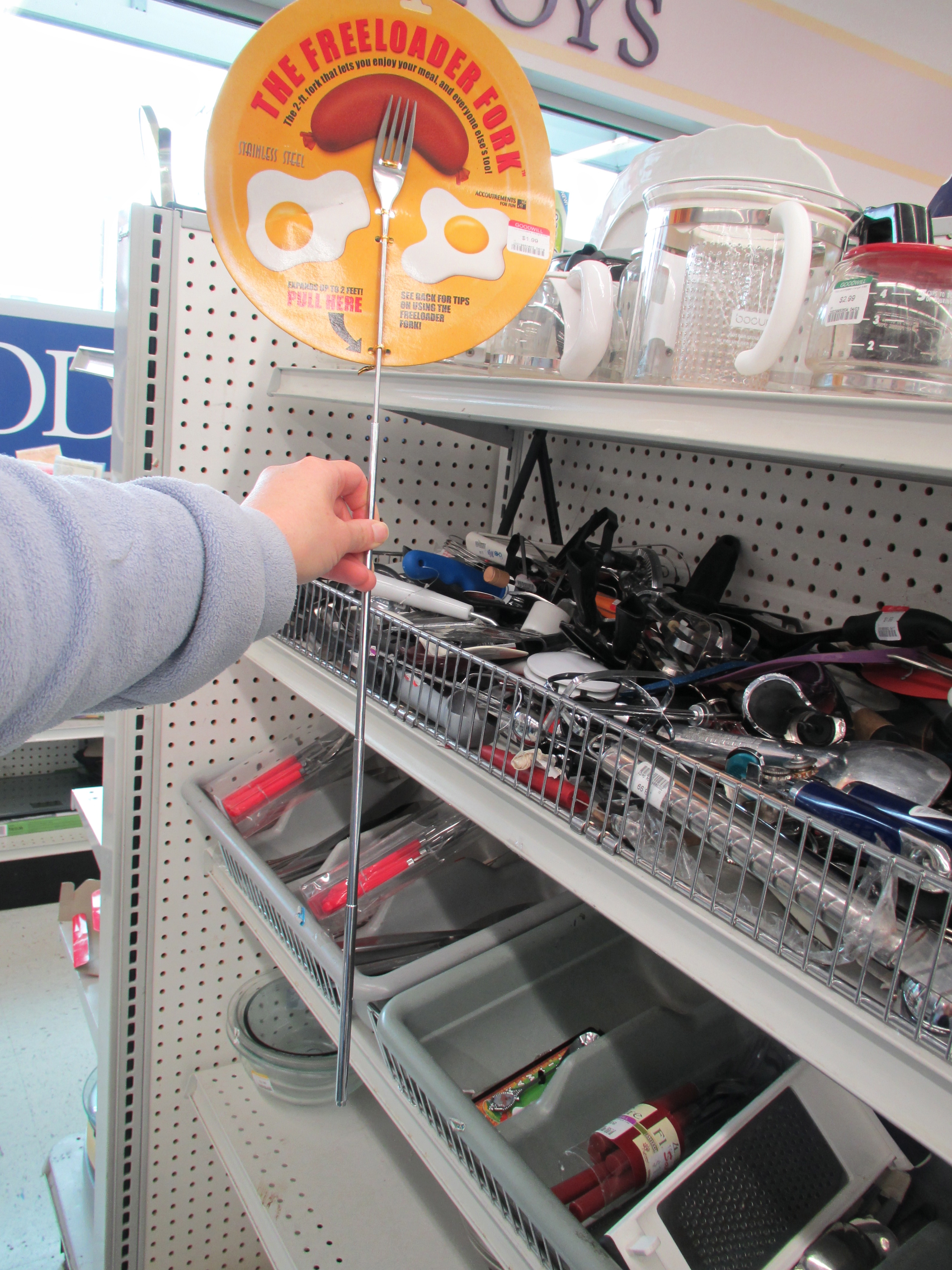 The one thing that both caught my eye and came home with me with this vintage doggie change bowl. It's meant to be on a man's nightstand for his watch, spare change, etc. And although this one has seen better days, I couldn't resist. And I couldn't help but start humming this vintage ditty:
"How much is that doggie in the Goodwill?"
$2.99.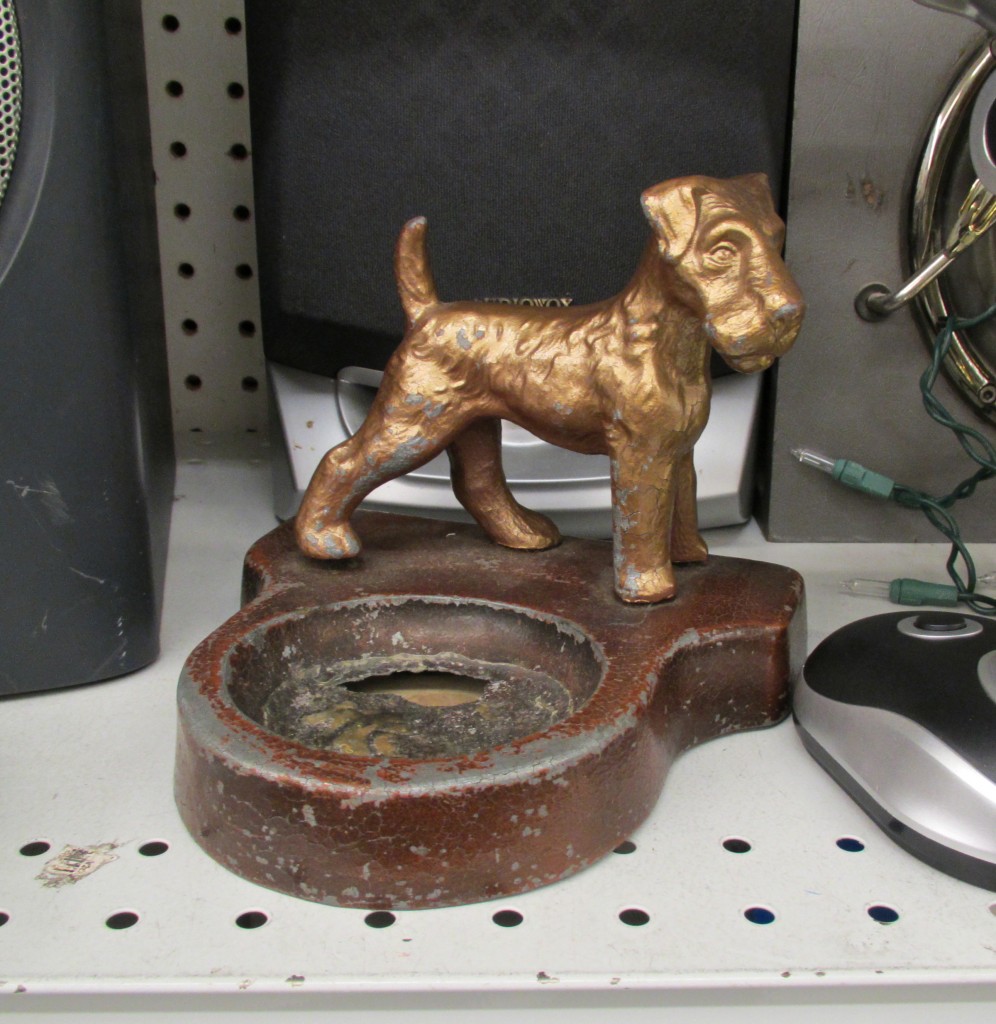 Do you think I should have bought the dresser? I'm pretty much in the camp of only buying the stuff that is exactly what I want. The style is super on-trend right now, but I'm simply a snob about solid wood.
Katy Wolk-Stanley