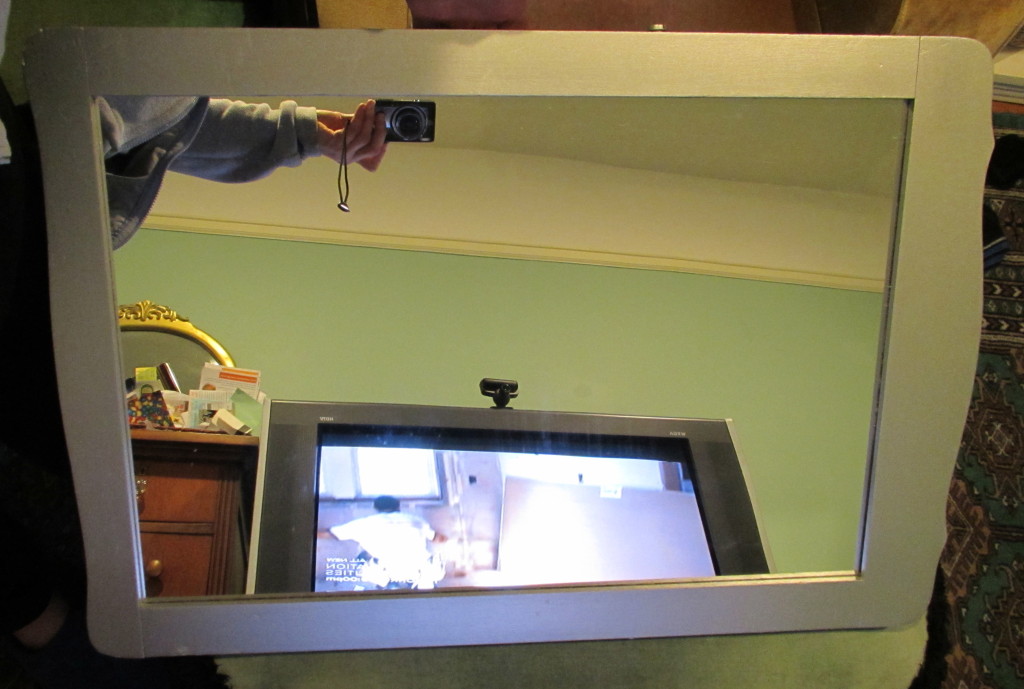 It's time for another edition of Today I am . . .
Happy to see the rain return to Portland after a week of unpleasant sunshine. ( <– This is how you can tell I'm a true Oregonian.)
Thinking about how I read that you should have everything in your home "be like a fork." As in, you never wonder where the forks go, as they have a specific, logical and permanent spot. (Can't remember where I read this though.) Makes me think of how many grapefruit spoons my house contains.
Proud that with the exception of cat litter, I put out no garbage this week. This is despite sharing every-other-week garbage pickup. I do have garbage that could have gone out, but it was so little that it wasn't worth having to put a new bag in the can.
Laughing at the vintage $5 garage sale mirror that I painted a silver color. I wanted to try covering the wood with copper leaf from the art supply store, but decided that I should use what I have (leftover spray paint) instead of buying new. Why am I laughing? The muted silver color makes it look like a sideways TV.
Enjoying my new roll of silver duct tape that I picked up for free from a garage sale yesterday. Who gets rid of duct tape?!
Saddened by the daily news coming out of Bangladesh about the factory collapse. This article has very up to date and balanced information.
Bummed that I missed my older son's apparently beautiful goal on Saturday because I was at work. (He usually plays defense so he rarely scores goals.) However, I am happy that I got to witness my younger son's goal and subsequent celebration dance yesterday.
Kind of disappointed in the book Money Secrets of The Amish. I had high expectations, but it read like a lengthy magazine article and never really explored beyond the obvious.
Paying 25¢ per day in library fines for the 24-disc audio book of Fall of Giants. I'm trying my darndest to motor through the book, (which I'm enjoying) but there was simply no way I could get it read in the three weeks allowed by my library system. I'm on disc 16, so I'm too far in to stop. (I sure wish it would renew.)
Planning another bulk-buying shopping extravaganza at Winco, as I scored another $10-off-$50 coupon from my mother's rental cottage.
Jonesing for a day of thrift shopping. It's been a few weeks and I'm starting to develop a tic.
Now your turn. What are you doing lately?
Katy Wolk-Stanley