It's been a few weeks since I've posted a Goodwill, Badwill, Questionable-will post, but worry not as there will always be fresh inspiration for these popular posts.
First off is a targeted savings bank, (apparently an extremely unwanted gift, if the donation rate is any indication) this time for the hitherto unseen Plastic Surgery Fund. Because:
"When you fail to plan, you plan to fail for breast implants."
Truer (and jigglier) words were never spoken.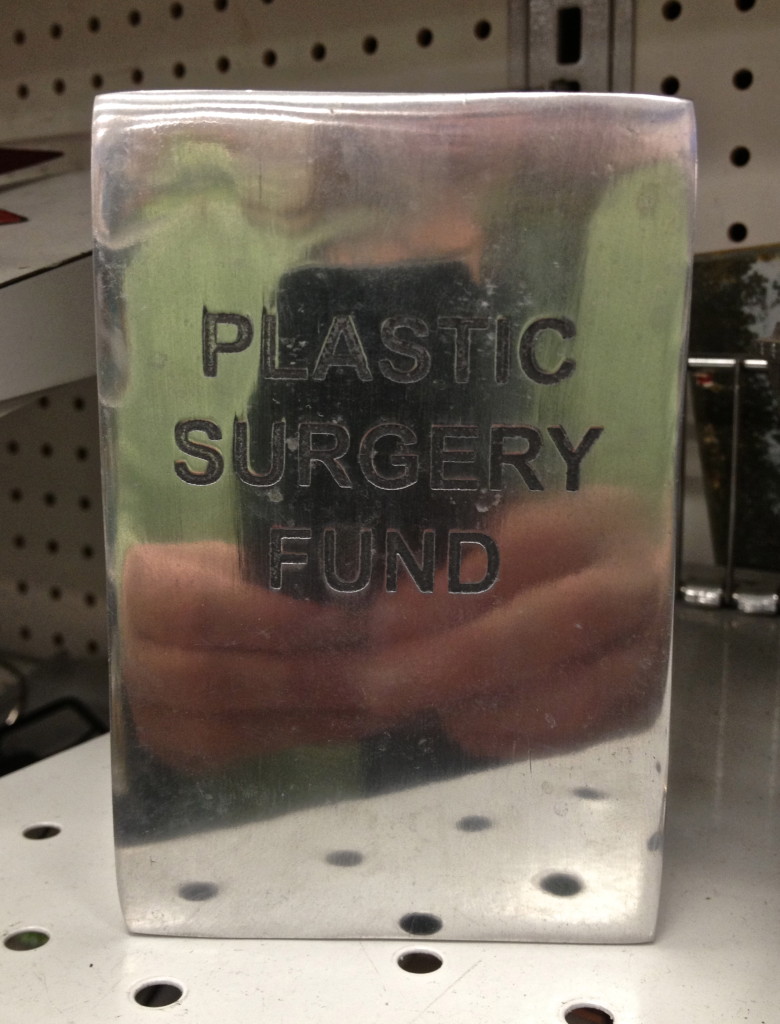 Another Goodwill item that caught my eye was this miniature golden toilet. Not just because it's a tiny golden toilet, (which is in and of itself kind of special) but because it was lovingly placed next to Jesus, Mary, Joseph and a camel.
"Sorry about there being no room at the inn, but here's a golden toilet to make up for it."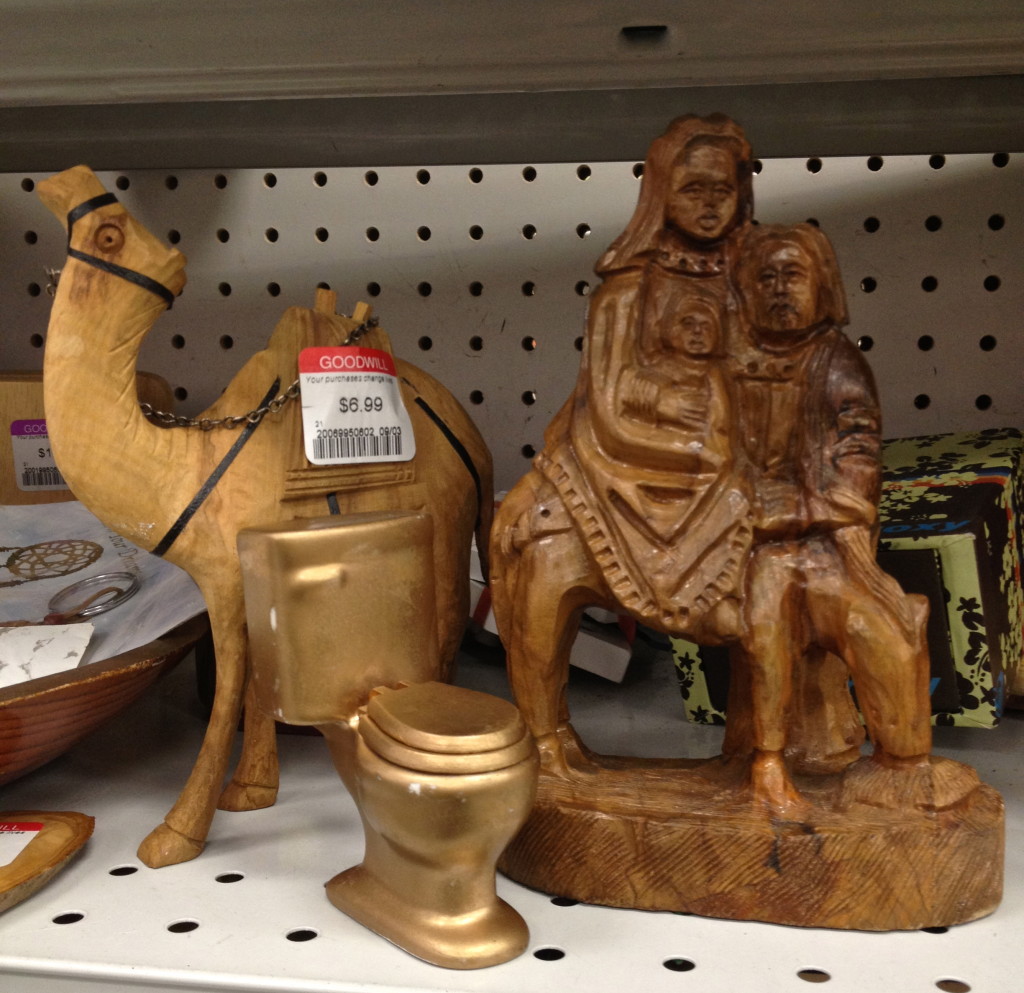 My recent reading of Atomic Ranch magazine increased my awareness of how nuts some people are for decorating their midcentury ranch houses. So when I saw this pair of groovy vintage sconces priced at $3.99 apiece, I knew I had to buy them. They are missing their backplates, but that's an easy fix. I know I can reunited them with their perfect owner.
It's like I'm a matchmaker, people!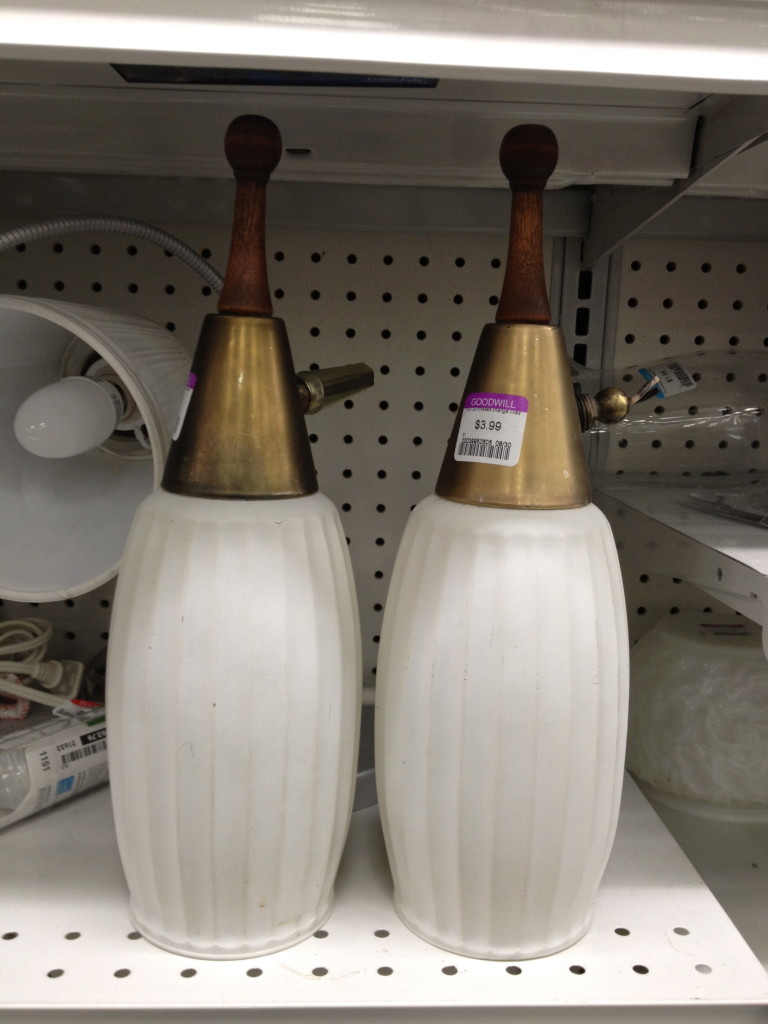 I try to guide my purchasing decisions by William Morris' famous "Have nothing in your house that you do not know to be useful, or believe to be beautiful" advice. Which is why I had a hard time leaving behind this vintage piggy planter. He's just so freaking cute! The jaunty cap, the smiley expression, the adorable pony-like tail, I love it all! However, the practical side of me took over and overruled the purchase.
Practical Katy is kind of a kill joy.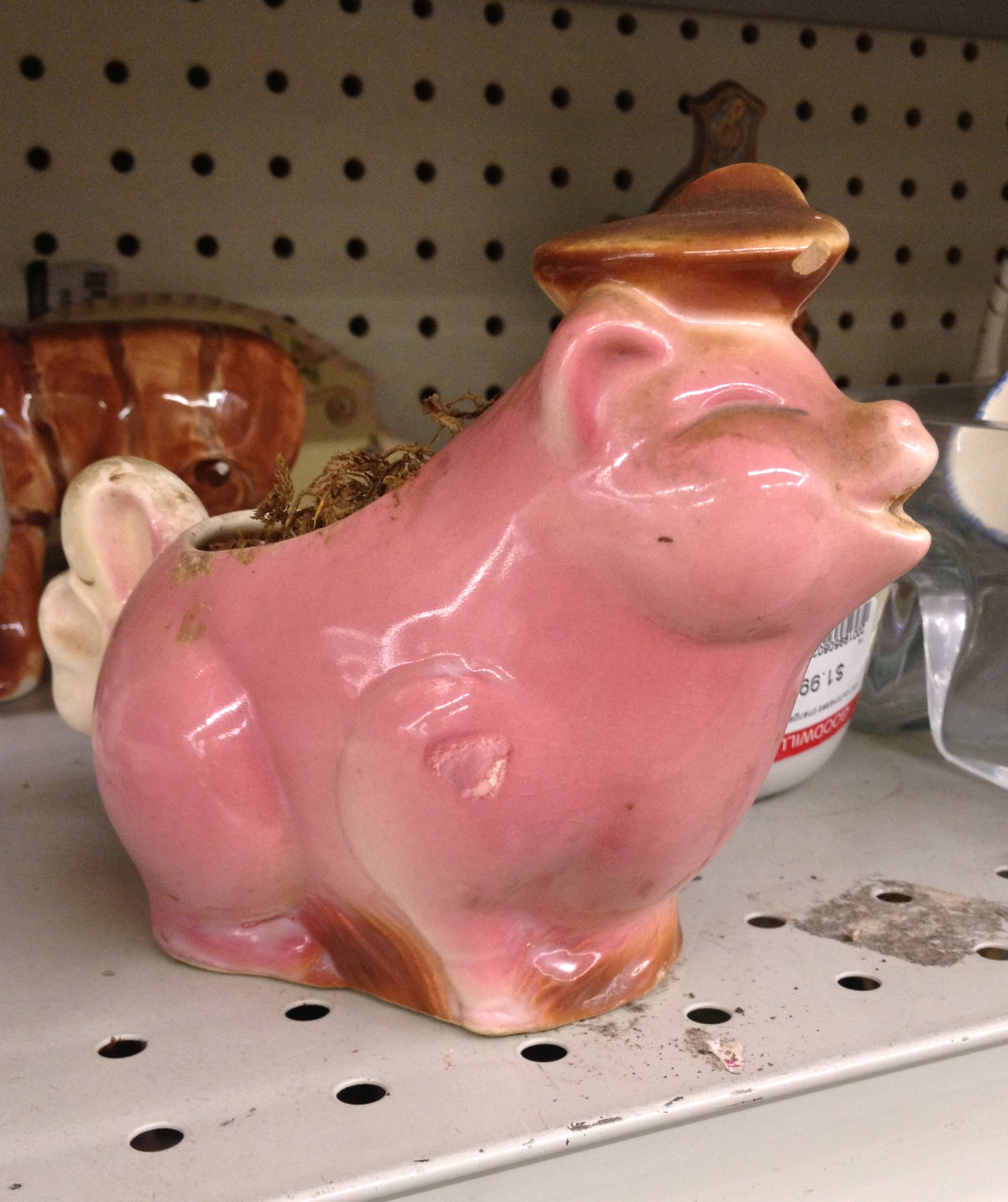 Readers often complain that my thrift shops must be better than their thrift shops, as there's nothing but junk whenever they try to go thrifting. To which I present to you the follow photo. See anything interesting, or do you just see florist-grade and outdated vases? Not worth bringing home. Dull, unattractive and priced too high.
Pass.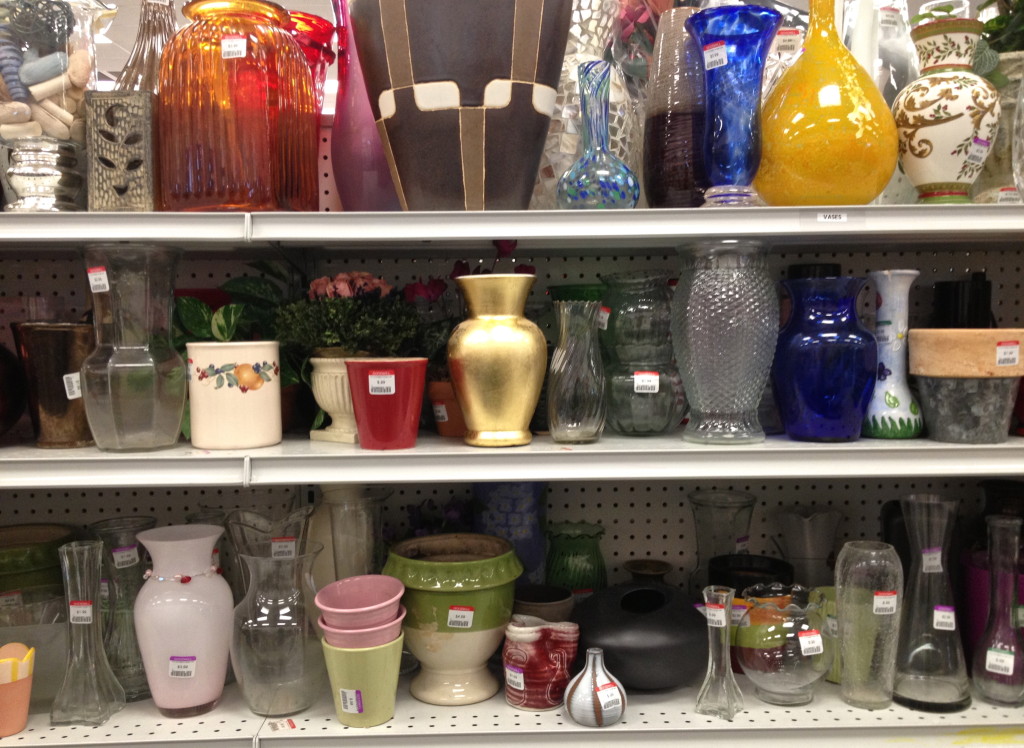 But wait, look on the bottom shelf to find the small handmade vase. Priced at 99¢, this vase had no choice but to come home with me. It weighed almost nothing, and reminded me of the pottery I saw while in Japan last year, which was certainly not priced under a dollar.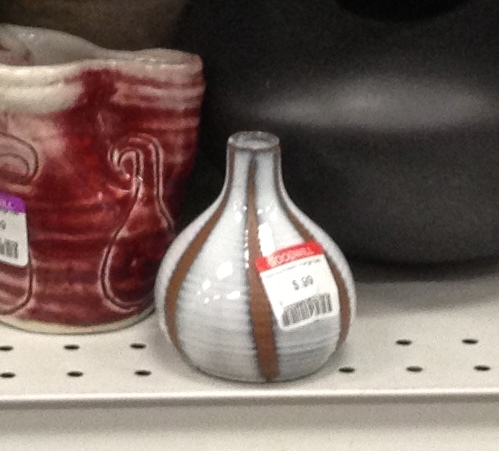 Doesn't it look so perfect nestled in with its long-lost Goodwill cousins?
Welcome home, little friend. Welcome home.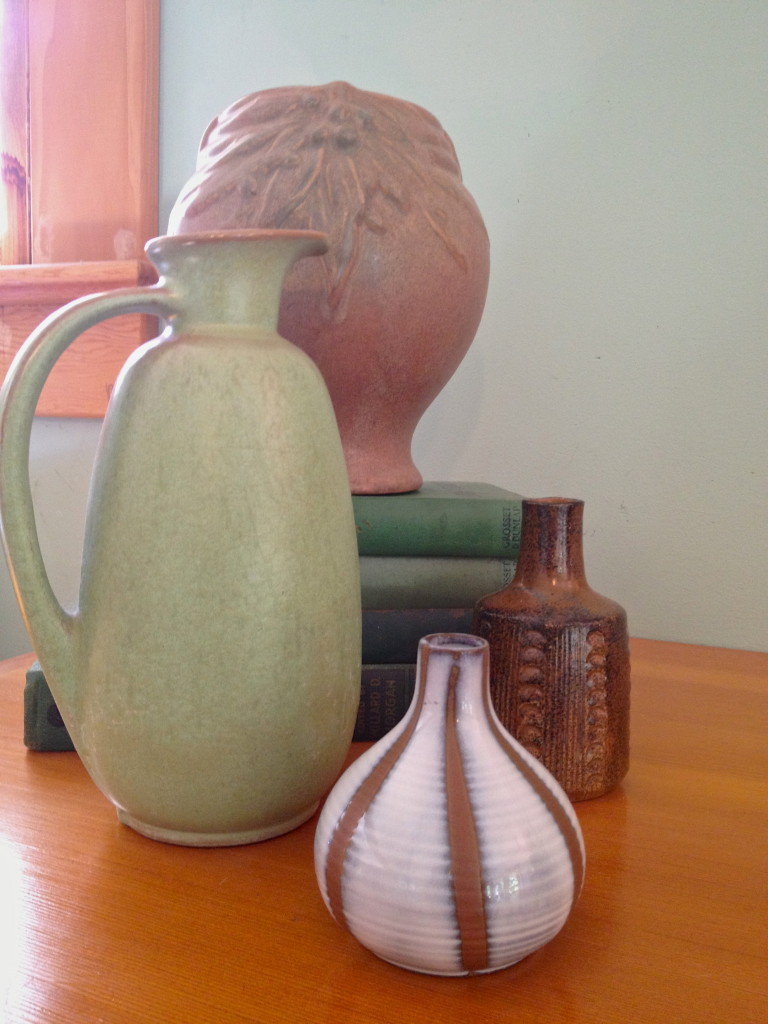 But my big purchase of the week was this chair and ottoman set. Priced at $25 together, I had to give it a second look. At first I thought it was a Stressless recliner chair, which normally start out at $1500, but a quick Google search on my iPhone killed that dream. See how filthy it is? Pretty gross. However, it had no cigarette smell, (a deal killer) so I took a gamble and brought it home.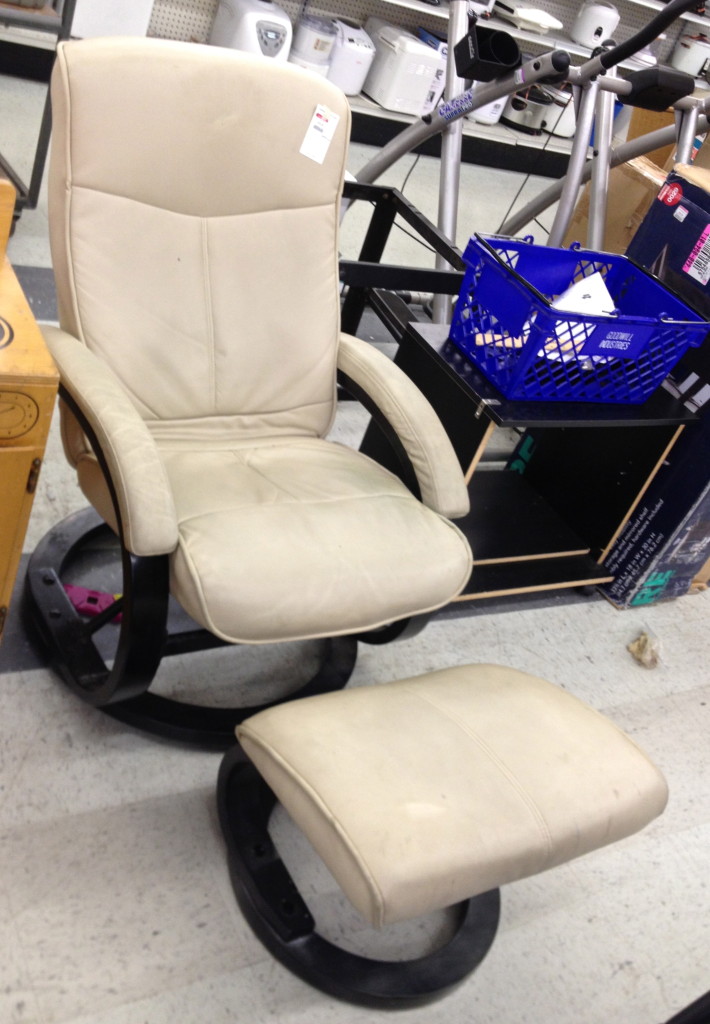 This is what the actual Stressless Chair looks like. You can see how the Goodwill version is a knock off.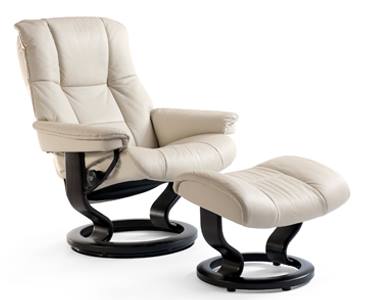 But an hour or so of cleaning, (plus a quick trip to the hardware store to replace a bolt) brought it back to un-grossitude. Clean, comfortable and ready for a new Craigslist owner.
Gotta plump up those college funds!
Update: I sold the chair & ottoman for $100. Woo-hoo!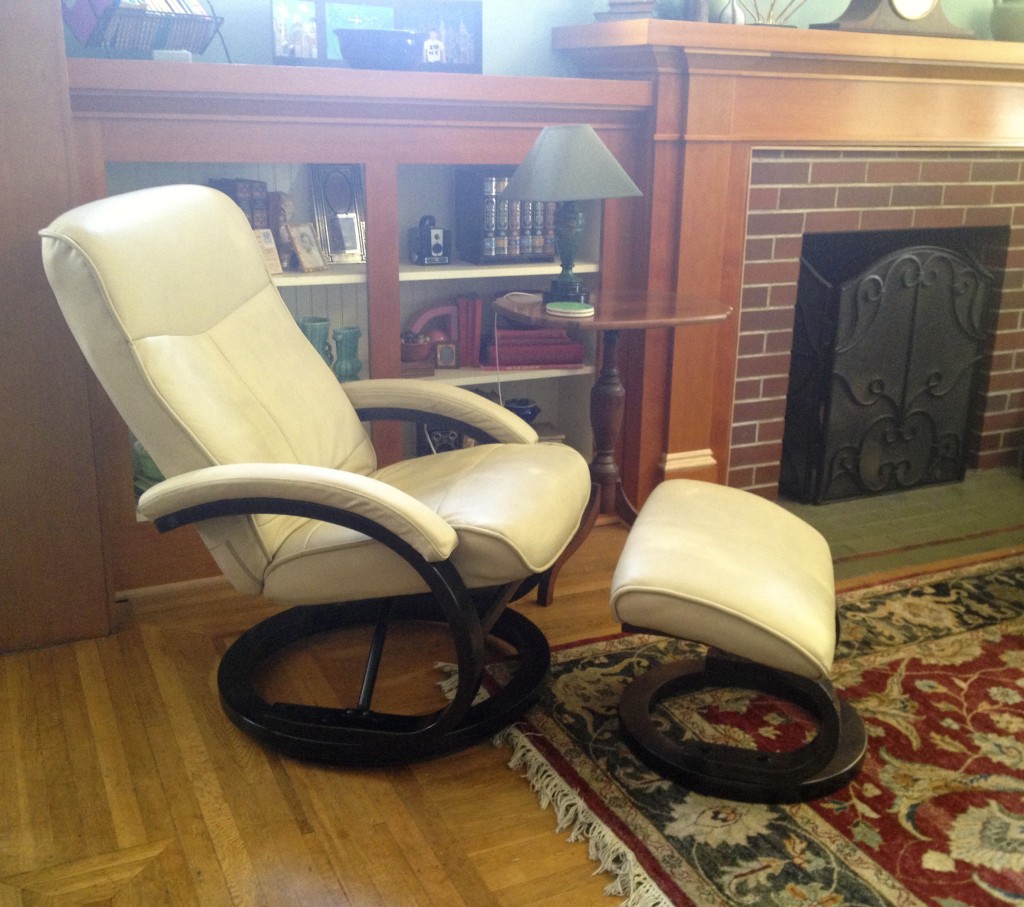 Still think my thrift shops are better than your thrift shops? And would you have given the piggy a home? Please share your thoughts in the comments section below.
Katy Wolk-Stanley