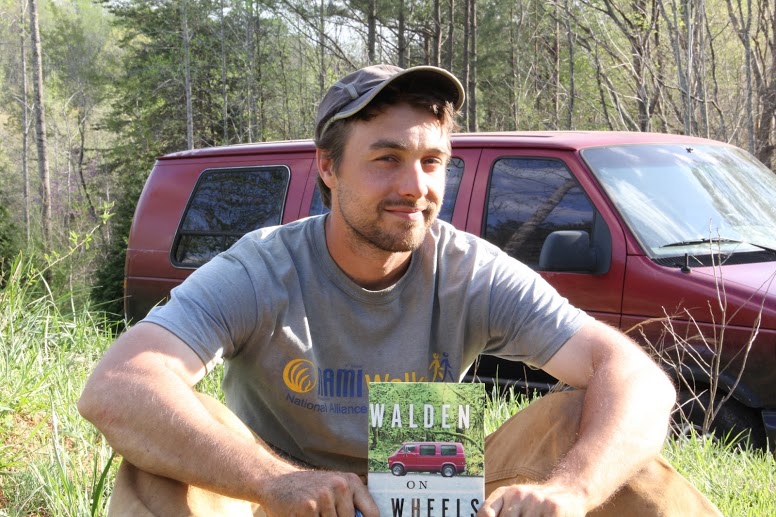 Please note that this giveaway has ended.
Today is a very special blog post, as it features both an interview with Ken Ilgunas, inspirational author of Walden on Wheels: On The Road From Debt to Freedom (New Harvest Publishing ) and a five book giveaway!
I'd been hearing about this book from all over the blogosphere, so put it on hold at the library. Expecting yet another I-did-this-social-experiment-for-a-year style of publication, I was pleased to discover the book to be so much more than what I'd anticipated. Ilgunas was living and chronicling his unconventional life with the specific goal in mind of rapidly paying off his crushing $32,00o student loan debt. (A subject frighteningly near and dear to my heart as my older son starts college next year!) After meeting that goal, he then entered a Master's Degree program. However, being too familiar with the perils of student debt, Ilgunas chose to secretly live in a van instead of traditional housing.
I don't want to give too much away, as the book is a better read if you don't know everything ahead of time. Suffice it to say, Ilgunas now holds a Master's Degree and is gloriously debt free.
Ilgunas was kind enough to take the time to answer a few questions right before heading off for a month-and-a-half long British adventure.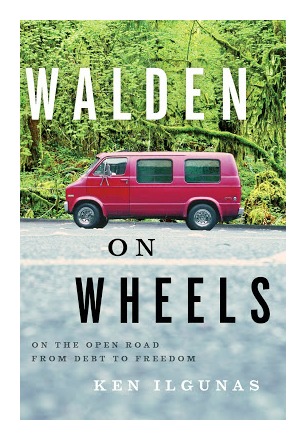 Unlike many stunt journalists, who take on an extreme lifestyle change for a specific one-year period, your project did not have a finite beginning and ending. Are you still "vandwelling," and do you see yourself ever becoming a homeowner or living a more traditional life?
I still have the van, but I'm not vandwelling anymore. I'm living with a retired friend in North Carolina on a small farm, where I barter labor for room and board. Like living in a van, it's an affordable lifestyle, but now I have my own bathroom and Wi-Fi. I'll probably come to be an owner of a (small) home at some point, but I'm not so sure about ever having a traditional lifestyle. I like going on adventures and writing books, and I plan on doing that for the foreseeable future. But who knows? There are many stages to life, and I must acquiesce to my soul's shifting priorities.
What advice would you give to people who are unable to afford college without taking out massive student loans?
Well, most everyone can afford college if we're responsible consumers. The average public in-state tuition is $8,500 a year and the average scholarship and grant aid is $5,500. That means that tuition at a respectable school costs about $3,000 a year, which is very manageable, especially if we commute from our parent's home. But debt, for many, is unavoidable. In that case, work part-time, live frugally, and don't go any more than $25,000 in debt. Any more than that and it's going to be a pain paying it off. (Source)
You wrote that the required secrecy of living in a van during grad school limited your ability to socialize and make friends. How would you do things differently if you could turn back the clock? 
I'm four parts hermit and one part social person, so the aloneness was only tough during severe social droughts. For the most part, I enjoyed the solitude. And honestly, the loneliness had little to do with my secret and the van, and much to do with the fact that I was going to Duke, where the great majority of the student body is insanely career-driven and success-oriented. As a proud and self-avowed idler, I just found it difficult to make connections. I might have been better off at a smaller liberal arts school, where economics and business weren't the most popular majors.
Have the responses to your book and various interviews/articles surprised you in any way? Any backlash or negative reaction?
I suppose I'm a little surprised with the continued interest in my story, especially considering it's been over two years since I lived in the van. But I'm not complaining. I knew it was a good story, and that's why I was eager to share it. Surprisingly, there hasn't been much of a negative reaction, except for people complaining about the vulgarity in the book. It's true—it's plenty vulgar. But I wanted to write this book with a twenty-something's voice who'd grown up in hockey rink locker rooms. It would have been dishonest to assume a voice different from my own. I think we all have sick, twisted, hormone-fueled thoughts, and, in as a first-time memoirist, I saw it as my duty to present to others a clean view into another person's mind.
Have you heard from anyone else who is following your lead to find alternative housing while in college?
I'm not sure they're following my lead, but once in a while I'll get an email from someone saying they're doing something similar. I think that's great—it's a great way to save money, and it's a great learning experience in and of itself.
Is your mother more accepting of your life choices and hitchhiking now that your book has come out?
I think having a book deal and being on Jay Leno helps validate some of my more eccentric goals. And yes, I think it's definitely easier to stomach when crazy goals and dreams become possible book deals, which I can use to continue a financially independent and responsible life.
I did a quick browse through your blog about walking the Keystone Pipeline. Do you have plans to turn that experience into a book?
I do! I've been working on it this summer. It'll be called Trespassing across America, because, for the majority of the hike, I wasn't walking roads or trails, but across prairie, hills, farmland—all of which was privately owned. I think it'll be a good modern adventure story with a strong environmental heart.
Click
HERE
to look through Ilgunas' online photo album.
To enter to win one of five copies of Walden on Wheels, write your name in the comments section along with the name of your favorite inspirational book. I will randomly choose five winners Sunday, September 15th at 7 P.M. P.S.T. Please enter one time only.
Good luck! And a huge thank you to the fine folks at New Harvest Publishing for providing the giveaway books!
Katy Wolk-Stanley
"Use it up, wear it out, make it do or do without."
Click HERE to follow The Non-Consumer Advocate on Twitter.
Click HERE to join The Non-Consumer Advocate Facebook group.
Click HERE to follow The Non-Consumer Advocate on Pinterest.