Today you get the treat of a guest post from Julia Park Tracey, blogger and author of Reaching for the Moon: More Diaries of a Roaring Twenties Teen (1927-1929), I've Got Some Lovin' To Do: The Diaries of a Roaring Twenties Teen (1925-1926) and Tongues of Angels. 
I actually checked out this book from the library, but wasn't able to get it read before it was due. (Story of my life.) Now I'm thinking I should put it on hold again!
Katy Wolk-Stanley
"Use it up, wear it out, make it do or do without."
Click HERE to follow The Non-Consumer Advocate on Twitter.
Click HERE to join The Non-Consumer Advocate Facebook group.
Click HERE to follow The Non-Consumer Advocate on Pinterest.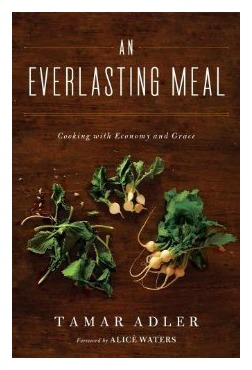 I stumbled across this book, I don't know how, but it's one that was absolutely written for the modern homesteader, urban or otherwise. Tamar Adler's cookbook/essays on life and food is a delicious read, and inspiring―it makes me want to cook when I'm tired, and that's saying a lot. The full title is An Everlasting Meal: Cooking with Economy and Grace (Simon & Schuster, $15, 250 pages).
Written very much in the style of M.F.K. Fisher, who wrote elegantly of food and life, weaving story into the art and soulcraft of feeding her loved ones, An Everlasting Meal is at once a how-to, starting with even the most rudimentary of basics:  "How to Boil Water," chapter one. In fact, each of the chapters has a straightforward "how to―" label, such as "How to Season a Salad" or "How to Fry the Littlest Fish." Better,  most chapters are delightfully named with philosophically rich yet practically rendered titles like "How to Teach an Egg to Fly," "How to Catch Your Tail" and "How to Build a Ship."
These are not flights of fancy. These are kind, loving instructions for living. When Adler speaks of boiling water, she is dispensing hope for the weary―when you get home at the end of the day, exhausted by the toils of modern living, you must feed your family, but how? Start with a pot of water. Turn on the stovetop or light the fire. Salt the water. And then―
She moves into how to cook pasta, or create the base for a soup. What's in the refrigerator, the pantry or the bottom of the barrel? How to create soup from scraps of this and that. How to start the meal when you don't know where to start. By the end of the chapter, you not only have a nourishing and delicious meal, you know how to really boil water, taste it along the way, and you feel better. You are soul-cured, uplifted, literally restored by your cooking (the French word restaurateur comes from the Latin word restaurator, "restorer").
Adler gives recipes, though not a vast number―just enough to start you toward your own cooking style, by teaching you how to roast a chicken, how to season vegetables, how to use up bread. Her manner of cooking centers the family or the household around the hearth in a way that works as well over a campfire in the woods, a woodstove in your off-the-grid straw-bale house, or a six-burner stovetop in your swanky stainless steel kitchen uptown.
She also talks about planning dinners, and gives instruction for prep-cooking and co-roasting meat and vegetables on the weekend, and then how to artfully reuse them throughout the week, with a carb base of rice, pasta, potatoes or bread. The freshness of her cooking and the embrace of seasonal produce keep the book as modern as it is timeless.
I especially loved her use of the "tail" of vegetables and meat: leftovers and scraps. She has a lovely recipe for pesto made with the stems and stalks of broccoli, for example, that uses a part of the vegetable that most people throw away. There's a recipe for "End of the Week" curry that uses up the rest of your cooked vegetables with contemporary flavors. Style with economy? Yes, please.
Tamar Adler is a chef and former editor of Harper's Magazine. The book has a foreword by Alice Waters, famed chef of Chez Panisse and leader of the slow food and locavore movements. But there's nothing pretentious about Adler's cooking style or her writing.
I highly recommend this to cooks of all levels, and dare you not to feel inspired by her kindness, her generosity and her abundant love of the kitchen.