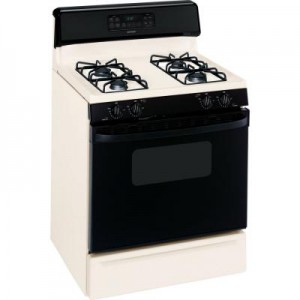 I bought my oven maybe eight years ago, and I went for the cheap, cheap cheapest gas model with sealed burners that the store offered. Quality it ain't. If I lean on it, it moves like it's on wheels, which it isn't.
However . . . it's functional. It bakes, it heats and I depend on it. Daily.
But it's been finicky lately. It takes awhile to heat up and then fills the kitchen with gas fumes while it thinks about whether or not to turn on. I think Stephen King may have written a book about it.
Today, it totally gave up on life. Would not turn on, despite my rather persuasive and pitiful pleas.
But guess what? Today was one of those rare days where my husband and I were both off from work, and he did a quick Google search, figured out the problem, (the ignitor) drove to the DIY appliance store and fixed the ornery sucker. For $63.
Because if the women don't find you handsome, they should at least find you handy.
Well, that's what I told him. I don't want him to get a swelled head. But I did serve him some lovely homemade pizza tonight, baked in our fully functional oven.
Katy Wolk-Stanley
"Use it up, wear it out, make it do or do without"