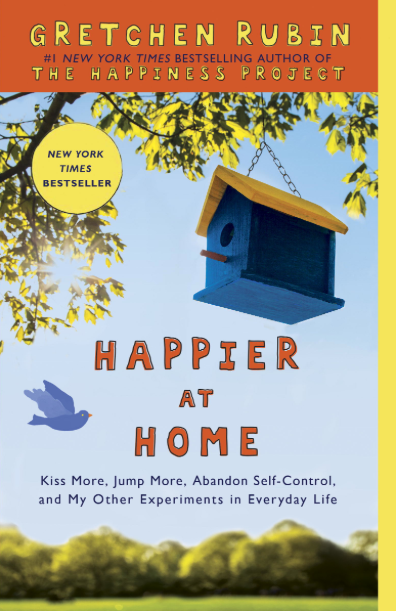 Although I'm normally averse to accepting wintertime evening invitations, I forced myself to break from my sedentary routine and attend a reading last night by Happier at Home's Gretchen Rubin. (Even though it was in the suburbs, and I hate venturing from my urban oasis.)
And I'm glad that I did.
Instead of a traditional reading from the fresh new paperback of Happier at Home, Gretchen chose to give what was clearly a smooth and well rehearsed talk about happiness. Of course I took notes. A smart blogger would take advantage of all the sparking ideas to flesh out a dozen new blog posts, but I need to leave for work in an hour, so here are the main points that resonated with me:
Happy people have habits that work for them.
Anything that broadens or deepens relationships leads to happiness.
The days are long but the years are short. <– One of my favorites!
Although excessive possessions have a tendency to drag us down, possessions do serve to project our identity into our environment.
When choosing what has a place in your home ask yourself these three questions, "Do I love it, do I use it, do I need it?"
People often approach Gretchen to ask "What is the key to true happiness?" and although there is no one all encompassing answer, she does believe that self knowledge is a close approximation.
Happier people are more altruistic, and unhappy people tend to focus more inwardly on their problems. Although negative emotions play an important role in how to be happier.
Allow yourself permission to let go of unfinished projects. Gretchen's example was to scoop up all the origami paper packets and donate them to her daughter's school.
Ask yourself these questions, "Who do you envy?" and "What do you lie about?"
I wish I had time to flesh out these points, but I know that being fired from my job for excessive tardiness would definitely harsh on my happiness. 😀 So please, share your thoughts and responses to these happiness prompts in the comments section below.
Katy Wolk-Stanley