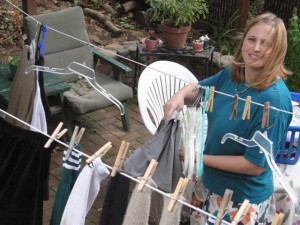 Today is Earth Day. I could write a long post about sustainable practices and how to work these into an everyday life. Instead, I'll just suggest that you have a super amazing, terrific great day.
And perhaps, you might consider:
Hang a load of laundry.
Eat minimally packaged meals.
Use your library.
Rethink errands that require great lengths to drive.
Chat up a neighbor.
Contact your local politicians about an issue that's near and dear to you.
Make your unused goods available for others who might need them.
Bring your own bags, mugs and handkerchiefs when you're out and about.
Fix instead of replace.
Delay purchases, even minor ones. (You're more able to find a second hand version this way.)
Share seldom used items with a neighbor. (Like a lawn mower or a post hole digger.)
Enjoy what you already have. This may be a safe place to live, food on the table, a community of friends and family and most importantly, the health and well being of those around you.
Happy Earth Day!
Katy Wolk-Stanley
"Use it up, wear it out, make it do or do without"