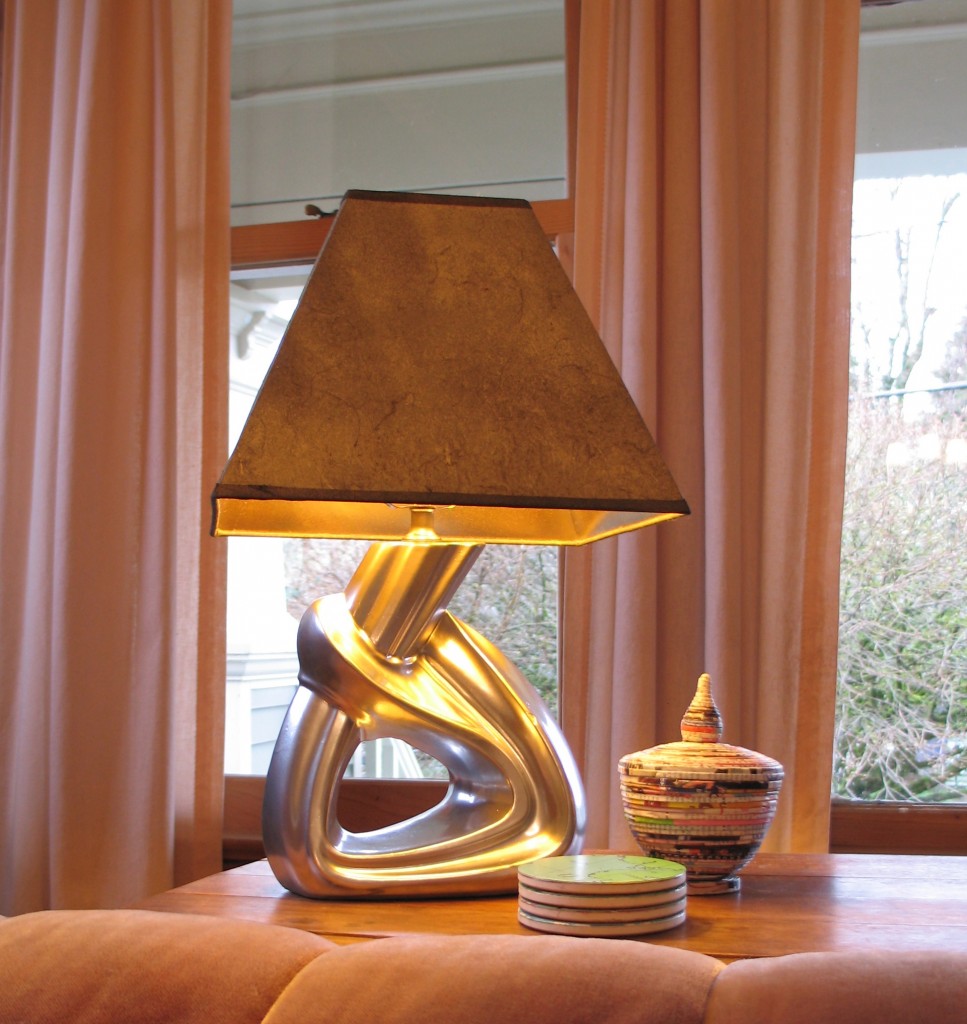 It may have taken awhile, but I finally finished refurbishing my vintage Goodwill lamp. And yes, I'm really happy with how it turned out. It's shiny, it's chrome-y, it's solid without being clunky, and yes, it's tubular. (Sorry, I couldn't help myself.) My original plan had been to use the perfectly good electrical guts from a broken floor lamp, but I was having trouble figuring out which parts went where, so I broke down and bought a $8.99 make-a-lamp kit from Home Depot. (I did use a promo $1 gift card.)
The process of rewiring the lamp was super finicky and took a couple of hours. Why? Because all that tubular-goodness made it extremely difficult to thread the wiring from bottom to top. I ended up needing to use a flashlight and a paperclip converted into a fishing hook to complete the job, and it took me a lot of time to figure this out. Luckily, this kind of project is perfect for evening TV-watching, so it ended up being a pleasant-enough task in the end.
I did have to give up on snaking the wiring through the teeny-tiny exit hole from the bottom of the lamp, but I'm okay with that.
See what I mean?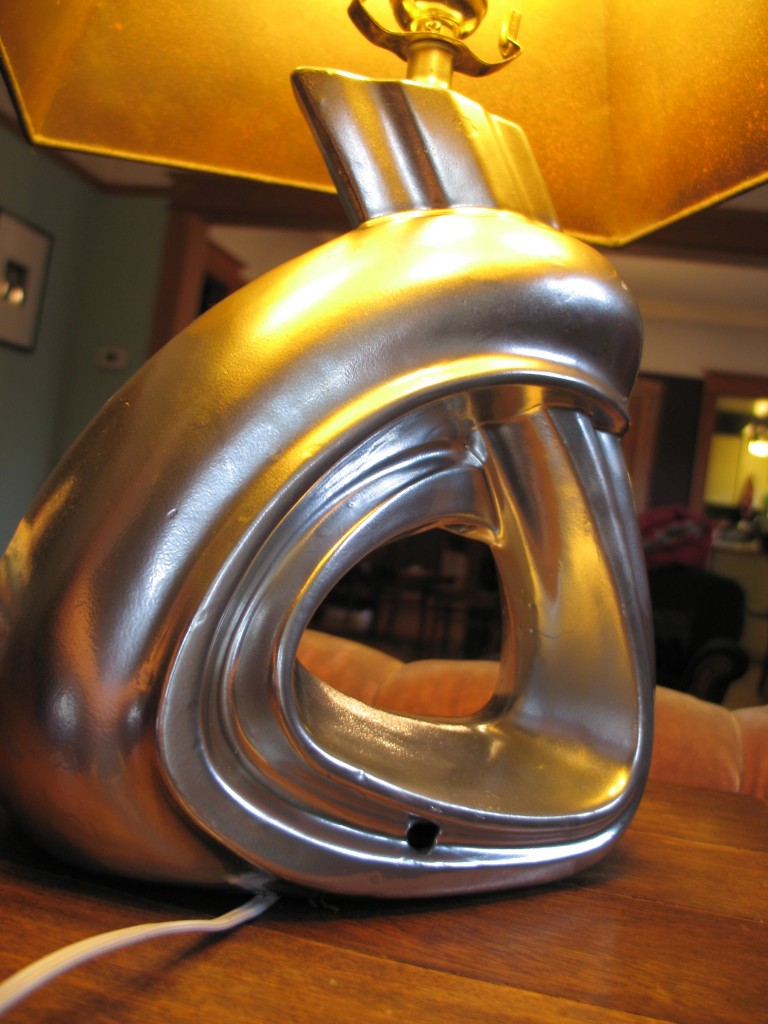 Do you like how my Goodwill-purchased $1.99 lampshade is painted gold on the inside? It casts a lovely golden glow onto the lamp, which is very pretty. Sadly though, this lampshade has been my second choice. I had also Goodwill-ed a teak veneer lampshade which had a much hipper vibe. Unfortunately, the metal spokes were slightly uneven, so I had the great idea to press down on the top to fix this problem. However, I may have pressed a wee bit too hard: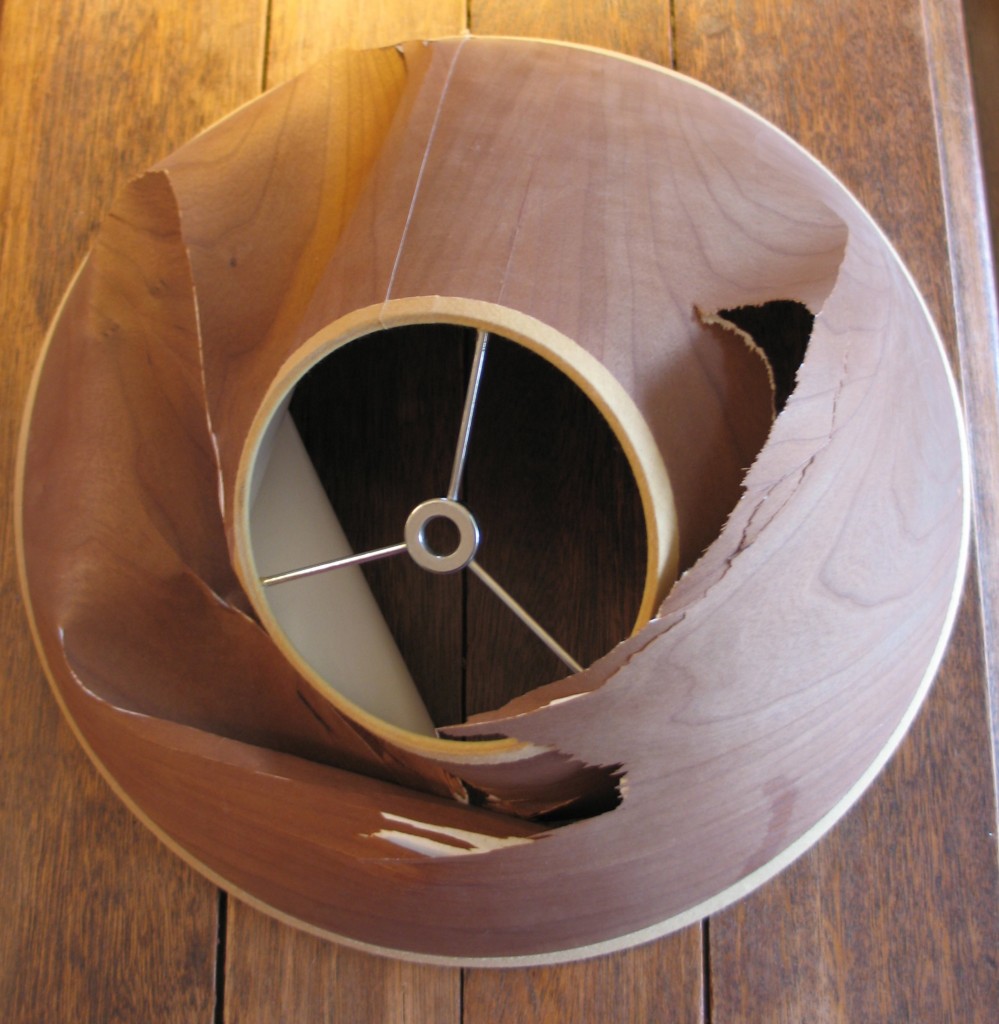 And for all of you you enjoy a good before-and-after, here's a complete evolution of the lamp:
Now, it's on to my project chairs. C'mon, sunny weather!
Katy Wolk-Stanley
"Use it up, wear it out, make it do or do without"
Click HERE to follow The Non-Consumer Advocate on Twitter.
Click HERE to join The Non-Consumer Advocate Facebook group.
Click HERE to follow The Non-Consumer Advocate on Pinterest.