Today is a day when I need answers from you, the readership. Because although I may seem all knowing, it turns out that I'm not. (This is an example of self-deprecation humor, as I actually know pretty much next to nothing.)
Question #1
I bought a rather wonderful hand knotted oriental wool rug at Goodwill for the fantabulous price of $12.99. And to make things more impressive, it still had its oval store tag on it. However, at 4-1/2 by 2-1/2 feet, it's a slightly awkward size. I've tried it in the entry way, (too cluttery looking) in front of the sink, (too likely to get ruined from water) and next to my side of the bed, (too pretty to be hidden.) Which brings me to the question:
Should I sell this rug and set the money aside to buy a large bedroom rug, which is what I really want? Or, should I keep this rug in the hopes that the perfect spot for it will finally occur to me? And also, how much should I sell it for?
The problem is that I've kind of bonded with the rug, as it's in perfect condition and the colors and pattern are just gorgeous. Here, take a look for yourself:
Question #2
I recently hit up the Salvation Army thrift store on a 50%-off day and was drawn to an 8″ X 10″ vintage photograph that at $3.75 was too good to pass up. Why? Because the photo is of a military unit encamped in front of a snow capped mountain that at first I thought was an un-exploded Mt. St. Helens. However, an astute clerk pointed out that the trees were all wrong, (should be huge Douglas Fir trees) which only deepened my interest.
Here, see for yourself:
Is this photo from  WWII or the Korean War, or maybe even not during wartime at all? Do you see the military vehicle to the far right of the photo? And most importantly, which mountain is in the background?
Thousands of you read The Non-Consumer Advocate on a daily basis, so I'm hoping that someone, (or someones) can help solve this mystery.
I thank you in advance, and am looking forward to your always sage and informative answers.
Update:
My friend Lori found this old photo, which is of Mt. Fuji in Japan. You can see that it's the exact same angle of the mountain, with the bump on the right side. So, that's one mystery solved!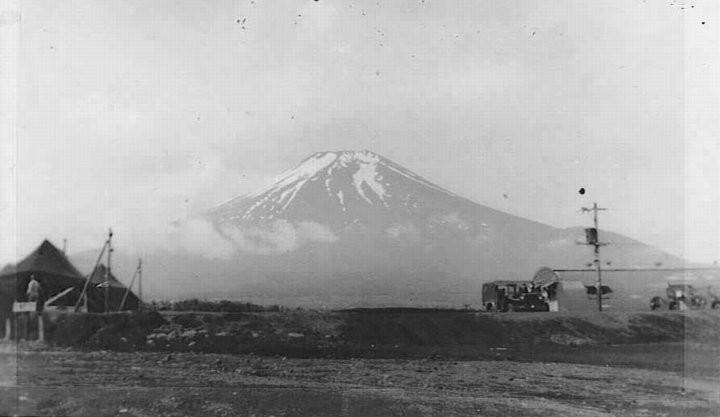 Katy Wolk-Stanley
"Use it up, wear it out, make it do or do without"
Click HERE to follow The Non-Consumer Advocate on Twitter.
Click HERE to join The Non-Consumer Advocate Facebook group.
Click HERE to follow The Non-Consumer Advocate on Pinterest.