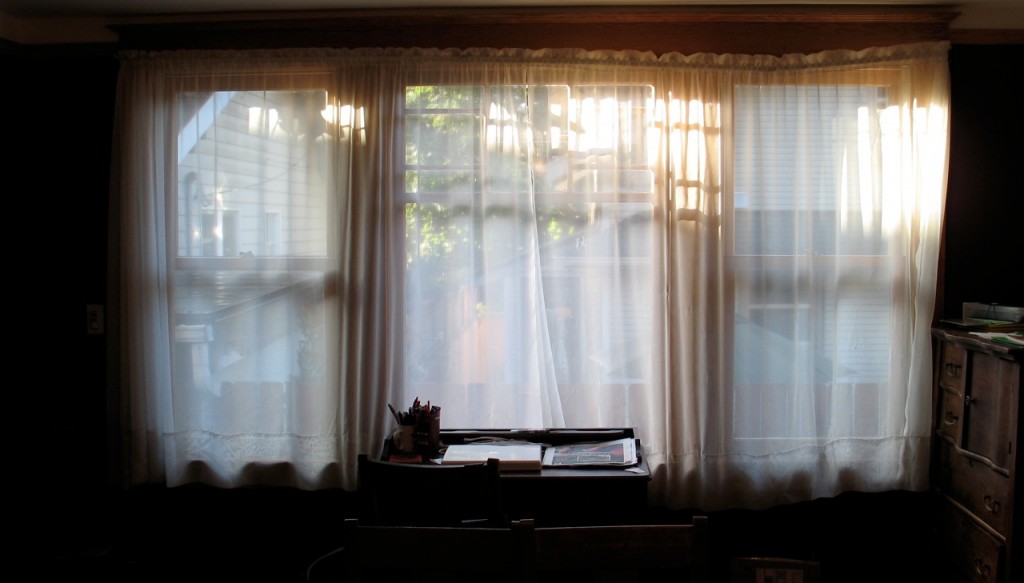 I'm currently in the middle of listening to an audio book of House Lust: America's Obsessions with Our Homes, by Daniel McGinn. This is not a book recommended by anyone in particular, but simply something I pulled off the shelf at my friendly neighborhood ♥library♥. I am absolutely loving this book, and feel that it was written for me as a simple living wannabe, old house aficionado, recovering HGTV addict, chronic remodeler and book superfan. (Yeah, I know, I'm one screwed up broad.) Sadly, I can't quote from the book, as it's in spoken form. (However, I have put the actual book on hold at the library, so this is soon to change.)
The author makes many fine points throughout the book, one of which is how what may initially seem new and exciting, will normalize with time. My example of this is my dining room curtain. When we bought our house in 1996, our next door neighbor ran an illegal scrap metal business out of his side yard. To say it was a less than idyllic vista would be an understatement. Our goal for the curtains was something that would block the view, yet still let some light through. The budget solution was a super cheap curtain rod from my mother's basement, paired with Goodwill sheers that my mother hemmed to the right length. Not particularly attractive, but functional. I was happy.
Fast forward 14 years and the neighbors have long since moved on, replaced by the loveliest retired couple, (hi Nancy, hi Beau!) but the utilitarian curtains are still in place. The curtain rod gets a little bent, (which I periodically unbend) but the window span is ten feet across, so it needs to be replaced by a serious piece of apparatus.
I am no longer happy with the curtain. I feel that it does not live up to my sophisticated design sense. (Don't worry, I'm making fun of myself here.) I am no longer happy to just have a curtain. I have normalized the initial excitement of simply having a curtain. I look at blogs such as Modern Thrifter, (my fave new blog!) and see how the author has fashioned the perfect curtain solution for her daughter's room, and I lust over the curtain rod, which has a center support which looks like the perfect solution to my super wide window issue.
And I over-thinking here? Of course I am, but that doesn't mean that what once gave me satisfaction isn't now grating on my nerves.
This phenomenon of normalizing what was once exciting is not exclusive to house related issues, as the thrill of many new purchases is that they are, well, new. And you and I both know how long that lasts.
I highly recommend this book, and feel it's a good match with the content here on The Non-Consumer Advocate. You'll be hearing more about it in the near future.
Katy Wolk-Stanley
"Use it up, wear it out make it do or do without"