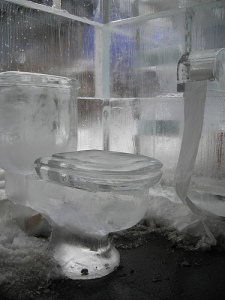 I've been hemming and hawing over how I will handle this year's No Heat Challenge. Don't get me wrong, I don't have a moment of regret from last year's challenge. (Or for that matter, the year before.) We waited until after November 1st to start firing up the furnace, and then we kept the house at 63° during the day when the kids were at home, and 57° at night and when the kids were at school. Cozy lap blankets were available for watching TV, goofing around on the internet and generalized snuggling.
We just received our gas bill for the month of September, which was a credit for $5.34. (Our furnace, stove and hot water heater are all natural gas.) My husband and I use the Equal Pay plan, which computes our therm usage from the prior year and divides it by eleven. (This way we're not hit with huge gas bills over the winter and hardly anything during the summer.) So in September, we either have to pay for any extra gas usage or get a credit for overpaying. Our credit last year was much higher, but we're now comparing two different No Heat Challenge years, so It's pretty great to get a credit. Especially considering that our older son now showers twice a day and often for up to 45 minutes at a time!
The reason why I'm unsure how to progress with this year's challenge is because we have welcomed a Japanese exchange teacher into our home for the next six months, and I feel bad subjecting him to extremes of temperature. It's still fairly warm in Portland, Oregon, but the chill is definitely creeping in. I made sure to provide a really warm blanket for our guest, (thank you Mom!) as well as a set of flannel sheets. I set up a small space heater in his room, and instructed him on its use. We don't have a traditional Japanese heated toilet seat, although I suppose I could save up my Swagbucks to buy one.
I am going to abstain from blanket statements (har-har) as to how we'll handle this year's furnace abstinence, but I'm sure we'll find a happy medium that meets all of our needs.
Are you planning on participating in this year's No Heat Challenge? Will you throw on a sweater instead of a furnace switch? Will you snuggle under a blanket instead of heating your entire house? Please share your stories and thoughts to the comments section below.
Katy Wolk-Stanley
"Use it up, wear it out, make it do or do without"