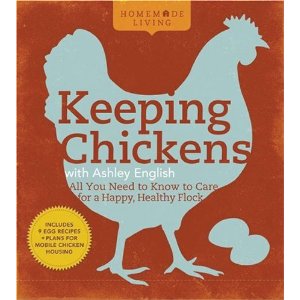 Another week has started, which for us Non-Consumers means it's time for another Monday Giveaway. This week's selection is Keeping Chickens with Ashley English: All You Need to Know to Care for a Happy, Healthy Flock. This is a fantastic book, even if you're not a backyard poultry enthusiast. It's got delicious looking egg recipes and would make the perfect gift for the chicken chica in your life.
This beautifully crafted book is the second in English's Homemade Living series, (the first was Canning and Preserving) and is published by the generous people over at Lark Books. There are also books on Keeping Bees and Homemade Dairy, which are scheduled for publication March of 2011. Ms. English also writes the blog Small Measure, which is a wonderful chronicle of her projects and thoughts.
Last week's giveaway of English's Canning and Preserving book was extremely popular, and I expect this week's will be as well.
To enter to win an autographed copy of this book, write something about chickens or eggs in the comments section below. And no, I don't have a preference for which came first. 😉
I will randomly choose a winner on Wednesday, October 18th at midnight. Please enter just once, U.S. residents only.
Katy Wolk-Stanley
"Use it up, wear it out, make it do or do without"