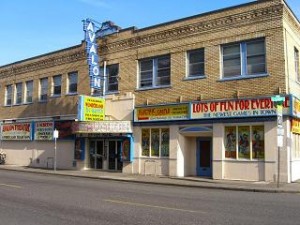 Today was the last day of Winter break, and unlike years past, we didn't really do anything extra or fun. This was due to the combination of house guests, work schedules and, let's face it, inertia.
I was feeling bad about the lack of snowy fun days on Mt. Hood, so I proposed to my son and his friend that I take them to the nickel arcade. This idea was greeted with much pleasure, and I rang my husband at work to share my idea.
"But what about band practice?" was his response.
Oh . . . right, band practice. My son's yet unnamed band was meeting at the house for a practice at 2:00 P.M. Crap. However, we came up with the plan to start practice early, then drive to the arcade. This would satisfy those who take the band very seriously, (my husband) and my need to feel like I had provided something fun and out of our routine.
After an hour of rocking out, we loaded up the mini-van, negotiating the seating assignment like world class diplomats and turned the key to start our adventure. Or not, as the battery was dead. Double crap.
Although the arcade is only a mile or so from the house, I had planned on swinging by the credit union on the way there as actual cash money is required to pay admission.
Luckily, it was not raining, (which I would say was a minor miracle here in Oregon, but actually it was a major miracle) and the boys were perfectly happy to hoof it. We routed ourselves through Fred Meyer and bought huge cheap $1 candy bars and got cash back from the debit card transaction.
Admission for the five of us was only $9.50, (we had one coupon leftover from last summer's library reading program) and each kid was handed a five dollar bag of nickels, with an admonition to "make it last."
And make it last they did, as we spent over two hours at the arcade, playing Skee-Ball, air hockey and shoot-em-up zombie games.
The boys combined their prize tickets and then gave them to my 11-year-old son who bought two ceramic pirate theme piggy banks and a stretchy wrist band.
Even though this can't compare to an afternoon spent sledding and hiking in the snow, to the kids it was probably just as much fun. They got to have their friends along, goof around as kids and eat as much chocolate as their poor stomachs could manage.
And the total cost was only $33.50, which included the candy. And for five people, that's not bad at all. (And I found 18 cents on the ground, which counts as my entertainment.)
It was flexibility that made this experience possible. There were so many roadblocks that could have derailed our fun, but an attitude of how can we work around this problem made everything possible. Well, that and 400 nickels.
Katy Wolk-Stanley
"Use it up, wear it out, make it do or do without."