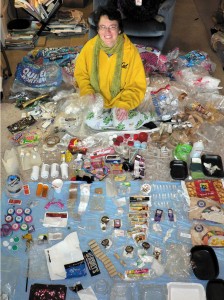 Hi there. My name is Beth Terry, and my blog Fake Plastic Fish (on which Katy guest posted recently) is not only about finding solutions to the environmental problems associated with plastic but also tracks my own personal plastic waste and plastic consumption.
Collecting Plastic
I've been keeping a regular tally since June 2007, and have reduced my plastic waste from 12-1/2 pounds of plastic in the first six months of 2007 to under 4 pounds for all of 2009. By contrast, based on EPA data, the average American generates from 80 – 128 lbs per year, depending on how you do the calculations.
I'm not telling you this to brag, but to ask for your help.
In addition to reducing the amount of plastic waste I produce, I'm also trying to find ways to reduce the amount I consume via durable plastic food containers, Teflon-coated cookware, reusable plastic cups and bottles, plastic-packaged cosmetics, and all the many other vehicles by which plastic can leach chemicals (BPA, phthalates, lead, styrene, perfluorochemicals, and other additives) into my food and onto my skin. And that sometimes means giving away the plastic I already own and buying glass, metal, wood, or even recycled cardboard versions to replace their plastic cousins.
(Of course, I'm not interested in replacing my plastic computer, cell phone, bike helmet, or any of the many other durable plastic items that I already own. But I'm not sucking on those things or rubbing them into my skin either.)
Now I'd love to participate in a "Buy Nothing New" experiment like The Compact. I already shop second-hand stores for clothing, dishes, utensils, and other durable goods. I replaced a broken computer monitor with a used one via Craigslist; I've used Freecycle to get plastic cat litter boxes and even cat nail clippers instead of buying those things new and ending up with new plastic products and new plastic packaging; I bought a refurbished mobile phone when I switched phone companies as well as refurbished SmartStrip power strips to save energy; and when I wanted to mow our postage stamp sized lawn, I borrowed a push mower from our local tool lending library.
Here's where I run into trouble:
Travel mug: Thrift stores are full of every kind of mug printed with every cute expression you can imagine: "World's Greatest Grandma", "I Golf Therefore I Am", "Real Bikers Do It In The Dirt", to name just a few. But when it comes to travel mugs (which I need because I lost my stainless steel mug, and the glass jar I've been using is less than ideal) they all seem to be plastic. Maybe folks are realizing that hot beverages and plastic are a bad idea.
Cookware: Thrift store cookware tends to be either non-stick (plastic-coated) or aluminum, both of which are not healthy. Perhaps that's why, like plastic travel mugs, they are ending up in thrift stores. Stainless steel pots offered on Craigslist were either too far away for me to travel (I don't own a car) or lined with non-stick coating. Recently I gave in and bought a couple of 100% stainless steel pots from Macy's because I just couldn't find any used ones in decent shape (meaning without big pits or burned spots).
Some plastic-free reusable products are so new that second-hand versions don't exist yet. For example, in an effort to eliminate plastic dry cleaner bags (and by dry cleaner, I actually mean wet cleaner, which is the eco-friendly way to have someone else clean your Dry Clean Only fabrics) we bought a reusable Clothesnik dry cleaner bag. We got new stainless steel ice cube trays to replace their plastic counterparts. We purchased a whole set of ten Anchor glass refrigerator containers, which were the perfect size for freezing our homemade cat food and easier to store since they are all the same size and stackable. And I replaced disposable plastic soda bottles with a Penguin soda maker and disposable plastic straws with brand new glass drinking straws.
In hindsight, I could have bought fewer new items. Here are a few examples:
My new bicycle. I wanted to find the perfect size and style for me or I just knew I'd never ride it.
A new wooden book shelf that was narrow enough to fit into a particular space in our apartment.
A new compost tumbler. I probably could have waited and found one from someone local who'd given up on the idea of composting. It happens all the time. And in my city of Oakland, we have green bins for food waste that is collected weekly with our regular trash and composted commercially, so there's really no pressure to compost at home.
Several new books when I was too impatient to wait for them at the library or to find them used.
New organic cotton clothing — just because it was organic and I wanted to support that kind of industry. I could have stuck to used clothing.
Brand new hemp purse because it screamed eco-friendly, and I had a brief moment of caring more about looking the part than being the part.
On the other hand, isn't it worthwhile to support companies that are producing environmentally friendly products in order to pressure less eco-friendly companies to change their ways? Does avoiding all purchases really allow us to vote with our wallets?
I'd just like your opinions and suggestions. I'd love to try a "Buy Nothing New" month, at the very least. But I might need a little help.