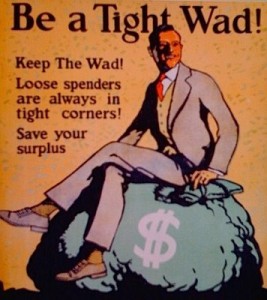 Today's Oregonian newspaper ran an article titled "Oh, the Virtue! Oh no, the sin!" that "asked The Oregonian's news staff for the best little green habit that actually have  — but also to admit to the ugly little things they wish they could change." The result was a listing of the different writers' virtues, such as using the library, vegetarianism, composting and recycling the toilet paper tubes. The sins included such confessions as tossing recyclable containers when filled with rotten food, long hot showers, excessive driving and cranking up of the thermostat.
I really liked this piece, as it highlighted that not one of us is perfect. Yes, we do our best in some areas, but fail miserably in others. We're all human.
I would like to see what you, the readers have to say on the subject of frugality. What are you proud about, and what are your ugly little things that you splurge on?
Here, I'll start:
I am proud that I'm able to pay so little for clothing, gifts and household items by only shopping at Goodwill.
I am proud that my husband has taught himself how to fix the computer, do almost all household repairs and change the oil in our cars by himself.
I am proud that I use my clothesline about 95% of the time in the Summer.
I am proud that I was able to use my creativity to find a dozen different ways to add money to savings in 2009, without taking even one cent away from our regular income and debt repayment.
I am less proud to say that I have been using my electric clothes dryer lately, as our indoor clothesline is in a dark, cold and creepy area of the house. Oregon = cold, wet and dark. (I have however, asked for a nice laundry rack for my birthday which is on Monday.)
I am less proud to have sorted through my mending pile, only to find a lot of clothing that that no longer fits my kids.
I am less proud to admit that I receive a free public transportation pass through work, and that I have used it exactly three times over the past 14-1/2 years. To buy this new would set me back $900+ per year! Gulp.
Okay now, it's your turn. What are you proud and less proud about? Please share your thoughts in the comments section below.
Katy Wolk-Stanley
"Use it up, wear it out, make it do or do without."