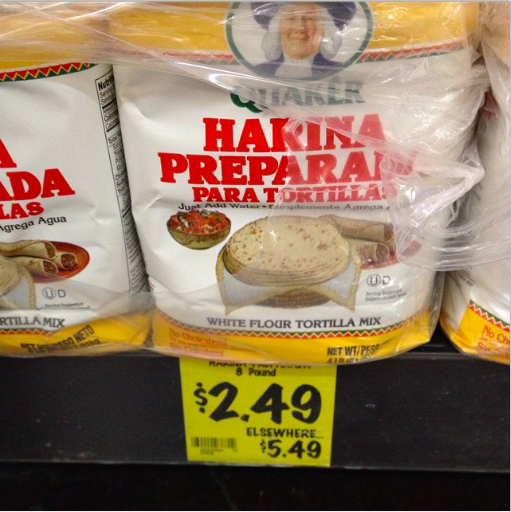 You'd have to be blind to not notice the not so slow, and certainly steady rise in food prices over the past year. And if I were someone who shopped normally, it would be taking a hit on my family's budget. But I don't shop normally. I stock up on loss leader items, hit non-traditional stores like The Grocery Outlet and I buy in bulk. I rarely buy pre-prepared meals and have honed my skills at leftover conversion into both an art and a science.
Just this morning I stopped in at The Grocery Outlet after dropping my son at school and hit the motherlode. Chobani yogurts for 33¢ apiece, packets of turkey pepperoni for 25¢ apiece and my beloved flour tortilla mix for $2.49 per 5-lb bag! (My normal grocery store has stopped selling the mix, and I hadn't been able to find a store that sold it since!) Needless to say I stocked up for our frequent burrito nights!
And when my receipt spit out from the register I told me that I'd saved $92.87 from my $34.80 bill!
Here's what I bought:
3 5-lb bags of flour tortilla mix.
2 half-pound packets of sliced ham for sandwiches.
8 packets of turkey pepperoni.
1 bag of cut corn.
1 jar of salsa.
2 pounds of frozen whiting fish fillets.
1 bag of frozen pierogies.
1 jar of marinated artichoke hearts.
1 bag of frozen shelled edamame.
6 pots of Chobani yogurt.
2 packets of frozen chopped prosciutto.
1 fresh orange pepper.
4 avocados.
4 small bags of plain M&M's.
Higher food prices? I just take them as a fun challenge. And pizza toppings? We're now set for a good long while!
Have you had to change how you shop to accommodate recent higher food prices? Please share in the comments section below.
Katy Wolk-Stanley