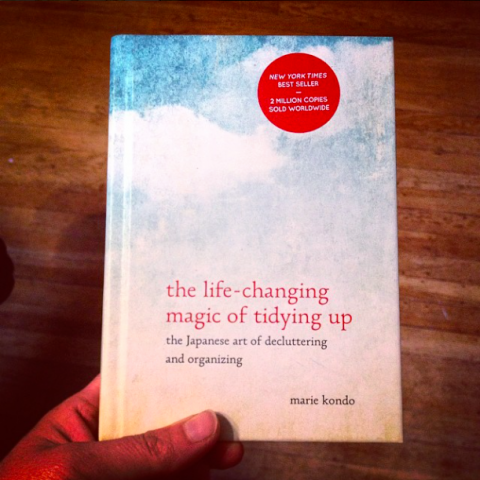 I batched my errands this morning after dropping my son at school, and both returned library books and stopped in at Fred Meyer to pick up loss leader milk and $2/lb butter. I also bought a pound of navy beans and am cooking up the entire bag in the crock pot to make a batch of The Prudent Homemaker's Rosemary White Bean Soup for tonight's dinner. I'll make extra this way to throw into the freezer.
I'm using my neighborhood's Buy Nothing Facebook Group to rehome some under appreciated stuff from my house. (I've also requested a few items, although so far I'm 0-for-0 on that front.) Today I have people coming by the house to pick up a cool neon guitar lightbulb and a set of The Tightwad Gazette books. (I have the compilation book, so these ones are redundant.)
My younger sister hung out with me on Saturday to watch my son's soccer games. We ate a fast and frugal dinner of frozen pierogis with a buttery kale pesto sauce. We then came home and watched Netflix while I cut old clothing into rags and mended a few items. We drank tea and munched on popcorn. (Hey, I said frugal not exciting!)
I got bone chillingly wet while watching my son's outdoor soccer game on Saturday. Instead of deciding that my 11-year-old raincoat needs to be replaced, instead I'm going to try a waterproofing treatment that we already own.
I finished reading Marie Kondo's The Life-Changing Magic of Tidying Up: The Japanese art of Decluttering and Organizing and am starting the "KonMari" method. I'm trying to follow her directions to the letter, as I plan on doing a full review of the book, but her instruction to simply throw away anything that doesn't "spark joy" is offensive to me. I went through the first step of going through all my clothing but will be donating, consigning and gifting my still usable clothes. (Not to mention making rags from excessively worn, torn or stained items.) I did throw away a pile of unusable socks, but regretted it afterwards when my sister told me that one of the Portland libraries has a dropbox for textile recycling. How is this frugal? I believe that being mindful with what we choose to own not only makes it easier to locate our belongings, but also helps us to to appreciate what we have in a way that curbs the urge to mindlessly spend. (I have other issues with this book as well, but I'll write more on that later.)
Now your turn. What frugal things have you been up to?
Katy Wolk-Stanley