As much as I promote the idea of a uncluttered home, I'm just as bad as anyone else when it comes to bringing home new Stuff. Sure, I may be a pile or two (or seventy) away from being featured on Hoarders, but I still have a category of Stuff that sneaks past my resolve to minimize new possessions.
And that would be a tasty vintage lamp.
And not just any vintage lamp will do, as I like 'em old and I like 'em made from specific natural materials. So marble, glass and wood are in. Plastic, brass and ceramic are out. (It's not that I don't like ceramic lamps, it's just that none of them seem to ever come home with me.)
It's safe to say that my house is well lit.
I would like to introduce you to a new family member, whose marble base and stacked chunky leaded glass pieces melted my heart and followed me home from Goodwill. (After I got them to lower the price from $6.99 to $4.99.)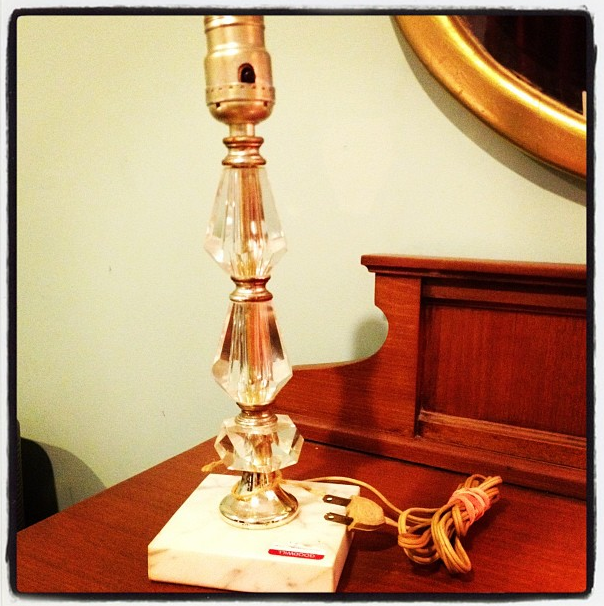 Yes, I'll be rewiring her, (which is why they lowered the price) but her sweet sparkly elegance could not be resisted. I think I'll call her Crystal.
And since there's a new member to my household, I thought it was high time to introduce you to the rest of my family.
There's the twins, Flora and Dora. These candlestick alabaster lamps originally belonged to my great grandparents, and were spelunked from my mother's basement. They enjoy spending time on our bedside tables. (Spelunked lamps — $0.)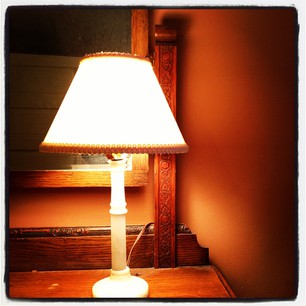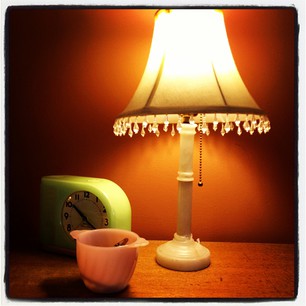 And then there's Woody-San, whose lacquered wooden base evokes a time when faux-Asian was all the rage. (Maybe 1920's?) His swirly paint is so deliciously random yet deliberate all at once. (Goodwill — $6.99.)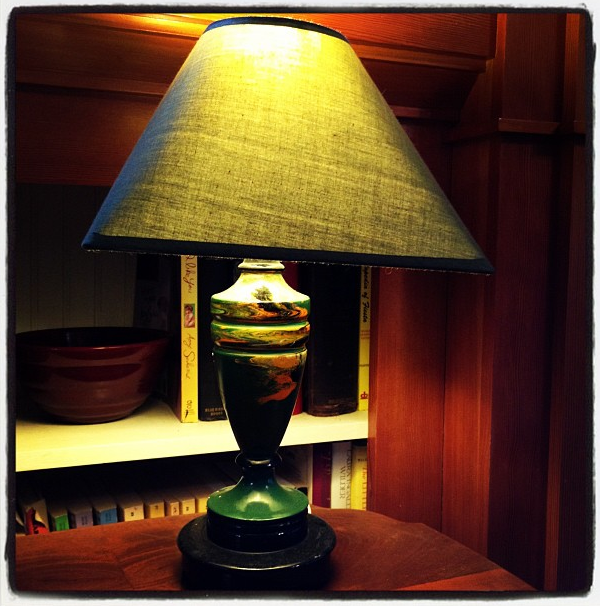 Let's not forget Victoria, whose upright and elegant posture can always be counted on. She weighs a ton, but her fussy lampshade balances out any figure flaws. (Goodwill — $2.99.)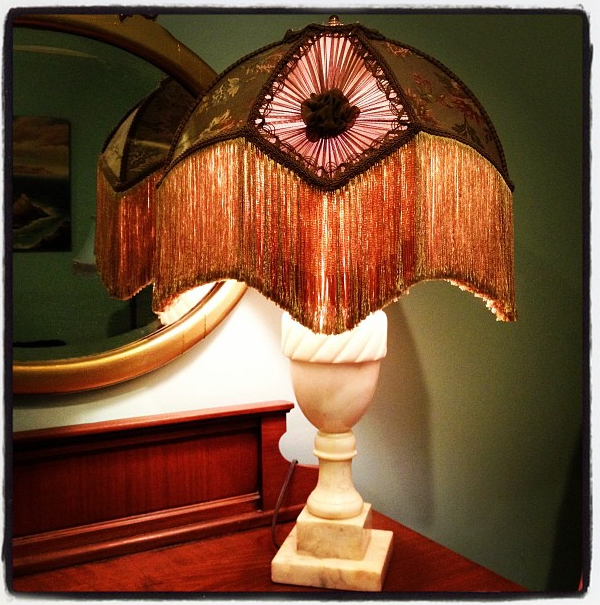 You already know this lamp, whose curves evoke a time when a chrome bumper was a thing of beauty. I think I'll call him Vinnie. (Goodwill — $2.99.)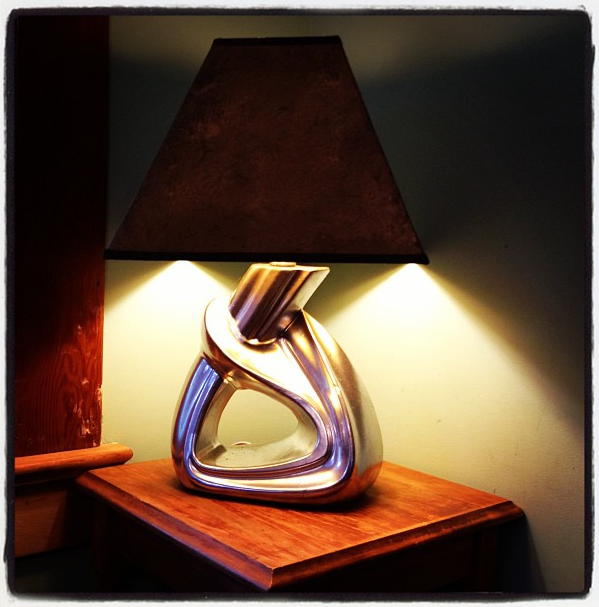 And then there's Victoria's younger sister Imogen, whose alabaster elegance welcomes all who enter my home. (Estate sale — $15.)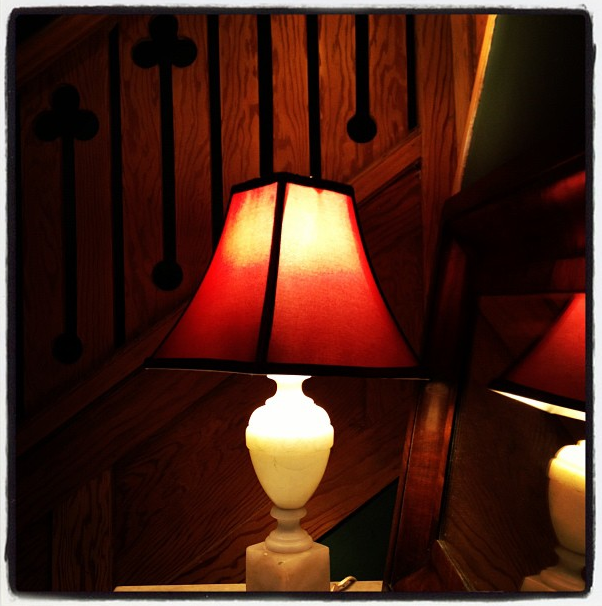 It's important that I not forget Jimmy Hoffa, who was found in the basement of an old rental house. His wiry industrial armature mean he can never be broken. (Found lamp — $0.)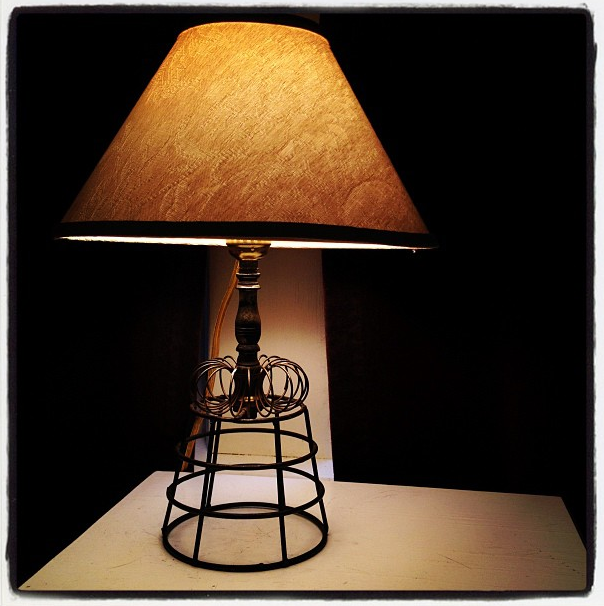 I must not leave out Trixie-Lou, whose overly pink and ornate lines have put her most at risk for replacement. For this reason, she kind of hates her sister Crystal. (Goodwill — $4.99?)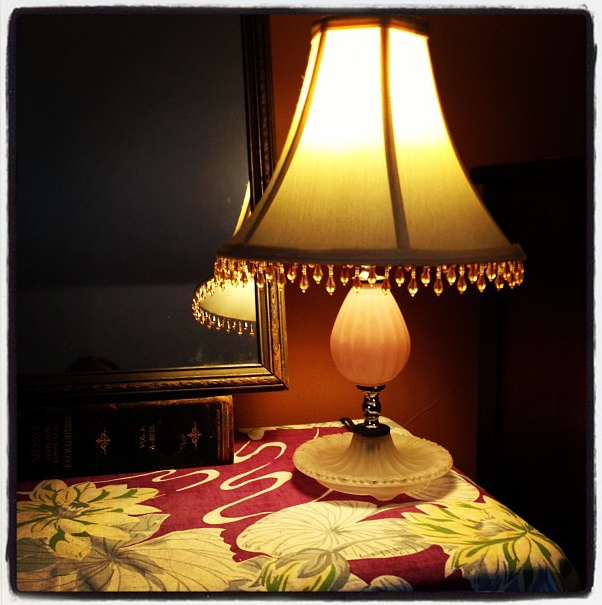 So yes, I might have a lamp problem. Some might go so far as to say I'm the Angelina Jolie of the lamp world, but I somehow just can't resist bringing home these poor defenseless lamps.
Someone has to give them a good home.
Katy Wolk-Stanley
"Use it up, wear it out, make it do or do without."
Click HERE to follow The Non-Consumer Advocate on Twitter.
Click HERE to join The Non-Consumer Advocate Facebook group.
Click HERE to follow The Non-Consumer Advocate on Pinterest.