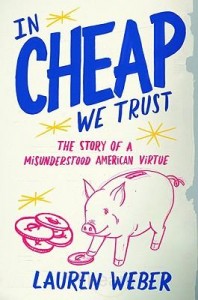 Although I've had Lauren Weber's In Cheap we Trust: The Story of a Misunderstood American Virtue from the library for a week or so, I only just cracked it open today. And in a world where it will often take a chapter or two to decide whether is book is right for me, this one had me at the dedication:
"For my father, a cheap and generous man."
It may seem odd to review a book I'm only 12 pages into, but I am absolutely loving this book, which is a mixture of memoir and a serious look at America's history of thrift.
Weber grew up with a father whose "cheapness" was legendary in her family. A man, whose advice to child living in a New England house where the thermostat was set at 50° was to "put on another sweater." Not "put on a sweater," but "another sweater."  But the goal of Weber's father's extreme frugality was not to stockpile untouchable piles of riches, but  instead was to provide top notch educations for his children and made it possible for him to pay out of pocket for her grandmother's assisted living facility.
The long understood notion that America is a country proudly based on a tradition of thrift is challenged:
"For one thing, I'm not fully convinced that ordinary Americans ever truly valued thrift in the first place. When I started researching the history of frugality, I assumed, as most Americans probably do, that we were once a thrifty nation but we had become lazy and spoiled over time, a condition abetted by a cabal of corporations and advertising firms. I began this book with a single question in my mind: What happened to thrift in America? But as I got deeper in the subject I came to realize that we consider old-fashioned thrift — some combination of resourcefulness, prudence, simplicity and aversion to debt — was more the result of circumstance than virtue. Thrift was determined by necessity in the early days of the republic. Goods were scarce and often prohibitively expensive for the average family, so stockings were darned, clothes were patched, fruits were preserved and stored.  People made do with what they had until the stuff fell apart or was used up. Very little went to waste when each cord of firewood or linen nightshirt was the product of one's own labor.

But when industrialization and financial innovation brought Americans opportunities to make their lives easier and more comfortable — through new technologies like railroads and refrigerators, and the emergence of installment plans, mail-order shopping and credit cards — by and large they took advantage of them. Indeed the truest story of America is not, as we might like to believe, the story of political freedom — slavery and the Japanese internment of World War II, for instance put the lie to that — but the story of an ever rising standard of living."
Well, you can see why this book has hooked me.
I will continue to read through this book and envision a number of blog posts about ideas put forth in it.
Weber writes of her "cheap" father with love and humor, and I can't wait to delve even farther into this book. After all, she may have dedicated it to her Dad, but secretly I think she may have written it for me.
Katy Wolk-Stanley
"Use it up, wear it out, make it do or do without."